Highly contrasting exposed SterlingOSB Zero and Himacs' smooth solidity create strong and interesting furniture for arts organisation Bloc Projects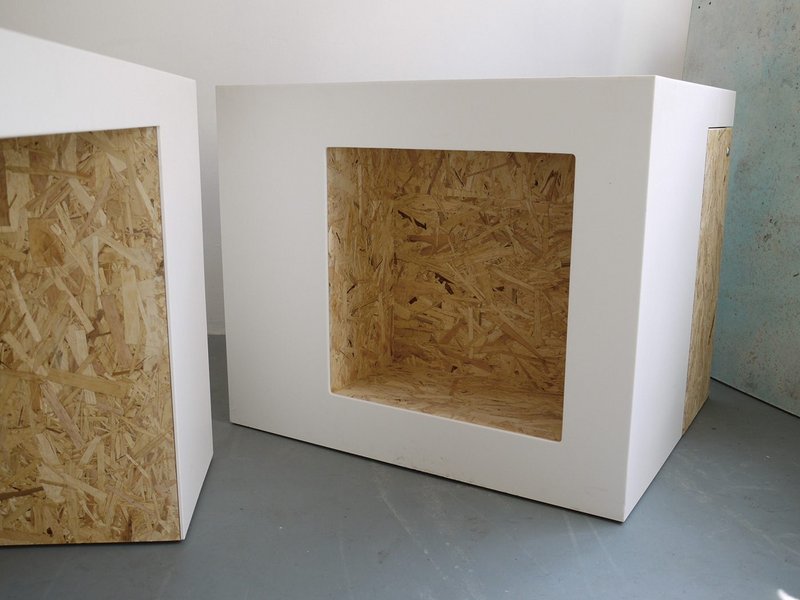 The counterpoint of exposed SterlingOSB Zero and Himacs facing for the units in the gallery space set up an interesting tension between the aesthetic and the functional.

Credit: Studio Polpo
Architect Studio Polpo has combined SterlingOSB Zero with Himacs solid surface material to create a series of bespoke interlocking furniture pieces, known as Bloc Objects, for Sheffield-based arts organisation Bloc Projects.
Three items make up Bloc Objects: a desk, a storage unit and a display stand. These are designed so the Objects can be assembled and disassembled in different combinations, to enable Bloc Projects to run its gallery – in an old industrial building in the centre of Sheffield – as an office, event or exhibition space without compromising its primary function as an art gallery. 'The clients were artists and the Objects had to fit into an arts space, which was an important aspect of the design, rather than being purely functional elements,' explains Studio Polpo's Mark Parsons.
Studio Polpo's design for the Objects plays with the application of the two very different sheet materials used in their assembly, to challenge assumptions about what is functional and what is aesthetic. Himacs is a solid surface material composed of minerals, acrylic and natural pigments that provides a durable, smooth, non-porous and visually seamless surface. It is most commonly used to form high-end kitchen worktops.
Attractive opposites
By contrast, SterlingOSB Zero is an engineered timber board product typically used as sheathing in wall panels and as roof decking. 'We deliberately chose the materials to emphasise the extreme contrast between the utilitarian SterlingOSB Zero and the perfectly smooth finish of the Himacs,' says Studio Polpo's Jonathan Orlek. 'Our design plays with the ability to invisibly join the solid surface material, but reveals a supporting timber structure which is conventionally hidden by fabricators,' he adds.
The desk has four flat sides finished in pure white solid surface material with the SterlingOSB Zero mainly visible in the chair recess. An open storage box, also lined with SterlingOSB Zero, punches out of one side of the desk. The smaller storage unit, its outer surfaces also finished in gleaming white Himacs, doubles as a small table. One side of this unit incorporates a rectangular recess to accommodate the desk's storage box. This allows the two pieces of furniture to be amalgamated to form a single long table. The third element is a freestanding leaflet stand, sized to be stored under the desk when not in use.
When the desk and storage unit are combined, the gleaming white Himacs of the long table's top, side and front surfaces create a single, smooth monolithic piece of white furniture which can be used either to display artwork or as a bar at events. 'The gallery is a relatively white-wall type space so we set out to create something that would fit into this smooth, clean environment,' explains Orlek.
Studio Polpo's design for the Objects plays with the application of the two very different sheet materials
Purity, texture and colour
It is when the objects are separated or rearranged that Studio Polpo's design plays with the typical appearance of solid surface as a seamless and solid block of material by revealing and contrasting the purity of the white surface with the texture and colour of the SterlingOSB Zero lining. 'When we decided to reveal some of the supporting structure, we also decided to emphasise the difference between smooth and rough,' says Orlek.
Parsons elaborates: 'SterlingOSB Zero has a beautiful texture and colour and is doing a lot of the work, while Himacs is this perfect high-end material that is almost a veneer; we were trying to give them both equal billing'. As example, he says the pockets on the leaflet rack cut into the SterlingOSB Zero have been finished to a very high standard, 'which is not something normally associated with SterlingOSB Zero because it is harder to sand and to cut out holes neatly'. He admits this approach was a challenge for the fabricator, Preston-based bespoke furniture manufacturer WALL (We Are Limitless Ltd), but says that the result, combined with a high degree of craftsmanship, is that 'they both come off looking like special materials'.
Given the designers' desire for Bloc Objects to fit within an arts space, it was appropriate that the furniture was launched in parallel with a Bloc Projects' art exhibition. Since then, Bloc Projects has continued to evolve, and Jonathan Orlek says that as a consequence the Bloc Objects have faded more into the background which he says 'feels right'.