There was a critical ingredient that helped build north London's award-winning Blue House Yard: SterlingOSB Zero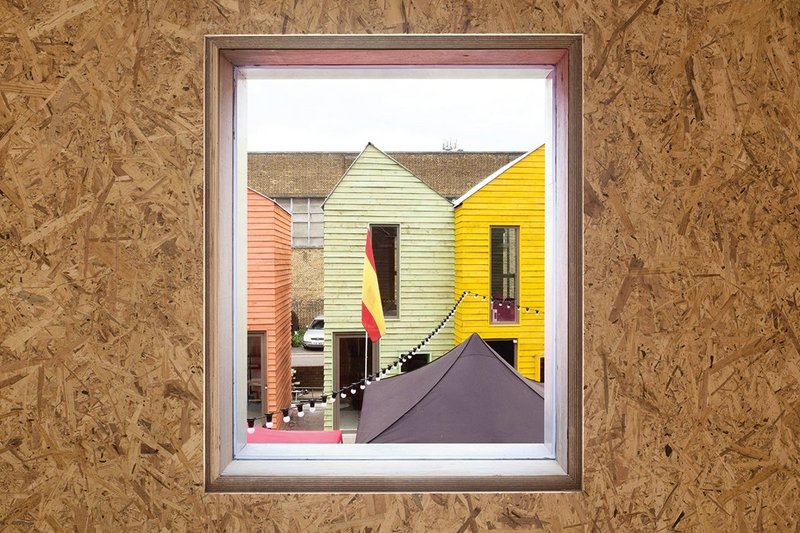 Room with a view: SterlingOSB Zero's inner lining helps frame Jan Kattein Architects' Blue House Yard.

Credit: Jan Kattein Architects
A gleaming blue renovated council office and a row of vividly painted 'micro-sheds' brighten up the site of a disused car park in a £210,000 scheme to support small businesses in Wood Green, north London.
The temporary Blue House Yard, designed by Jan Kattein Architects and commended in RIBAJ's MacEwen Award 2018, will inject life into the neighbourhood over the next five years as a precursor to Haringey Council's wider area regeneration.
The studio worked with social enterprise Meanwhile Space CIC to provide new accommodation for small businesses, which make up 90% of the local economy yet face rising rents and a lack of suitable workspace.
The office at the corner of the plot was converted (and painted blue) to provide 11 studios for creative businesses. New buildings include nine two-storey timber 'micro-shed' workspaces that face onto a new public square; a café in a retired double-decker bus and a minicab office.
An imperative to provide robust and attractive spaces at minimal cost informed the decision to specify SterlingOSB Zero as an internal lining for the walls and ceilings of the micro-sheds.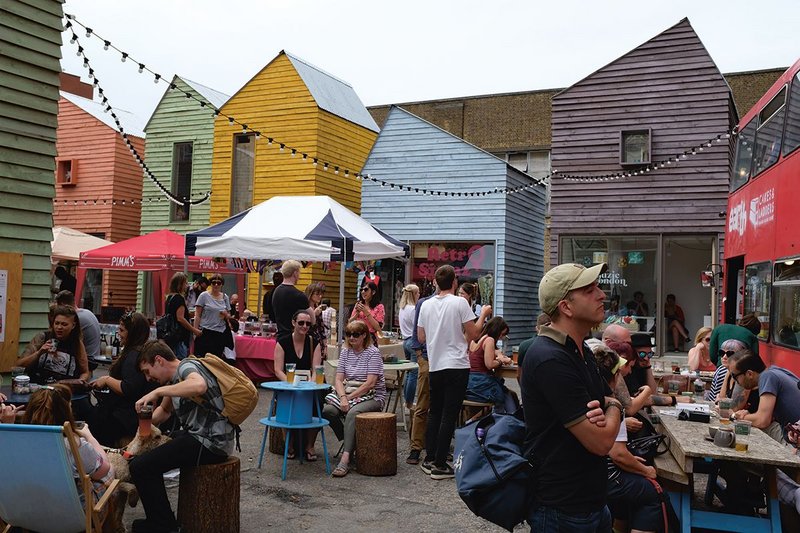 The temporary development in full swing.

Credit: Jan Kattein Architects
The exposed panels provide structural stability to the timber frame and 'give young businesses a space that looks finished and ready to move into in a rough and ready sort of way,' says Gabriel Warshafsky, director of projects at Jan Kattein Architects. Tenants may paint the walls, but most have chosen not to.
The workspaces were delivered as a self-build project and the architect became its own contractor employing three full time carpenters and eight apprentices in partnership with a local college, and trained a Part I architecture student as site manager.
The SterlingOSB Zero panels were considered light and manoeuvreable and easy to lift and fix into timber studs. The team worked with standard panels that required minimal cutting to fit the simple orthogonal spaces. Screw heads left flush with the surface enhanced the urban aesthetic.
'Being quite involved on site we were very conscious of the buildability of what we were proposing and SterlingOSB Zero fitted perfectly,' says Warshafsky. 'It's a fairly straightforward material to work with and did not require any fancy details; we didn't get into complicated wall build ups.'
In terms of technical considerations, fire performance was not applicable, as the small size of the sheds fall below the threshold for Building Regulations.
Investigations by the architect showed that SterlingOSB Zero was more sustainable than plywood, which typically contains higher levels of formaldehyde and can also contain hardwoods, or tropical hardwoods.
Although there are no plans to move the buildings to a different site at the end of the five years, the large panels could be dismantled and reused elsewhere. 'The material was a very logical and intuitive choice that perfectly matched the spirit and ambitions of the project,' Warshafsky concludes.
---
This feature was produced in association with Norbord Europe
@NorbordEurope