Practical needs, imaginatively addressed, produced some outstanding winners at the Structural Steel Awards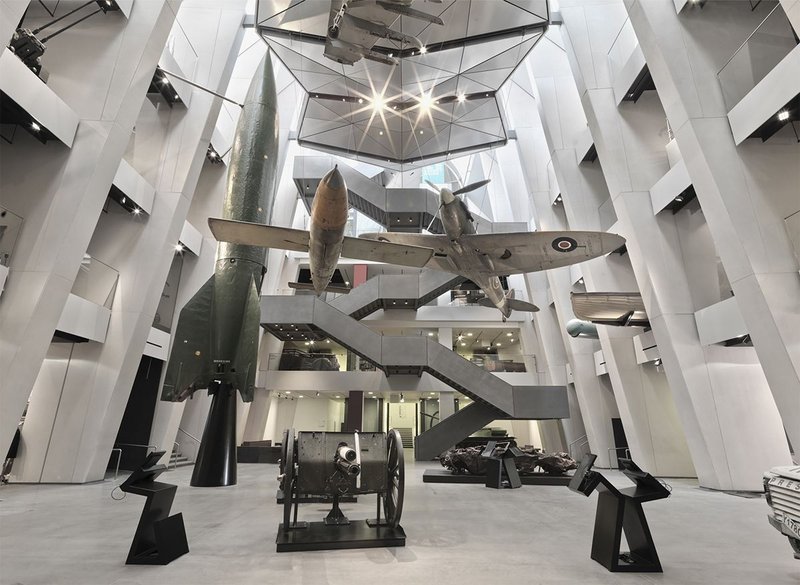 Angular, robust steel creates a new, cathedral-like space for the First World War Galleries at the Imperial War Museum. Foster +Partners with steelwork by Bourne Steel.
Foster + Partners' dramatic conversion of the Imperial War Museum in London, to create a grand new atrium with planes hung from a suspended steel floor, was one of the five winners in this year's Structural Steel Design Awards.
Now in their 47th year and organised by the British Constructional Steelwork Association, the awards aim to recognise excellence in the use of steel and in structural and architectural design.
Fosters worked with BuroHappold Engineering and steelwork contractor Bourne Steel to develop the £40m First World War Galleries transformation, which marks the first phase of a long term masterplan for the museum.
The award was presented to the team for its work on the central atrium, a Cathedral-like space defined by numerous vertical prefabricated concrete 'fins' supported by a structural steel frame, and a new upper storey structural steel floor from which are hung a Harrier jet and a Spitfire.
Michael Jones, senior partner at Foster + Partners, told RIBA Journal: 'The project involved significant structural interventions in the heart of the existing historic building and had to meet a tight schedule so the galleries could open in time for last summer's WW1 centenary. As such, all the steel units were designed for ease of erection and easy transportation into the middle of the museum through the historic structure.'
The solution significantly increases space in the museum, and provides support for the many heavyweight military objects in its collection. Many of the steel members are slender, but designed to work very hard to support all the military hardware.
'The museum had very high light levels that we had to reduce to enable certain objects to be exhibited,' said Jones. 'We inserted a robust new steel trussed floor into the top of the atrium that not only enables light to penetrate down the sides into space below, but adds a new flexible exhibition space above, and provides a platform from which to hang planes and other large objects. The truss structure is expressed on the underside of the floor by a series of folded steel plates that reflect the depths and angles of the trusses.'
The other four projects receiving awards, presented at the Institution of Civil Engineers in London, were: Island Pavilion and Footbridge in Wormsley by Robin Snell and Partners; Merchant Square Footbridge in London by Knight Architects; Derby Arena by FaulknerBrowns and Moorgate Exchange, again in London, by HKR Architects.
---