Recycled plastic SureCav halves carbon footprint of cavity wall construction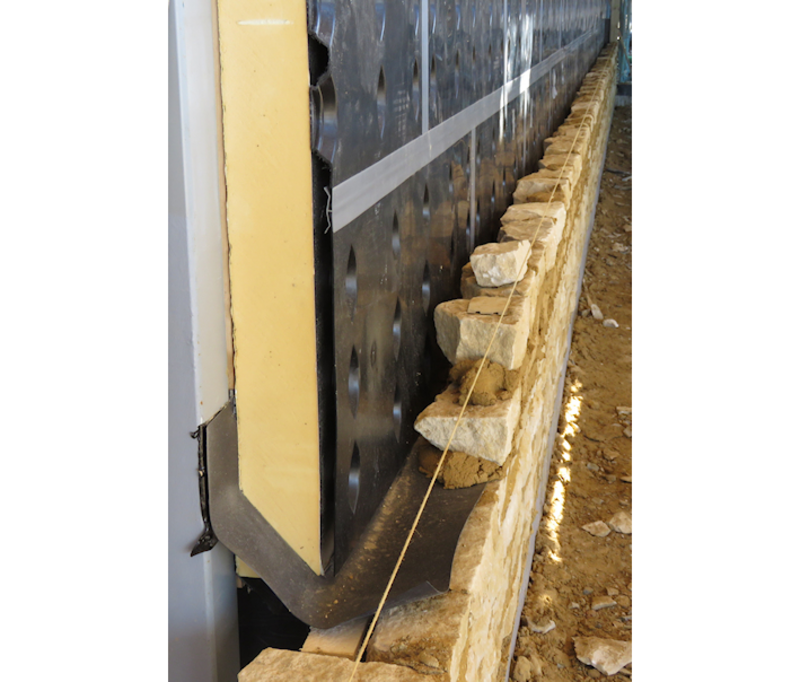 When installed behind natural stone, the system removes the need for an outer layer of blockwork.

Credit: SureCav
Around 3,900 lorry loads of concrete backing blocks have been taken off the roads over the last decade by building with a recycled plastic cavity wall membrane, its manufacturer claims.
SureCav is an injection-moulded polypropylene cavity former that enables the construction of stone, slate, flint or brick walls without the need for an outer block leaf.
Specification of the system on projects since 2010 has produced 1,000 tonnes of recycled plastic product, equivalent to 120 (20 tonne) lorry loads.Traditional cavity wall build-ups would have required an extra 80,000 tonnes of concrete blocks, equivalent to 4,000 lorry loads, says the company.
SureCav has been used by housebuilders including Barratt Homes, Taylor Wimpey, Redrow and Persimmon. There are currently two products on the market: SureCav50, a 50mm deep panel developed for natural stone wall cavities; and SureCav25, launched in 2016, a 25mm deep membrane designed to enable more insulation to be installed inside a cavity, cutting the U-value to at least 0.18 W/m2K.
Charlie Ayers, managing director at SureCav says: 'A standard cavity size on a traditional house build is 100mm. SureCav25 allows the builder or developer to install an additional 25mm of insulation in the same cavity, lowering the U-value and associated heat loss from the house.
'SureCav is used a tremendous amount on timber frame, it can be screwed to the frame using special waterproof grommets, lining the entire timber frame to provide protection when masons build the external skin of stonework.'
Another benefit is that taking out the internal blockwork leaf can increase usable floorspace by between 5 and 7.5%.

SureCav25 was developed to allow an extra 25mm of insulation in the same cavity.

Credit: SureCav
An embodied carbon assessment of SureCav, based on information from the Carbon & Energy (ICE) database created by Bath University, found that it halved the carbon footprint of cavity wall construction, compared with traditional methods.
The weight for weight comparison of the polypropylene in SureCav versus concrete blocks covers the material manufacture process, but not emissions associated with transportation and construction. According to Ayers, a more detailed assessment could reveal even greater carbon savings, for example, a lighter structure means concrete footings can be made at least 100mm narrower.
'Ultimately, we want to get the 25mm product into more houses and prove to people that we can get the U-values in all the walls down. This would make a tremendous difference in the energy required to heat the houses because everybody has got to save as much energy as they can right now,' he says.