Speedy erection and sustainable design make flatpack home fit for earthquake zones, luxury villas and emergency housing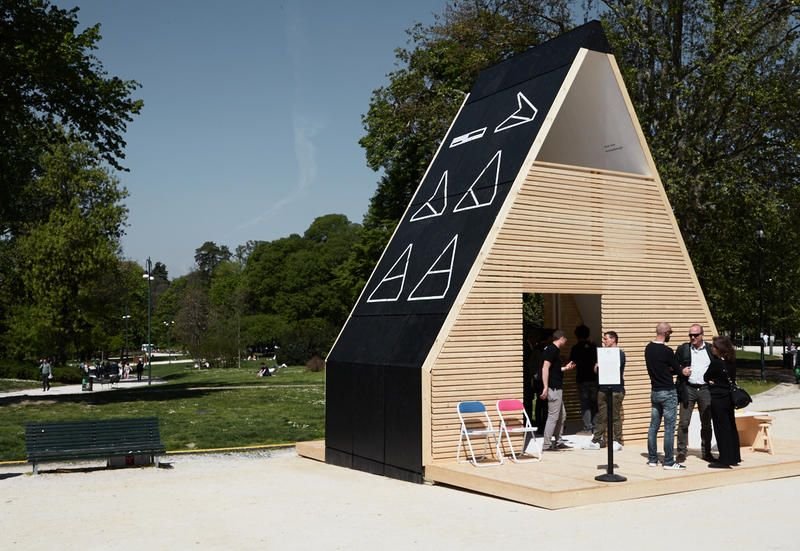 A sustainable fold-out home that takes less than a day to erect on site has found applications in areas prone to earthquakes, as social housing and at trade exhibitions.
M.A.DI, developed by Italian architect Renato Vidal, is an A-framed prefabricated timber house that's transported to site in a container on the back of a lorry, then folded into position on large steel steel hinges by two men using a crane.
The product is available in several sizes, ranging from 27m2 one-bed home to an 84m2 triple-bedroom family house. Each stretches over two levels and comes equipped with a kitchen, dining area and bathroom on the ground floor, and sleeping accommodation on the first floor.
M.A.DI was initially developed as a quick to deploy emergency home in earthquake-prone areas, but units sold so far have also gone into social and private housing and as temporary accommodation at trade fairs.
Domenico Antonucci, head of R&D at Area Legno, a timber specialist and manufacturer of the homes, told RIBAJ: 'The idea for M.A.DI was born in response to earthquakes in Italy. We are based in Abruzzo, the region hit by the tragedy in 2016. During design and production we realised that the house would be very comfortable as public housing and we are also now targeting market segments for housing, luxury villages and emergency housing.'
Each home is supported on a hybrid galvanised steel/cross-laminated timber frame, designed to withstand earthquakes. It measures just 1.5m high when folded for transportation, and extends to 6.5m high when opened on site.
Larger homes are created by connecting multiples of the smallest module together. Each can either be pre-configured to connect to water and grid power, or as a passive house fitted with solar panels.
'The M.A.DI home is intended to be highly sustainable, thanks to the use of wood and high levels of insulation,' said Antonucci.
Polyurethane foam is used to waterproof and boost thermal insulation. Walls are insulated with high-density rockwool, and the window frames can be installed in PVC or aluminium.
The home can either be built on top of a reinforced concrete foundation or as a temporary structure with no foundations at all, simply anchored to the ground by an innovative screw pile system, which has negligible impact on the site.
Finishes such as roof pitches, interior flooring, internal and external walls are delivered on mounting boards for easy assembly. The entire construction process typically takes three workers six to seven hours to complete.
---