The office is evolving and architects have a chance to deliver innovative, collaborative environments for returning workers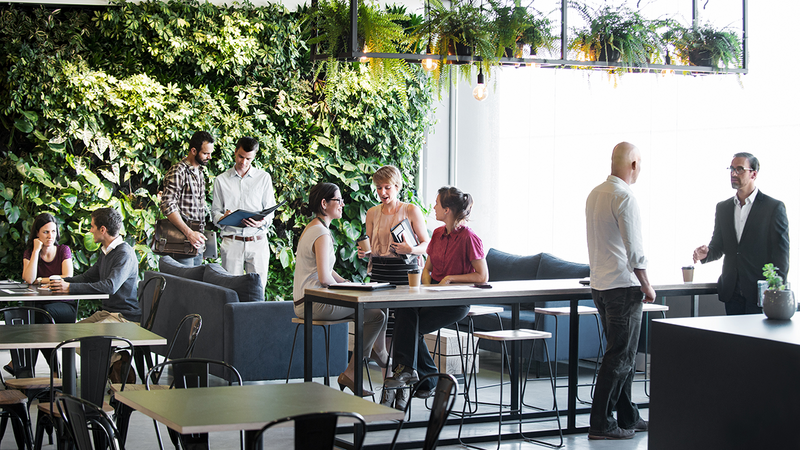 Lots of office workers have missed working together face to face. They now want workspaces that facilitate communication and teamwork.
Office environments are changing and architects and designers have an unprecedented opportunity to drive that change.
With much talk of the demise of the urban high-rise office, community hubs for homeworkers and hybrid home/office models, what will make the communal workplace a compelling and effective setting for those who use it?
According to office flooring solutions provider Tarkett, a successful post-Covid working environment will need to hit the mark in four key areas.
1. Sustainability
What constitutes a sustainable office?
There are myriads of ways to ensure an office environment is as green as possible: going paperless, reusing and recycling, limiting heating and cooling, keeping energy usage low, specifying sustainable materials and building products.
For Tarkett, circular economies and regenerative systems of production are key drivers. It is the only flooring manufacturer in Europe that can 100 per cent recycle carpet tiles post-use into new flooring products.
2. Indoor comfort
A comfortable environment is proven to increase workers' cognition and general health. A Harvard University experiment, conducted in 2015 by healthy buildings expert Joseph Allen, recognised the link between indoor air quality and productivity.
Workers in buildings with good ventilation and lower levels of indoor pollution scored 26.4 per cent higher on cognition tests than those in normal office conditions. They also reported sleeping better and experiencing fewer 'sick building' symptoms.
Indoor air quality was also found to be a top concern for workers taking part in a study published by Tarkett last year.
The report, 'Rethinking Workplace #1 Shifting Perspectives in the Midst of Covid-19', combined information from three global surveys of 2,800 office workers in collaboration with workplace consultants WKSpace.
Alongside ventilation and indoor pollution control, the careful specification of office fit-out materials can help enhance air quality.
Tarkett's LVT flooring and Desso AirMaster carpet tiles have low to ultra-low VOC emission levels - between 10 and 100 times lower than the most stringent world standards. Desso AirMaster is also up to four times better at capturing air-borne particles than regular carpet tiles.
3. Flexibility
Forty-three percent of respondents to a Gartner 2021 Digital Worker Experience Survey said that flexibility in working hours helped them achieve greater productivity.
Many workers have adapted well to homeworking over the past 18 months and wish to work flexibly in the future.
Flexibility is now a core requirement in creating a successful agile office and it allows specifiers to push the boundaries of creativity and rethink workspace design.
Building versatility and multifunctionality into adaptable interior spaces is key. Using a combination of flooring types across a single open-plan space can help, for example installing Tarkett's iD Inspiration LVT flooring collection alongside its Serene Colour carpet tiles.
4. Collaboration
After months of social isolation, many people are craving the chance to work together collaboratively again.
They will need different kinds of offices to do that. Banks of densely packed desks will give way to agile work areas that can be used by different workers at different times for teamwork, culture building, training, induction and social events.
Tarkett's new backing for carpet tiles, DESSO SoundMaster Thrive, allows designers to create collaborative areas that minimise noise and disturbance for other colleagues.
When it comes to creating the optimum office environment of the future, flexibility, collaboration, indoor comfort and sustainability are top requirements.
The designers that consider these collectively - rather in isolation - will be the ones creating office spaces that engage and inspire workers.
Find out more about designing for a return to the office at tarkett.co.uk/office-design
For more information and technical support, visit tarkett.co.uk
Contact:
0800 328 2115
---