The iD Inspiration range uses the latest image capture technology and a pioneering surface treatment to bring high definition stone textures and wood grains to luxury vinyl tiles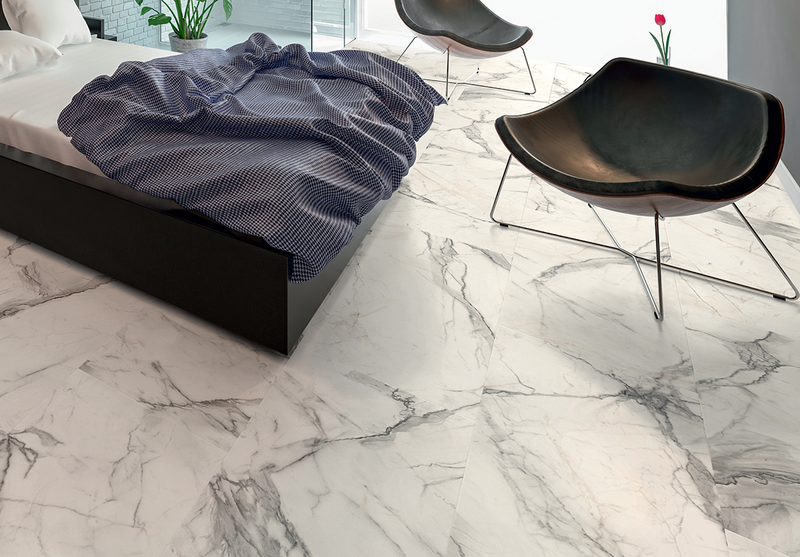 Tarkett iD Inspiration Carrera Grande Naturals LVT flooring: Digitally printed for high definition with non-repeating motifs for up to 12m².
Flooring specialist Tarkett has harnessed the latest digital printing techniques to create its iD Inspiration Naturals range of luxury vinyl tiles (LVT).
The flooring is created using high resolution scanned images of source materials including marble, granite and wood.
Traditional rotogravure-printed vinyl flooring requires a cylinder to print a design that can be no wider than the length of the cylinder, while the pattern repeat is dictated by the cylinder circumference. Typical designs are three square metres overall and create a visible repeat across the flooring.
Tarkett's digital technology has the potential to expand the pattern repeat beyond 3m2 while enabling much higher definition designs.
In nature, pattern is often random. A rustic wood plank features pronounced knots, splits and grain marks, all unique. While a rotogravure-printed version of the plank would look similar, every eleventh plank would be identical to the first. Tarkett's digital technology enables around 50 unique planks.
The iD Inspiration LVT collection features a pioneering surface treatment called Tektanium. Standard vinyl flooring is often shiny, while real wood and stone are not. Tektanium creates an ultra matt finish that mimics the play of light on natural materials. Tektanium PU vinyl is stain and scratch resistant, durable and easy to maintain without the need for aggressive chemicals.
The flooring range has been developed in line with Tarkett's Human-Conscious Design philosophy, which ensures its products contribute positively to indoor air quality, are manufactured in Europe from good materials and are recyclable.
For more information and technical support and to download an iD Inspiration brochure and order samples, visit professionals.tarkett.co.uk/id-inspiration
Contact:
0800 328 2115
---