Taylor Maxwell has supplied the contemporary brickwork for AHMM's transformation of a derelict fine exemplar of the Victorian Gothic into prime office and retail space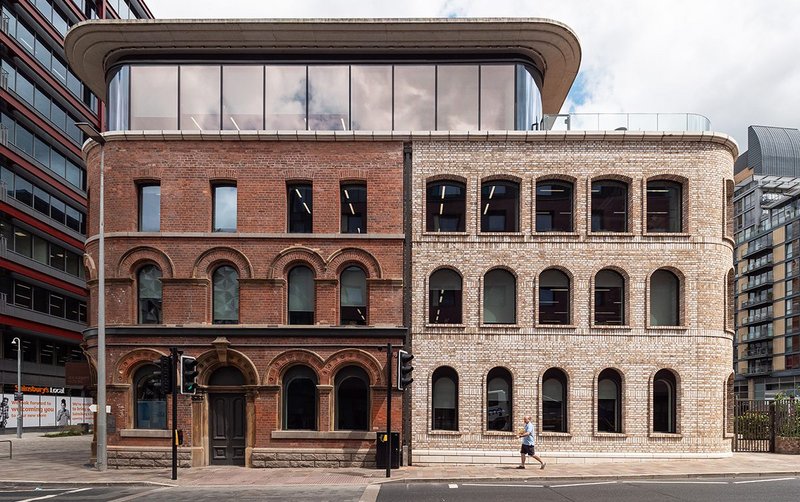 The Royal Veteran Tavern reborn as Riverside House, Salford: Restoration of the 19th-century brick facade (on the left) alongside construction of a new Category A office building (right).

Credit: Alex Upton Photography
Riverside House, a four-storey office building in Salford, has undergone an extensive refurbishment as part of the £650m New Bailey development.
Believed to have originally been built in the late 1890s, the Grade II-listed building located on the River Irwell was acquired by client The English Cities Fund.
The joint venture between Homes England, Legal & General and developer Muse strives to bring together investment and regeneration expertise to shape the UK's towns and cities for the future.
Allford Hall Monaghan Morris (AHMM) architects were enlisted to design the refurbishment, which included the restoration of the brick facade and the construction of a new Category A office building adjacent to the existing structure.
The existing building is a great example of Victorian Gothic architecture, previously operating as a Royal Veteran Tavern before it fell into a state of disrepair and dilapidation.
Care was taken to restore the historic features of the existing facade, while the interior, which was failing structurally, required a complete removal and upgrade.
The connected new structure was designed to blend harmoniously, incorporating period features such as large window arches but with a contemporary twist in the use of more modern materials and colour palette.
Taylor Maxwell worked with AHMM and contractor Bardsley Construction to specify and supply the facing and special shaped bricks for the new structure.
Due to the historic nature of the existing building, the architects wanted to incorporate some of the period features into the facade of the new structure, such as arched windows of varying size and shape and protruding brick details and sills.
AHMM architects focused on preserving the building's historic features and on the sustainability and waste reduction of the project. They were also keen to reflect the site's proximity to water and nature and their effect on the surrounding city.
The finished development provides over 1,400 square metres of office space with a food retailer and a riverside terrace located on the ground floor. The ground floor suite has a dedicated entrance and south-facing courtyard overlooking the River Irwell and Spinningfields.
The third floor is set back, allowing for a generous external terrace, which serves as a lunchtime amenity and informal function space for the third-floor offices.
The building also offers lockers, shower facilities and cycle storage, all of which encourage people working within the building to cycle to work.
An intelligent lighting control system and chilled beam cooling system contribute towards the sustainability of the building and a BREEAM Excellent award. The project was also shortlisted for the Commercial & Refurbishment BDA Brick Award 2021.
For more information and technical support, visit taylormaxwell.co.uk
Contact:
0203 794 9377
enquiries@taylor.maxwell.co.uk
---
You might like:
Brick that decimates embodied carbon set to start production
Creativity and climate take charge of office design
---