The New Waverley mixed use development features a central facade frame in perforated red aluminium that looks right at home in Edinburgh's Royal Mile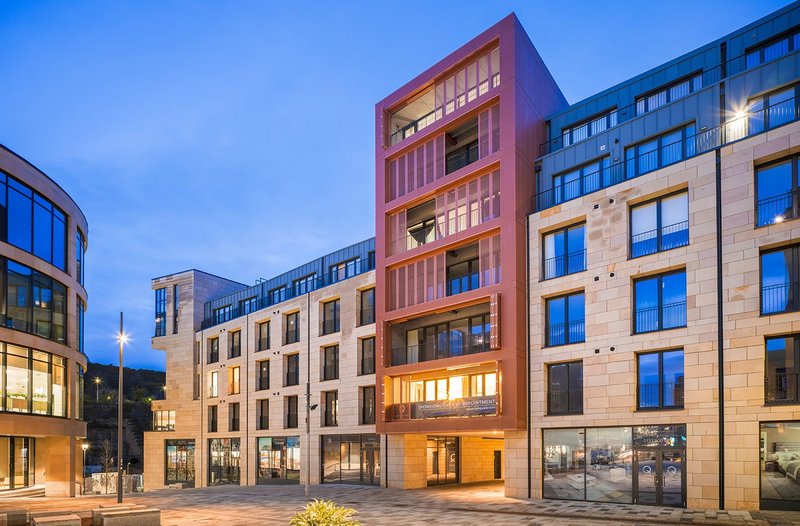 New Waverley residential and retail block with red Anvil perforated metal cladding supplied by Taylor Maxwell: 'Bringing new houses and people to live back in the city centre is an important aspect of the regeneration.'

Credit: Richard Fraser
The New Waverley development is part of a larger regeneration scheme in Edinburgh's Old Town.
The £240m masterplan provides additional links between the development quarter to Waverley train station and the historic Royal Mile, areas that experience high volumes of people during festival periods.
Allan Murray Architects designed a pedestrian-friendly space, mixing public and residential areas with retail, restaurant, hotel and leisure opportunities. One of the main objectives was to make the area desirable for both long-term residence and short-term stay.
New Waverley is made up of 7.5 acres of mixed-use development, including 66 new homes, in a mix of one, two and three-bedroom apartments, mews houses and maisonettes.
Facade materials supplier Taylor Maxwell assisted the main contractors Cruden Homes East and Metal Tech Roofing & Cladding in the installation of perforated Anvil metal cladding as a unique frame to feature on the front of the residential section of the site, as well as Corium brick cladding to the north and south elevations.
The Anvil cladding complements the front-facing balconies with its clever perforations providing privacy and filtered light to the residents facing the busy public square.
It was selected to provide a contemporary contrast to the more traditional materials used on the development. The warm toned metal references the natural red sandstone of the region, prominently found in the architecture of Edinburgh.
The cladding was specified and supplied in a semi-concealed recessed joint fixed system with an overlapping joint. This provides a consistent finish to the facade, with coloured fixings to match the aluminium panels.
The project also utilises panels of natural stone - a consistent design detail across all New Waverley developments and the new buildings within the scheme.
The use of red tones and natural stone helps retain Edinburgh's architectural identity. Both are defining features of Scottish architectural history and a valuable aspect to weave into the architecture of any large-scale new developments.
The scheme has provided the Old Town with a new district of restaurants, cafes, hotels and new housing options that will benefit the city's community for years to come.
Find out more about Anvil metal cladding and Corium brick cladding at taylormaxwell.co.uk/facade-systems
For more information and technical support, visit taylormaxwell.co.uk
Contact:
0203 794 9377
enquiries@taylor.maxwell.co.uk
---