Squire & Partners' office project is a masterclass in contemporary workspace design, sustainability-centred architecture and snap header brickwork - supplied by Taylor Maxwell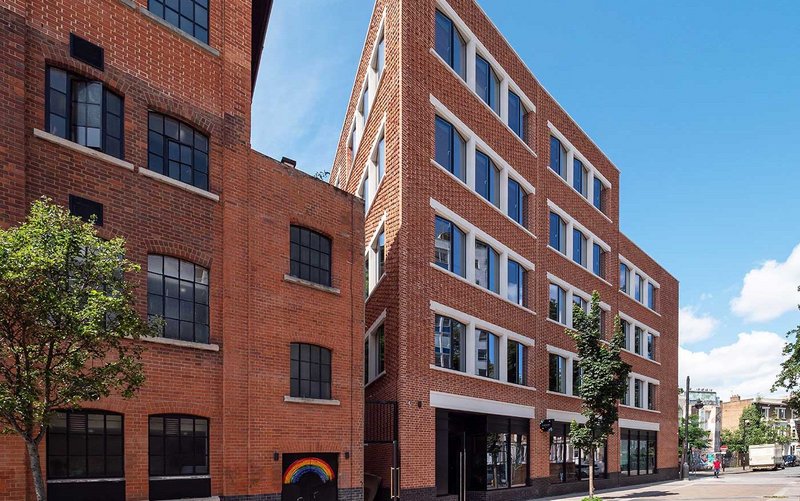 Squire & Partners' The Department Store Studios (right), Bellefields Road, Brixton. A blend of three red bricks, including snap headers, arranged to produce a rhythmic and textured finish.
The Department Store Studios is a new round-the-corner addition to architects Squire & Partner's existing London office in Brixton.
It provides a modern and open co-working space, neighbourhood bar, restaurant and screening room and was developed and designed by the architectural firm itself.
Located on Bellefields Road, the Studios are one of London's first 'hyper local' professional workspaces, and involved the updating of derelict annexes originally constructed in the 1970s into a space for local creative professionals to co-exist, collaborate and showcase.
Sub-contractors, Lyons & Annoot installed a bespoke blend of three red bricks, including snap headers, which have been uniquely arranged to produce a rhythmic and textured finished that contrasts with the white mortar and stone lintels.
This £7.9m project is a modern reflection on the existing Edwardian architecture of its sibling building on adjacent Ferndale Road. The Department Store, built in 1906, was acquired by Squire and Partners and converted into its own workspace in 2017.
The Studios design focuses on patterned brickwork and faceted bay windows in a contemporary re-imagination of the existing styles on Bellefields Road.
Tim Gledstone, partner at Squire & Partners, says the aim was to create a building that would house a collaborative culture between the firm's employees and other creatives based in the area.
At the forefront of the project's development was a highly sustainable agenda. A 120 sqm green roof and planted terraces promote increased biodiversity, while 28 photovoltaic panels provide renewable energy on site.
The mass timber in the primary structure of the building was a conscious decision to reduce the project's overall environmental impact.
Throughout the project Squire & Partners held local entrepreneur events to generate collaboration with new and existing local professionals. As a result, the development has become an essential part of the Bellefields Road community and the creative future of Brixton.
Taylor Maxwell worked with Squire & Partners to produce the perfect blend of rustic red tones to complement the Edwardian style of the local vernacular.
The use of frequently alternating and projecting snap headers is unusual and brings a unique visual aesthetic to the brickwork. This was an essential design element to ensure stability because, instead of having a cavity, a traditional construction approach was taken.
Internally a similar traditional approach was taken, but using more reliable and durable tradesman brick to replicate the historic brickwork and retain the traditional appearance.
Black bullnose engineering bricks line the ground floor to provide visual consistency with the neighbouring building.
Squire & Partners has designed and constructed a thoughtful and visually stunning addition to The Department Store, which now carries its own architectural identity.
For more information and technical support, visit taylormaxwell.co.uk
Contact:
0203 794 9377
enquiries@taylor.maxwell.co.uk
---