Considered architecture featuring premium quality reconstituted walling stone, semi-dry cast stone and facing brick produces modern development with a compelling village vibe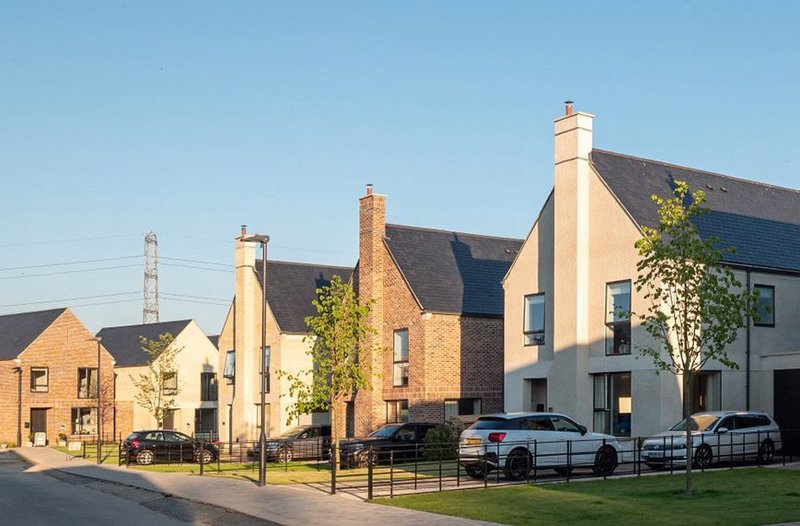 Somerbrook housing options in brick, roughcast render and walling stone, specified and supplied by Taylor Maxwell.

Credit: Alex Upton
Somerbrook is a new housing development of 38 dwellings in Great Somerford, north Wiltshire.
Rooted in the area's farming history, the scheme utilised traditional construction methods to produce premium and affordable housing options featuring natural stone and slate roofs for a village-style development with a modern feel.
Developer Stonewood Homes prioritised mitigating the environmental impacts of the construction and optimising the homes for the residents. Generous window openings and high ceilings maximise light and allow views out across the countryside.
The premium quality materials and thoroughly considered architecture resulted in a Federation of Master Builders South West House Builder Award.
Taylor Maxwell: specifying and supplying the Somerbrook facades
The development was largely inspired by the 1500s farm that borders the space and is visually cohesive with other restored neighbouring plots along the approach.
Stonewood worked with Taylor Maxwell to specify and supply facing bricks, semi-dry cast stone and reconstituted walling stone for the project.
Stone, roughcast render and brick homes vary to produce a comfortable countryside village style across the site. There are two, three, four and five bedroom homes that are terraced, link detached or detached.
Reconstituted walling stone was utilised in thinner stone sizes to give the appearance of brickwork. Walling stone offered an affordable alternative to natural stone, while retaining the desired premium appearance and pairing nicely with the other building materials.
A tumbled finish and an oolite stone shade were chosen for the reconstituted walling stone to give an old, weathered appearance that blends with the architecture of the local village and rural South West location.
The chimneys combine the dominant building material - be it brick, stone or render - with a capping of semi-dry cast stone manufactured by Vobster Architectural.
It is a distinctive design touch that creates cohesion across the different materials used in the Harrington and Hendon premium home options.
Semi-dry cast stone elevates the appearance of any build, providing a smooth finish that contrasts with more textured materials. The cast stone was also used across other components, such as cills and corbels, to accent key building features.
To respect the historic surroundings of the development, the main challenge was designing a secure boundary that incorporated modern technologies while maintaining integration with the bordering farm sites.
A priority for Stonewood Homes was providing a high standard of living across the development. This was achieved through the use of premium and environmentally considered materials.
The site provides a well connected, modern haven for residents that fully respects the rural surroundings of its Wiltshire base.
For more information and technical support, visit taylormaxwell.co.uk

Contact:
0203 794 9377
enquiries@taylor.maxwell.co.uk
---