A bold-as-brass envelope design for the Seren development in south Swansea references the area's copper mining history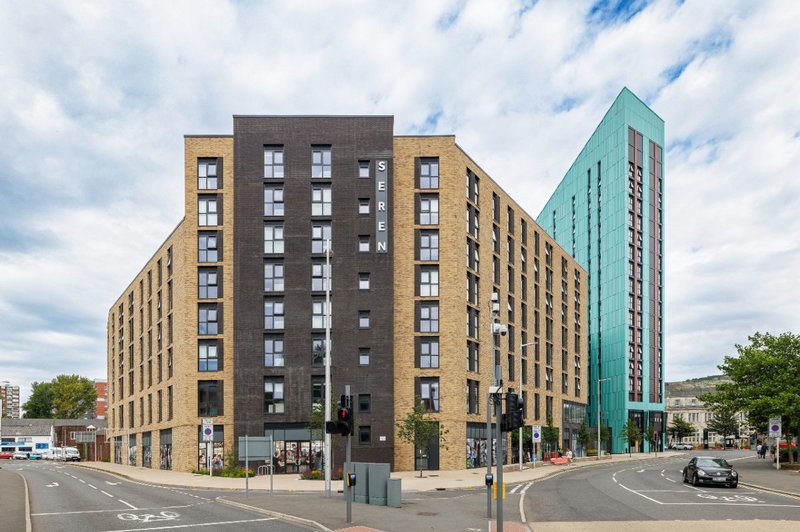 Corstorphine & Wright's Seren development in Cardiff: the facades features two bricks and metal cladding - all supplied by Taylor Maxwell.

Credit: Alex Upton Photography
The Corstorphine & Wright designed Seren university accommodation and commercial development occupies a brownfield site opposite the main train station in the centre of Swansea, south Wales.
At 17 storeys, the halls of residence for Fusion Students were built to provide extra accommodation for those studying at the city's two universities.
Alongside 780 bedrooms, facilities include a sports centre, cinema room, private dining room, internal courtyard and a rooftop terrace and there are also sites occupied by commercial retailers.
Taylor Maxwell worked with the architects to specify and supply Anvil metal cladding and facing bricks for the development, which is made up of three linked volumes: a main building, the tower and a seven-storey central block that joins the two.
Given the high-profile location and the project's key role in the regeneration of the area, it was crucial for the development to emerge as a prominent, recognisable and aesthetically pleasing landmark.
The Seren facades were designed to contrast the two main volumes: a light brick was specified for the main building and coloured Anvil metal rainscreen panels for the tower. A darker brick facing marks out the smaller central section between.
The tower facade is a blend of blue and green and a mix of panel sizes, recesses and projections. The cladding mimics the natural weathered patina of the copper once mined locally and the colours shift as the sun tracks across the building and light levels change.
As well as aligning with the tight design brief, the metal rainscreen facade met the required A1 fire rating.
Find more on this case study at taylormaxwell.co.uk/projects/seren-student-accommodation
For more information and technical support, visit taylormaxwell.co.uk
Contact:
0203 794 9377
enquiries@taylor.maxwell.co.uk
---