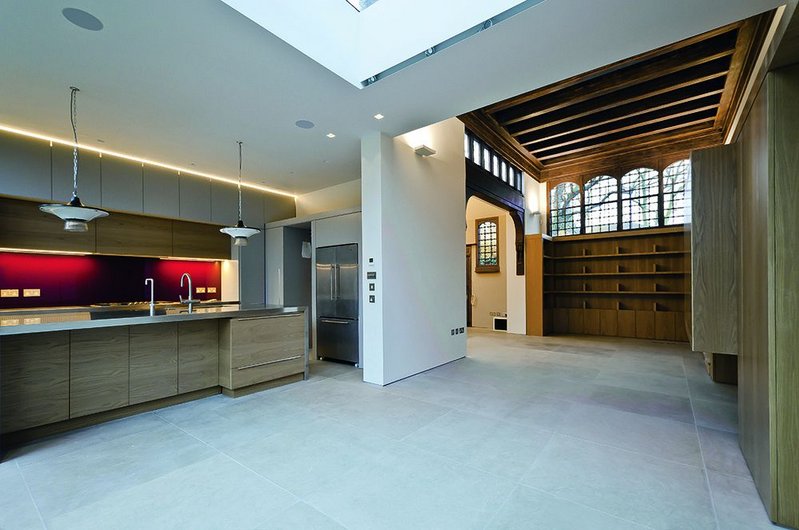 The four original rooms that made up the Arab Studio have been knocked through to create a single large family space
It's probably no surprise that the 19th century architect responsible for such eclectic works as the Italianate Christchurch Streatham, the imposing Grimsby Dock Tower based on Siena's campanile, and the round arch rundbogenstil of the Museum of Childhood should have had a studio at his own home in a strange Moorish style. James William Wild might have been influenced by brother-in-law Owen Jones for his 'Arab studio', appended to his house in London's Maida Vale, and the result was a space with strong Spanish touches. Designer Voon Wong + Benson Saw took advantage of this when it configured the studio as a dedicated family space for its present occupant.
The listed studio is now one large space holding kitchen, family TV room, library and built-in storage seamlessly designed to accommodate all these functions without destroying the homogeneity of the single space. Project architect Francisco Serradilla says it took time to get the proposal past the planners, who were resistant to the creation of the large glass wall to the rear of the studio. They conceded to the architect's assurances that the features of the space – notably its original windows and heavy-set timber ceiling, both of English oak – would be restored, respected and integrated into the contemporary look.
'We usually specify Fineline windows, but here we opted for glazing from IQ Glass, as we were really keen to have a frame that was absolutely flush to the ground level to give a seamless flow from inside to out,' says Serradilla. There were, however, colour differences between the York stone flags outside and the interior flooring stone. 'The client wanted a limestone, but a darker one, perhaps because it was going to be used in a kitchen area, so we ended up going for a Spanish Bateig Blue,' he adds. This harder limestone brought other benefits. At around 100m2 overall, the size of the space meant the firm was keen to use a larger 900mm by 900mm tile, and the softer York stone would have been a lot thicker than the 20mm Bateig Blue tiles they specified – bringing a bare foot that bit closer to the underfloor heating that's installed throughout.
Originally four rooms, the space was knocked through and steels installed to create the single open area. The kitchen units, and indeed all the bespoke joinery for the flat, was in thick veneered English Oak MDF. Serradilla explains that the joinery height line corresponds to the original dado – the line is respected across all the spaces, visually unifying them. The oak ceiling and windows had originally been black painted, but the firm argued to have them stripped back to expose the oak, blending it in to the new timber joinery. Serradilla thinks the eclectic Wild would have liked the changes, saying: 'Revealing the true colour of the timber took the original heaviness of the studio away and replaced it with a lightness that has transformed the space.'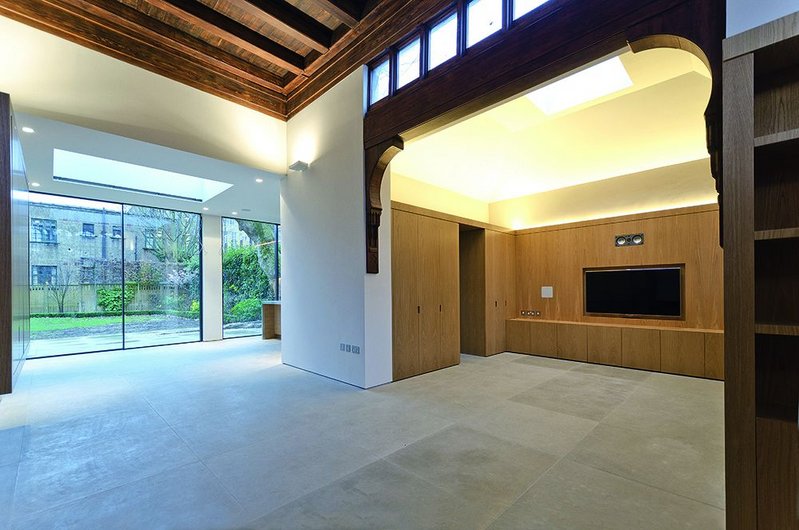 Original period features have been retained, but details like the glazing and joinery make it achingly contemporary
Francisco Serradilla, project architect, VW + BS
'About 50% of our workload involves interior redesigning of kitchen and bathroom areas. We really like using natural materials in our projects. We use a lot of English oak, ash and sycamore, and use natural stone in preference to things like poured resin floors. That said, we are specifying concrete screed finishes on a couple of our jobs, but generally we find that clients can think it's a bit industrial – they seem to go far more for the stone. As shown on this project, we like the beauty and utility of stainless steel for our kitchens – work surfaces will be either this or Corian – but we've yet to convince a client to go for concrete worktops. Taps are an important consideration in the design of a kitchen. Generally we like the look and quality of Franke or Blanco faucets.'