Insertion rather than conversion has kept this studio space light, in more ways than one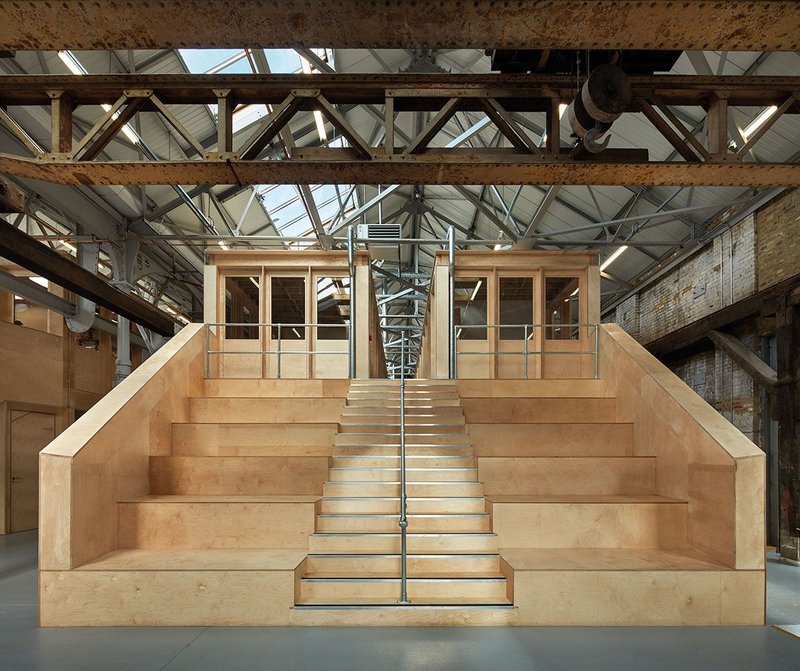 Bleacher seating forms the focus of the reinvented Millwall Ironworks.

Credit: Alan Williams
When the lease was up for Clerkenwell based Craft Central, it looked like it might spell the end for the small co-operative of designers, whose cramped but much-loved St John's Square building had been its home for years. But the desire to remain a collective proved a strong force so its chair Sue Webb looked further afield for new premises; and a grade II listed building on the Isle of Dogs, the 19th century Millwall Ironworks, became the focus of her attention. Refurbished as part of a Section 106 agreement for a new private housing development, the former factory, linked to the construction of Brunel's SS Great Eastern steam ship had, despite that, lain empty since 2010.
With The Forge's spacious interior topped by an industrial double pitched roof, Crafts Central approached Emrys Architects to put forward a proposal to insert individual studios, workshops and exhibition spaces beneath it. It proposed a free-standing, two-storey structure that, by not touching the original, maintained the integrity of the original building while ensuring Crafts Central got the spaces it needed within its all-in budget of £1 million.
Emrys felt the use of birch plywood and galvanised steel, along with exposed air handling pipes and the building's modular nature, could offer workshop spaces of 9m² or 18m² and reflect the industrial nature of the host building. Access to natural daylight was a key concern for the artist/artisan occupiers, so everything was pulled back from the edges of the building. Corridors between the two constructed plywood structures sit beneath each pitch – wide enough to allow natural daylight to reach even to the ground floor units.
It wasn't just about the process of making but the act of selling as a form of social engagement. To acknowledge this, Emrys produced its bleacher seating on both blocks, facing the roadside windows of The Forge. This has created a central forum for the collective, used for performance as well as display. And, in dedicated plywood and glass vitrines, the interstitial spaces between the original and new buildings become an agora for trade and social activity.
It is not just a re-birth for Crafts Central as an entity, but brings the craft of making back to an area that has lost its associations with production. Emrys has helped the Isle of Dogs deliver its own artistic nipper.