Perhaps inevitably, consumer awareness of natural products has moved beyond food and drink, even into construction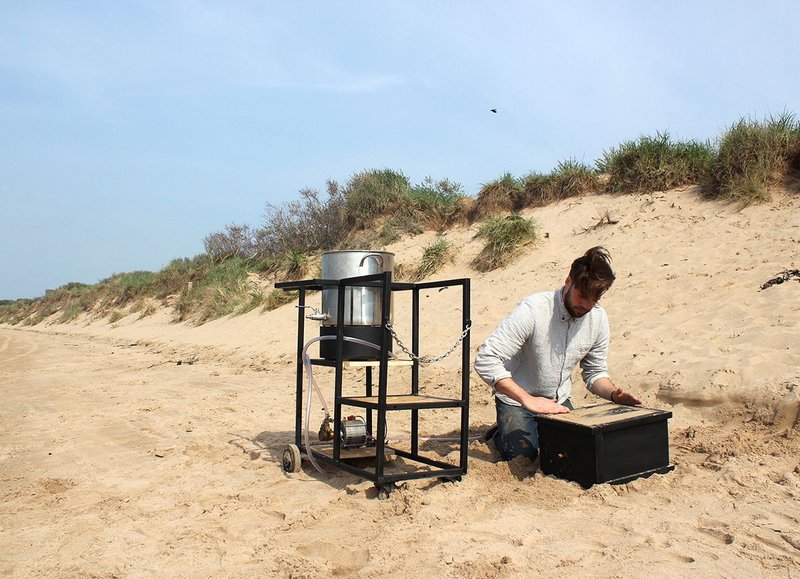 Edinburgh University product designer Peter Trimble with his 'cold pressed' sandstone with very low environmental footprint.
Next time you specify a sustainable construction product, be aware, you might be acting on the same impulse that makes people choose 100% naturally-sourced organic kale crisps over a bag of Co-op onion rings.
The same motivations that drive consumers to seek out natural alternatives to manufactured foods are now influencing other industries, including construction, the latest research has revealed.
The report, by The Innovation Group, quizzed 1,000 consumers in the US and the UK to uncover the cultural drivers and trends behind the phenomenon of the 'New Natural', whereby natural products are no longer viewed by consumers as niche alternatives, but mainstream and aspirational.
It revealed a deep distrust of industrial processes and products, as anxious consumers react to an industrial system that appears to be increasingly toxic and damaging to health.
A total 63% of women and 54% of men said they now buy natural products out of consideration for their health. This concern was greatest among millennials, aged 18-34, which accounted for 67% of all responses. The figures were roughly the same for consumers who said they bought natural products out of concerns for the environment.
'Natural trends that once would have remained confined to the specialty food sector are now rapidly scaling up to the mass market, and are having an immediate impact on beauty, apparel and even architecture ... we're seeing a renaissance of new products that meet this demand, and consumers are willing to pay accordingly.'
New Natural construction elements highlighted in the report include mushroom-based products manufactured by Ecovative, designed to replace foam, plastic, and conventional home insulation, which is often made of fiberglass and can produce harmful airborne particles. The firm also makes Myco Board, which can be used to make furniture without formaldehyde.
North Carolina-based BioMason uses bacteria to grow emissions-free bricks in a low-energy process that negates the need for traditional firing methods. Also highlighted is the work of product designer Peter Trimble, who, as part of a thesis project at the University of Edinburgh, created an environmentally friendly mini-manufacturing unit able to pump out high strength building materials using a combination of bacteria, sand, organic chemicals and salts. The machine was used to manufacture a stool out of a sandstone-like material.
The report uncovered consumers' increasing scepticism, with 69% of respondents saying they don't believe products labelled 'natural' truly are – a sentiment shared across all generations. 'In response, major brands are now distancing themselves from man-made additives and embracing natural messaging,' the report states.
Product manufacturers are also responding to the fact that consumers have less direct experience of nature than past generations, for example associating nature with YouTube videos of exotic animals, rather than recalling childhood camping trips.
'Nature and the digital space are not seen as opposites, and already, innovative brands are recognizing this, pitching products that combine natural claims with the language of science, technology and scientific enhancement,' said the report. The traditional image of natural or organic products being laid-back and anti-consumerist is also disappearing. 'Today's natural wave puts consumerism front and centre and operates at a massive scale,' it concludes.
Q&A: Shepherd Laughlin, director of trend forecasting at J Walter Thompson
In what ways are manufacturers of bio-building construction products, such as those mentioned in the report, responding to the 'New Natural' consumer attitudes?
There is a widespread if vague belief among consumers that big brands and conventional industrial processes expose us to 'toxins' that may be harmful to health. People want to reduce exposure by opting for more natural products in all areas of their lives. The New Natural consumer doesn't reject technology outright – they want brands combining natural materials and processes with innovations in science and technology, harnessing nature in a more sustainable, transparent and non-toxic way.
How will attitudes toward natural products in non-food industries change over the coming years?
We've found in general that new attitudes toward natural products emerge first in the food and drink sector, and are then rapidly picked up in other industries. For example, the cold-pressed trend in juice was almost immediately picked up by beauty brands, which started using cold-pressed ingredients in products for the skin. So to see tomorrow's attitudes toward non-food natural products, we should look to what's happening in food and drink today.
This has to do with the degree to which the body comes into contact with a given product. Attitudes tend to emerge first in food and drink – products that we literally consume – and then begin to affect other sectors like beauty (products for the skin), apparel (products that come into contact with the skin) and finally things like furniture and building materials (products in the environments that we inhabit). While they don't translate exactly, we even see ideas like 'cold-pressed' affecting construction – BioMason, for example, makes materials without the heat-intensive process used to create bricks, so 'cold' is equated with health and sustainability in a similar way.
Why is construction and architecture a specific area of concern for consumers?
People are trying to keep their domestic space free of worrisome 'toxins.' They're testing their sofas for industrial chemicals and even worried about the effects of materials such as fiberglass insulation. They don't trust the agencies and organizations that have traditionally regulated these materials, and are doing their own research online. Often people believe that products claiming to be 'natural' must be better for them than conventional materials, with or without proof. Consumers are also increasingly aware of the large carbon footprint of industrial materials used for construction, to make cement, bricks and so forth. For example, BioMason says that 40% of global carbon emissions are connected to the construction industry. If a natural material can be both healthier and more sustainable, this can be a win-win.
---