West Coast modernism has burst onto the capital's hotel scene in a town hall conversion by ORMS, Archer Humphryes and Shawn Hausman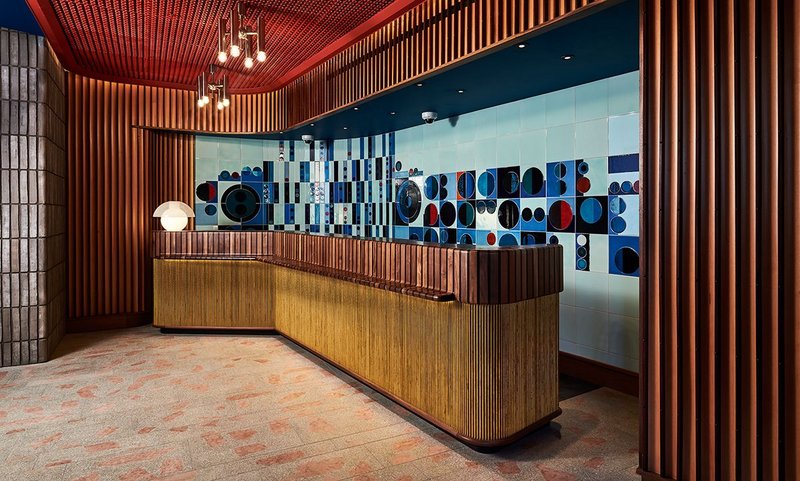 Timber slats and geometric tiles set the scene in the hotel's reception.

Credit: Tim Charles
When tourists come to London they expect grey: drizzly skies and Trafalgar Square pigeons, mushy food and miserable faces. If everything was quite so monochromatic, they might not come at all. Luckily, they also think of the red: the routemasters and the postboxes, the Tower of London's beefeaters and the fluttering Union Jack.
ORMS had plenty of grey to work with when it set about transforming a brutalist annexe to Camden Town Hall into a hotel. Situated opposite St Pancras and above the Euston Road, it is an uncompromising grid of oblong windows recessed into precast concrete.
So naturally, ORMS decided to add a dash of red. Breaking the facade is a shiny new lift, whose deep carmine outshines even the passing 73 bus. Superficially, visitors use the bubble-like device to ascend to a new rooftop bar, but its real function is to connote a groovy London, the sort of city that attracts The Standard's clientele.
This is The Standard's first hotel outside America. But the team is an extremely experienced lot. Taking their cue from Julius Shulman's photos of Case Study houses, they create achingly hip interiors that sell a very luxurious, all-guns-blazing brand of Californian modernism.
Bright splashes of colour outside hardly prepare you for the explosion within. Tropical wood abounds. On one floor, interior designer Shawn Hausman has covered the walls in rose pink, hot pink, Oxford blue, tangerine orange and heavy claret. The lobby flaunts a mixture of travertine, terracotta and terrazzo floors, while the ceiling can be anything from sports-floor rubber to laser-cut wood (painted to look like plastic, of course). Only lists can really do justice to this amount of excess.
Given the solidity of the building's core, collaborator Archer Humphryes has done well to carve out a variety of rooms. Small couchettes with neat bespoke furniture find space alongside king suites that drip leather and Harris tweed (yes, really). ORMS' two-floor roof extension gives some breathing space. Not yet completed, the roof terrace should offer spectacular views.
There are occasional nods to the building's past. Waffle-slab ceilings are left exposed in most of the rooms, but framed by plaster and doused in what one presumes is a flame retardant, they lose some of their heft. In general, rather than respect the building's integrity, Hausman has successfully recreated a period feel. The Barbican is a touchstone when creating some swinging 70s doors. All the signs use a clear Futura font.
Sometimes the sheer gaudiness works out well. Outdoor baths on a shared terrace hit exactly the right level of cheekiness. But there are also mistakes. Earlier this year I went to a former dictator's palace in Kiev. I have no doubt one table-cum-vase at The Standard would have attracted a Yanukovych bid at auction.
Now the Standard has opened, walk through the ground floor and you will quickly get a sense of the building. It contains in no particular order: a fermentation bar, a podcast studio, the vestiges of a council library and a seafood restaurant. At the Standard you are bound to love some things, hate others, but by god, you won't be bored.