At one pixel per 3.5m, high resolution Satellite Vu can distinguish heat loss from individual buildings – and has already been used for Leeds' Net Zero Homes plan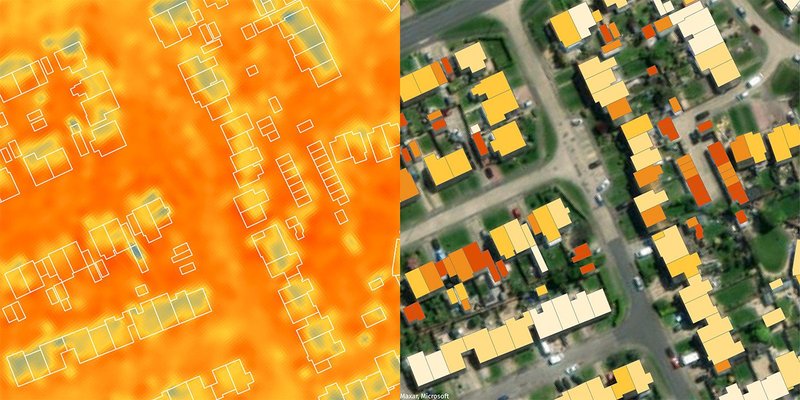 A UK-developed thermal imaging satellite is mapping inefficient buildings with a resolution that is high enough to capture individual roof tops and walls.
Operated by the London-based start-up Satellite Vu, the craft was developed to provide thermal data to businesses, councils and potentially also designers keen to understand heat loss in buildings and inform more targeted insulation upgrade campaigns.
Leeds City Council was an early beneficiary of the system, using test thermal images from a specially-equipped plane that flew over the city in the spring. The insights will inform the authority's £16.8 million Net Zero Homes plan, which was unveiled earlier this year.
Anthony Baker, CEO of Satellite Vu, said: 'Users can task our satellite to point at a particular geographical area and each image covers roughly 4km by 4km, meaning we can cover a large proportion of most cities. If your building is there, it is almost immediately apparent if it's emanating energy during the day or at night. Then you can make an assessment of whether that was through the bad design or operation of the building.'
HotSat1 launched on a Space X Falcon-9 rocket on June 12 and flies at an altitude of 500km. It is the first of eight satellites Satellite Vu plans to operate.
The infrared sensor was developed with funds from the UK and European space agencies and offers a much higher resolution than existing sensors, which reach a maximum of one pixel per 100m. The HotMax1 sensor is accurate down to around one pixel per 3.5m.
'Our innovation is to put a camera into space at a much lower cost, and at a much higher resolution,' explained Baker, who adds that when all eight satellites are flying 'you'll be able to fly over any particular point on earth and get a new image every couple of hours, day and night. It means you start to see the pattern of the life of an object and how it changes, looking at seasonal and diurnal effects etc.'
The focus at present is on larger constructions where temperature differences are more likely to show up on images. 'If you're looking at the roof of a small terrace house, which has a fraction of a degree difference, it's going to be a challenge at this stage until we start building up a library of use cases and data on that,' Baker added.
Apart from heat-mapping buildings, the satellite can identify structures and open spaces that exacerbate urban heat islands, which have been shown to cause heat stress to residents and cause aircon to run harder, increasing carbon emissions and cooling costs. Access to this data could benefit urban planners, architects, councils and governments trying to understand and tackle the problem, says Baker.
The UK has some of the most inefficient housing stock in Europe, with the vast majority of homes built before 1970. Retrofitting insulation and low carbon heating systems can help cut fuel costs and get the country on track to its legally-binding commitment to become climate neutral by 2050.