From shimmering metallics and luxe stone looks to playful patterns and linear wood strips, the latest designs from Spain offer specifiers something for every project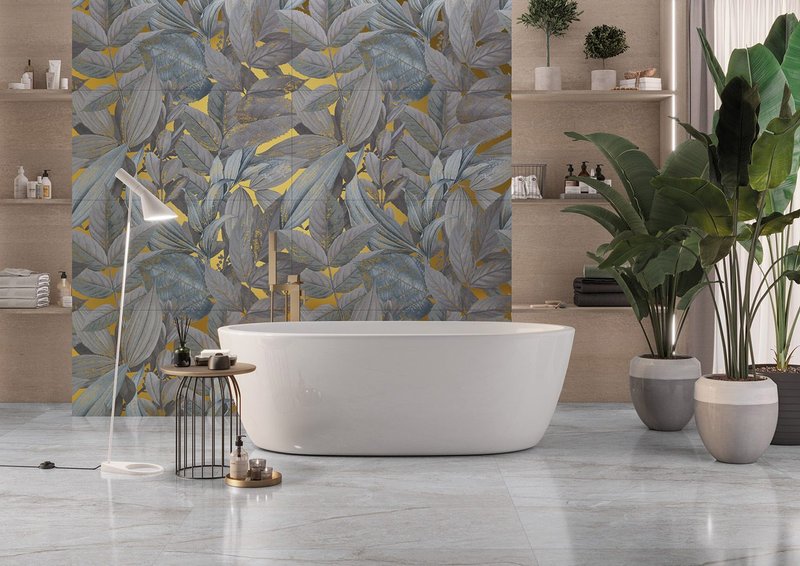 Idyllic Decor Gold by Keraben: a durable, easy-care porcelain wall tile in a bold botanical mural effect that echoes the use of gold leaf in art or precious wallpapers. 40x120cm format.
Ceramic tiles play a key role in enhancing the aesthetic qualities of architecture and bringing innovative pattern, texture and colour to interiors. ​
Spanish tiles remain at the cutting edge of design while drawing on a rich heritage of skill and creativity. Manufactured in Spain and widely available in the UK, they provide beautiful, high-performance solutions for flooring, wall coverings, furnishings and external paving and cladding.
Here are six of the latest designs to emerge this year that you might want to add to your specification list.
1. A glimpse of gold: Idyllic Decor Gold tile (pictured top) by Keraben
Subtle touches of precious shimmer have returned to interiors and to the tile designs of Spanish manufacturers.
It can be found in the form of delicate threads inspired by the classic technique of Japanese pottery repair, as brush strokes of gold leaf on mural tiles or as lustrous homage to the natural patination of metal.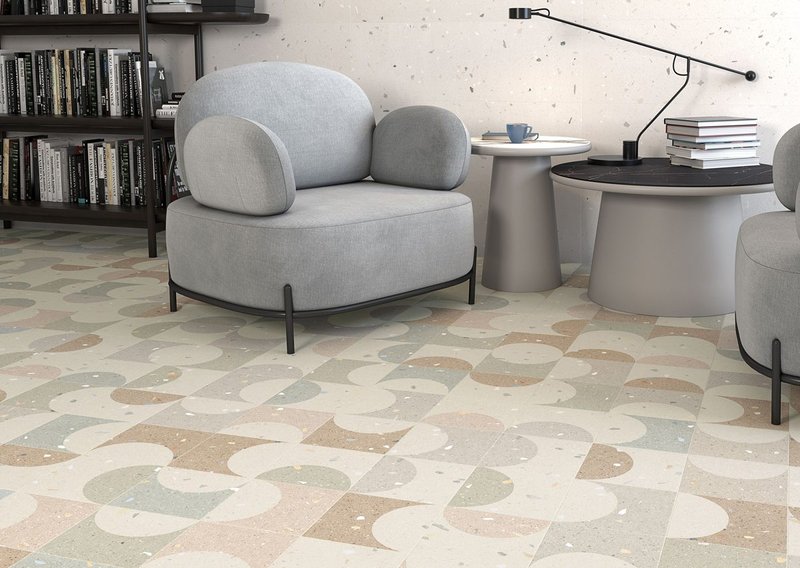 Croccante by Arcana: hi-tech porcelain floor tiles in multiple formats and subtle graphic and chromatic nuances. The curvaceous shapes of the retro-inspired Zeppole pattern are shown here.
2. Playful shapes: Croccante tile by Arcana (above)
Tiles have always been the perfect canvas for eye-catching designs and now manufacturers in Spain are optimising the latest printing and firing techniques to bring stunning new possibilities for playing with pattern.
Inspiration comes from sources as diverse as neo Memphis art and traditional wallpapers and fabrics, with half-moon shapes, ellipses, triangles and diamonds figuring strongly.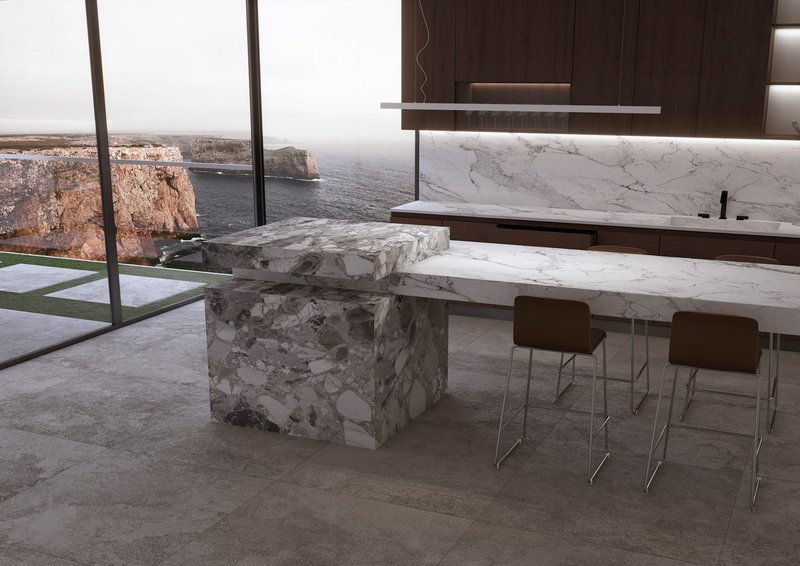 Sublime Cliff and Iceberg by Museum: porcelain slab inspired by the spirit of nature to honour the beauty of rare stones. A hi-tech solution for walls, floors and worktops.
3. The new Stone Age: Sublime Cliff and Iceberg tile (above) by Museum
Taking cues from exotic stones and the beauty to be found in the deep earth, Spanish brands are re-creating the intriguing matrix effects of the ancient ground beneath our feet.
Bringing gravity and nobility to interiors, these large slab porcelain pieces make for high-performance, easy-care luxury.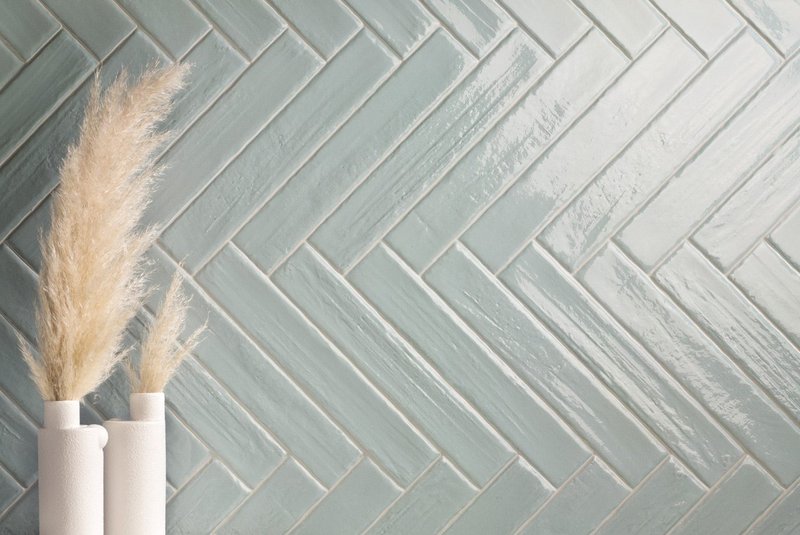 Wabi Sabi by Natucer: an elegant decor tile inspired by the imperfections of handmade ceramics. The 7x40cm format makes it ideal for herringbone arrangements. Available in nine colours.
4. Chic chevrons: Wabi Sabi tile (above) by Natucer
A number of Spanish brands offer collections that are ideal for creating striking herringbone designs on the wall and the floor.
Presented in delicious colours and the kind of subtle textures that echo handmade ceramics or timber parquet, the looks are both chic and joyful... and the versatility in terms of installation potential is inspiring.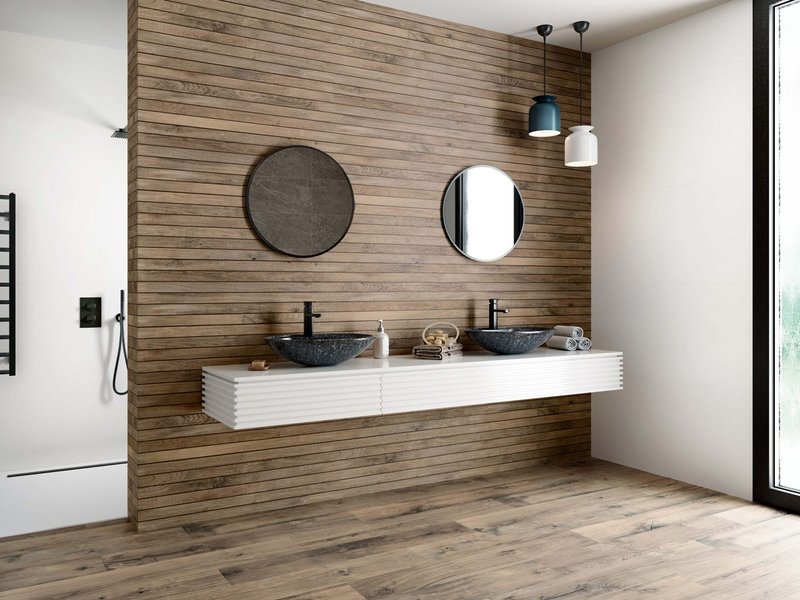 Northwood Elm by Baldocer: a wood-look rectified wall tile in a 33.3x100cm strip format with an elegant grain pattern and a subtle relief texture.
5. Long and lean: Northwood Elm tile (above) by Baldocer
There's a distinct move towards tiles that create a slender, linear effect on the wall or the floor, either as a fresh take on the classic metro tile or re-creating the narrow plank effect of Nordic-style wood panelling.
While referencing familiar decorative styles, these latest looks from Spain bring a contemporary directionality to interior design.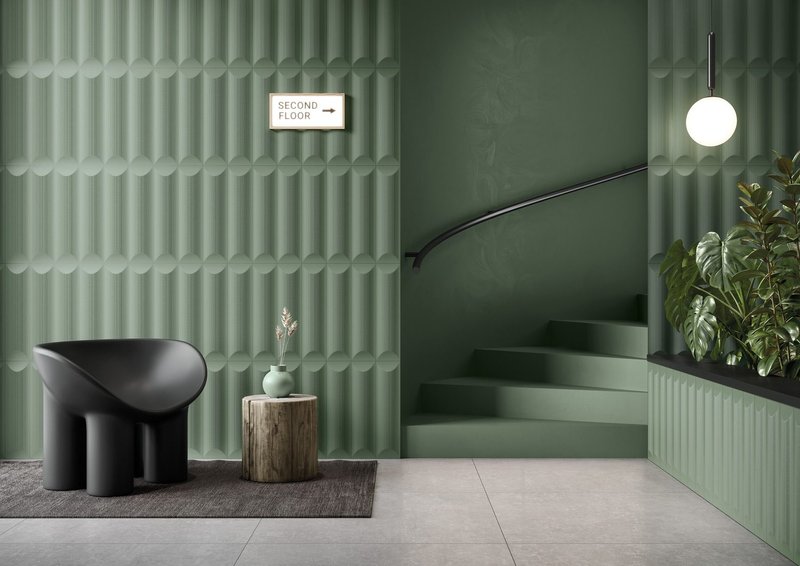 Log by ALTDesign for Harmony: inspired by the walls of log cabins, this fluted 12.5x50cm tile features a grooved texture and a mitred edge for impressive 3D effects. It comes in six colours.
6. Feeling groovy: Log tile (above) by ALTDesign for Harmony
Ceramics lend themselves beautifully to surface texture and 3D reliefs. Reed-like lines and extruded fluted effects characterise many of the latest designs from Spanish manufacturers, adding either subtle interest or high impact drama to contemporary wall coverings.
While being aesthetically intriguing, these on-trend designs are also very forgiving with their easy-care durability.
About Tile of Spain
Tile of Spain is the voice of the Spanish tile industry, encompassing more than 125 tile manufacturers.
For more information and technical support, visit tileofspain.com

Contact:
020 7776 7785
---