The quick-to-build Tufeco modular construction system requires no extra insulation, structure and, in some cases, finishing. Award-winning firms like Grimshaw are getting excited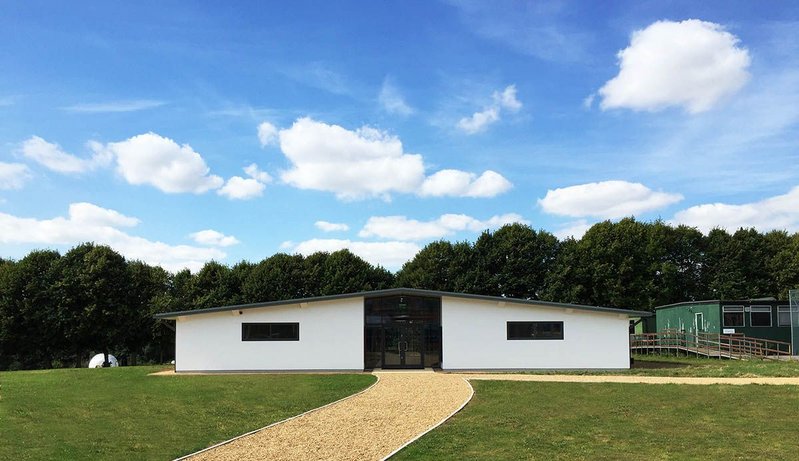 Lessons in super-insulation: Tufeco is part of a supply chain working on school projects that have included Reepham High School in Norwich.
RIBA Royal Gold Medal award-winning firm Grimshaw is one of a growing band of architects and developers exploring the potential of a super-insulative, fast-to-erect modular construction system made of recycled glass.
Tufeco is a monolithic panelised system intended for residential or commercial properties. It is made from composite material, a form of polymer concrete principally derived from silica sourced from glass diverted from the waste stream.
Panels for the foundation slab, walls, roof and intermediate flooring are manufactured off-site at an automated production line in Norfolk, with no extra insulation, structure and, in some cases, finishing required. They are delivered flat-packed and engineered to come together quickly, typically requiring just three workers on site, the most skilled job being crane operator. A 'fabric first' Passivhaus approach ensures that the external envelope exceeds UK building control standards and minimises the amount of fuel and power required by buildings in operation.
Atelio, a zero-carbon housing model based on the system, was launched last year by Grimshaw, in collaboration with Tufeco, SAM Architects and the Carbon Free Group. The homes are based around a grid-like system of panels, designed to enable a high degree of customisation, and include a central service column that connects a subterranean heat and storage system to the floors.
According to Tim Edmunds, director at Tufeco, the Atelio team is 'close to planning on several infill sites in London boroughs', where constrained access and awkward site conditions require a quick build without the need for a tower crane and numerous lorry deliveries.
Tufeco is 'at contract stage' on several projects with other partners, ranging from large agri-tech buildings to volume housing and off-grid style housing pods. The firm is also part of a supply chain working with a major contractor on school projects and was used previously to build Reepham High School in Norfolk.
Edmunds claims Tufeco kits are so straightforward to erect the firm is now exploring opportunities for robotic and cobotic (robots working alongside humans) construction. The composite technology also offers great opportunities for modifying material performance and appearance.
'Working with a completely different set of materials means a completely fresh start and a different mindset,' says Edmunds. 'We have a range of options to change the mix of ingredients, for example if someone wanted more tensile strength in panels and longer spans, we could change the glass fibre matt thickness or switch the fibre itself from glass to carbon or Kevlar. If they wanted a hospital cleaning room or a high food standards environment we could manufacture in anti-microbial properties at source, without the need to add an extra layer of board.'