TwinBIM overlays a 3D BIM model on the real world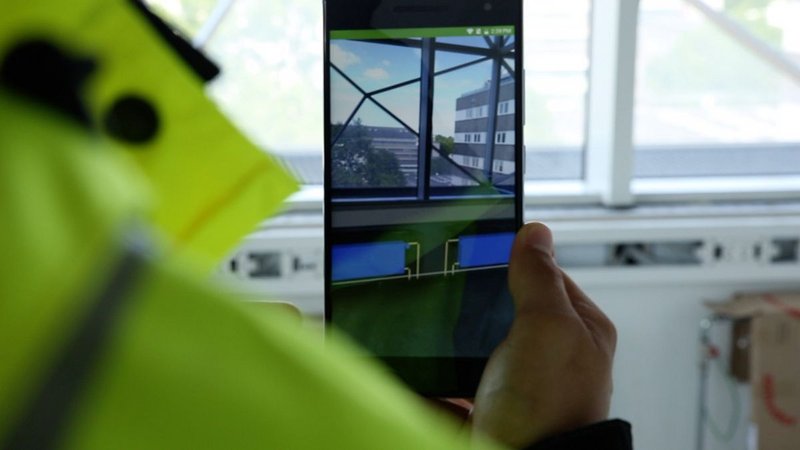 The first commercially available augmented reality app for construction enables architects to check design intent against on site delivery and visualise fit out and refurbishment designs inside existing buildings.
TwinBIM, developed by Danish firm Dalux, is an expansion of Dalux Field, the most downloaded BIM app for smartphone and tablet in Nordic countries.
The app merges the virtual and physical worlds, overlaying a 3D BIM model and drawings on top of the regular view of reality. The augmented environment updates in real time as users walk through environments, and incorporates a number of interactive features.
TwinBIM is principally intended as a snagging tool for construction teams. However, it offers a number of other benefits to architects, says Torben Dalgaard, co-founder of Dalux: 'Architects can demonstrate to building owners that their design intent, and what was planned in BIM, is being delivered correctly on site. It is great for developing new floor plans for existing buildings because it enables users to visualise systems, furniture and equipment inside the actual space. This can help demonstrate to end users and the client what is possible.'
TwinBIM is built on Google Tango, Google's augmented reality computing platform that enables mobile devices to detect their position relative to the world around them without using GPS or other external signals.
The software scans the surrounding physical environment and creates a 3D map. Users must pinpoint their position on a 2D plan, then press the '3D mode' button which automatically aligns BIM geometry over the physical world. They can then walk freely around the space as visuals update in real time.
'It was important to us to minimise the number of seconds that elapse between the user taking the phone out of their pocket and seeing the AR world on screen,' says Dalgaard. 'The alignment process and anchoring the virtual to the physical world is important to make the AR environment functional and believable.'
The system is a cheaper alternative to head-mounted AR displays, such as Microsoft HoloLens or the Daqri Smart Helmet, and costs nothing for existing users of Dalux Field. In addition, mobile devices offer advantages on construction sites in terms of safety and spatial awareness.
---