After an extraordinary period of design innovation, a host of discoveries lie in wait for architects at UK Construction Week - the free event at Birmingham NEC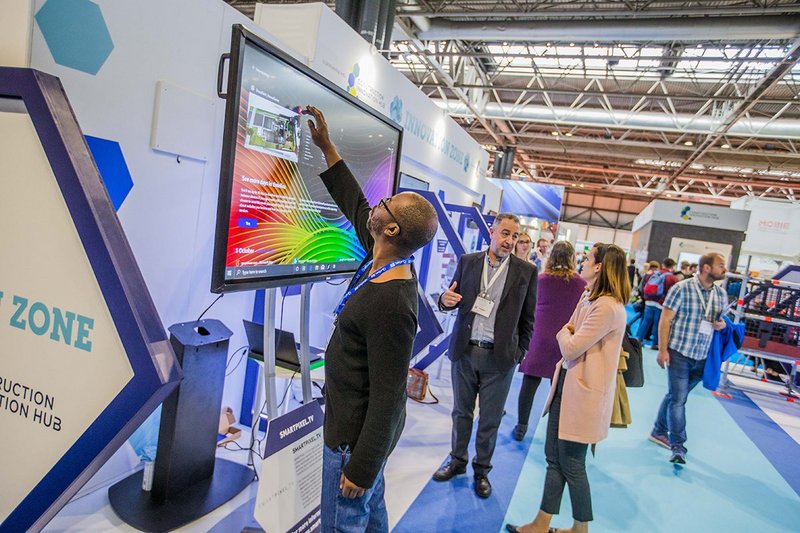 UK Construction Week: Building expertise across every facet of design, build and product innovation.
UK Construction Week takes place from 5 to 7 October 2021 at the NEC in Birmingham and will be the first major live event in construction since the start of the pandemic. It is completely free to attend.
The event will provide a treasure trove of new finds and practical innovations for the built environment, from self-sanitising door handles, new earthquake-resilience technology and recycled bricks to robotic exoskeletons for shoulders, backs and legs that keep builders powering through the toughest manual jobs.
The Innovation Zone is always a huge draw and, after a period of extraordinary innovation, there are some exciting discoveries:
Acoustic eelgrass (seagrass) that has been woven into reusable natural panels for interiors to provide acoustic benefits, created by Studio Kathryn Larson and inspired by the thatching techniques of seaweed farmers in Denmark.
Puri-Face - a new type of interior surface coating made by Lab MO that breaks down pollutants in the air, including carbon monoxide and volatile organic compounds. Used on furniture or other surfaces, it provides an energy-free air purifier that helps to boost building users' health and wellbeing;
CO2MP by Max Stein, a modular faced system that absorbs carbon dioxide in urban areas. It can be attached to the outside of existing buildings and consists of bioreactors that provide a habitat for the water fern Azolla filiculoides, the most CO2-metabolising and fastest-growing plant in the world.
A self-sanitising door handle by Titanology, which is designed to prevent the transmission of bacteria and viruses in public buildings such as hospitals, shopping centres and schools. A system of partial internal reflection of UV light is used inside a cylindrical transparent door handle tube coated in titanium dioxide (TiO2) by photocatalysed activity to effectively and safely decompose pathogens.
K-Briq, created by Kenoteq, a start-up company from engineers at Heriot-Watt University. It is an external facing brick made almost entirely from recycled construction waste. The K-Briq has one tenth of the embodied carbon of traditional bricks, requires no cement and does not need to be fired at high temperatures.
Quake-Safe, a seismic vibration damper created by Nottingham Trent University. By isolating the foundations, Quake-Safe promotes stronger and sustainable rebuilding techniques in the wake of earthquakes while protecting local building traditions and culture.
Configured Platforms' pre-engineered aluminium roof platforms - very light, yet very strong configurable platforms for pitched or flat metal deck roofs. Aluminium weighs approximately 33 per cent of the weight of steel.
One entry badge gives access to multiple sections: Build, Modern Methods of Construction, Building Tech, Timber, Civils, Energy and HVAC, and Surface and Materials, as well as Grand Designs Live (6 to 7 October only).
Delegates can also attend two CPD-certified UK Construction Week Summits on Wellbeing and Quality. These can be booked for £50 when registering for free to UK Construction Week.
Free registration to UK Construction Week 2021 is now open. Register at ukconstructionweek-2021
---