Barium sulphate is magic ingredient in Purdue University's white paint, which could replace air conditioning with its 98.1% reflection of sunlight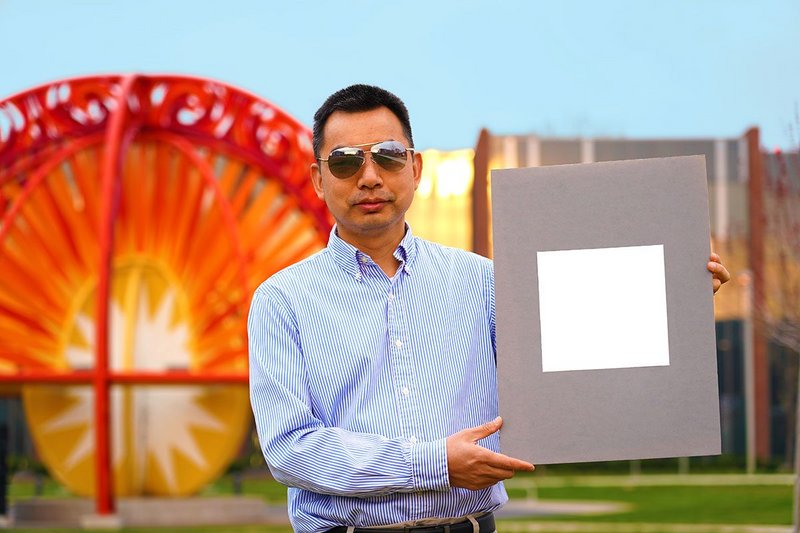 Xiulin Ruan, a Purdue University professor of mechanical engineering, holds up his lab's sample of the whitest paint on record.

Credit: Purdue University/Jared Pike
The world's whitest white paint, able to reflect up to 98.1% of sunlight, has a significant cooling effect and when applied to buildings could reduce reliance on energy-sapping air conditioning, the US researchers behind the formulation have claimed.
The paint was refined by engineers at Purdue University over the last six years and exploits a high concentration of barium sulphate, a chemical compound used in photo paper and cosmetics, to boost reflectance and bounce infrared heat away from surfaces.
According to the team's estimates, a 1,000ft2 area of roof covered with the paint could have a cooling power of 10kW, making it more effective than central air conditioners used in most US homes.
Painting roofs white is an ancient and proven technique to cool buildings. However, today's commercially available white paints only reflect 80%-90% of sunlight and are unable to make surfaces cooler than ambient temperatures.
Tests on the new paint revealed that in strong sunlight it could cool surfaces by 8°Fahrenheit below ambient surroundings, at night a drop of 19° was recorded.
The secret to this impressive performance is the high concentration of barium sulphate used as pigment. Unlike conventional titanium dioxide pigment, it does not absorb UV light and the inclusion of particles of various sizes scatters a wider range of the light spectrum.
The combination of high light reflectance and the radiation of infrared heat at a wavelength that is not absorbed by air serves to lower surface temperatures below ambient air temperature.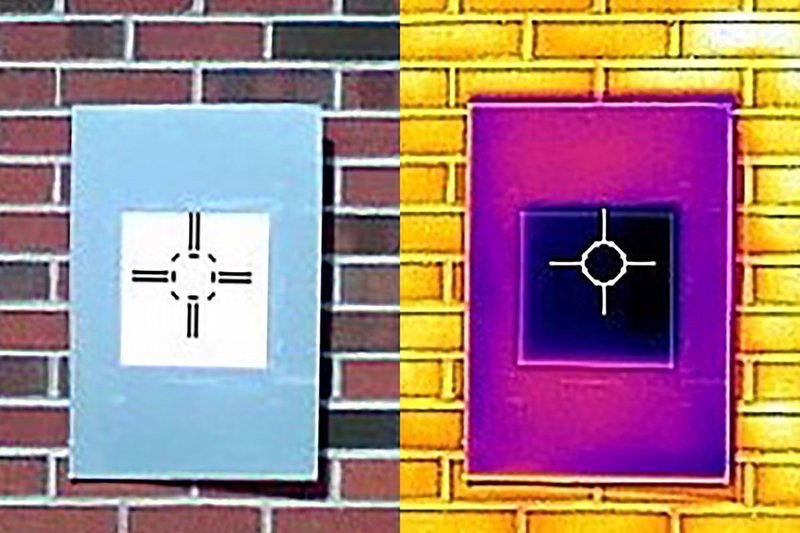 An infrared camera shows how a sample of the whitest white paint (the dark purple square in the middle) actually cools the board below ambient temperature, something that not even commercial 'heat rejecting' paints do.

Credit: Purdue University/Joseph Peoples
The researchers are working with a large corporation towards commercialisation of the paint, which they claim would be similar in price to existing paints.
During the research, the Purdue University lab assessed over 100 different materials, narrowed them down to 10 and then tested around 50 different formulations of each before arriving at the final product. Their previous highest performing ultra-white paint was made of calcium carbonate, a compound commonly found in rocks and seashells, and reflected 95.5% sunlight.
Xiangyu Li, a postdoctoral researcher at the Massachusetts Institute of Technology, who worked on this project as a Purdue PhD student said: 'We looked at various commercial products, basically anything that's white. We found that using barium sulph ate, you can theoretically make things really, really reflective, which means that they're really, really white.'
Barium sulphate has to be mined, and one expert quoted in an article in the Guardian expressed concerns that carbon emissions associated with this activity, if paint is produced at scale, may effectively cancel out energy savings related to reduced aircon use.
RIBAJ recently reported on the world's blackest black material, a carbon nanotube-based substance that can absorb up to 99.965% of incoming light.