Earth's blackest black – darker than Vantablack – absorbs 99.965% of light to remove shadows and perspective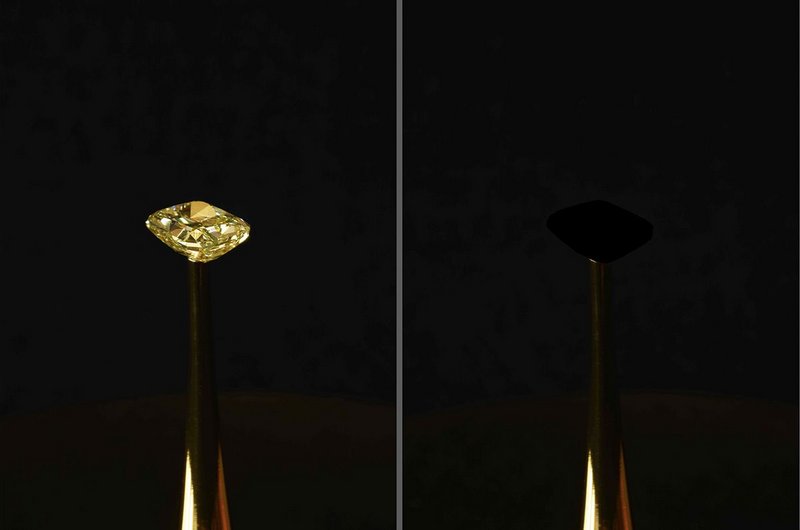 The Redemption of Vanity by Artist Diemut Strebe: The carbon nanotube technology absorbs more than 99.96% of light and was developed by Professor Brian Wardle and his necstlab lab at MIT.

Credit: Diemut Strebe
The blackest black on earth, a carbon nanotube-based substance that can absorb up to 99.965% of incoming light, is being applied to its first 'architectural' project, a miniature version of Ludwig Wittgenstein's former home in Vienna.
The material, which is 10 times blacker than any other substance known to exist, made its debut earlier this month when a joint artist/engineering team at Massachusetts Institute of Technology (MIT) used it to coat a $2 million diamond, effectively cancelling out the gem's extreme sparkle.
A follow up project, now under way at MIT, will apply the substance to a 1:150 scale model of the Austrian philosopher's famous villa, which he designed and built in collaboration with Austrian architect Paul Engelmann in 1928.
The sculpture, known as House Kundmanngasse 19, will be 3D printed then covered in a layer of carbon nanotubes able to almost completely absorb incoming light from any angle. The removal of light from the surface of the model will eradicate all shadows and therefore all sense of 3D shape, perspective and surface features, effectively transforming it into a flat void.
Diemut Strebe, artist-in-residence at MIT who came up with the idea for both artworks, told RIBAJ: 'This void erases or undermines the whole concept of the architectonic model, which is normally created to give an overall view of a much larger structure in the smallest detail. The model is still there, but in a sense it now represents its own unrepresentability.'
The model makes reference to Wittgenstein's famous early philosophical text, Tractatus Logico-Philosophicus, which attempted to define the limitations of thought and the ability of language to define existence. Wittgenstein placed aesthetics or aesthetical problems outside the realm of ideas that can be explained meaningfully. He also considered the most important aspect of his work to be what was left out and not said.
The carbon nanotubes that cover the sculpture will be grown to a depth of 1mm on a catalyst attached to a substrate layer. The resulting forest structure will have a very low density and around 99% empty space. Light photons that enter the layer they will become trapped and bounce around until the energy dissipates as heat, resulting in 99.965% absorption of light.
There are no plans to scale up the technology for use on a real building at present, but according to Strebe, this should be possible in theory. A space scientist is examining how to use the substance, with appropriate modifications, on large starshades designed to block starlight that interferes with telescopic observations.
In addition, the methodology behind the technology is open source and available to all, unlike the formulation for the world's blackest paint, Vantablack, which British artist Anish Kapoor purchased exclusive rights to in 2016.
The nanotube-covered diamond artwork, The Redemption of Vanity, is on display at the New York Stock Exchange and explores ideas around the unification of opposing extremes and how value is attached to concepts and things, particularly in the arts.
Strebe's idea for the piece led to the discovery of the carbon nanotube lattice, by necstlab at MIT, in a process that harks back to the Rennaissance. She said: 'It's important to highlight that this is primarily an art project, not a science stunt, and the art informed the science and scientific discovery. In past eras, during the Renaissance particularly, there was a strong interaction between the two disciplines, but more recently science has tended to dominate, for example with the invention of photography or synthetic colours for classical art.'
The glittering diamond and the deep black carbon nanotube layer that covers it are both pure carbon, but feature different atomic lattice structures. 'It is the same element expressed in a different arrangement of atoms, which is a beautiful idea,' Strebe concludes.