A climate crisis-era retrofit of Jean Prouvé's and Bernard Zehrfuss' design spends money on windows and facades but has to eke out savings on interiors. Architect Patriarche is charged with the balancing act
Sitting literally and historically in the shadow of the 1958 Unesco HQ in Paris, by Marcel Breuer, Pier Luigi Nervi and Bernard Zehrfuss, Unesco Building V on nearby Rue Miollis, completed in 1970, is itself of architectural note. Designed by Zehrfuss and Jean Prouvé for expanded member state delegations, it is the subject of a retrofit and upgrade by French architect Patriarche, who won the €33 million OJEU project in mid-2020.
Project architect Marion Barray says that the former was obsessed with the primal mass of Béton brut, to which Prouvé's fascination with technology and pre-fabrication seems antithetical. But she thinks the collaboration played to their strengths, with weight and lightness sitting in striking counterpoint.
Zehrfuss was responsible for the 17,000m² building's spine superstructure, characterised by pairs of huge concrete piers at ground supporting 12m wide office floors above of concrete and exposed steel columns, with four lower level 'public' patios extending out. Prouvé took on design of the innovative steel cladding systems for the facades as well as office and entrance hall interiors, fixtures and fittings.
Barray concedes however, that their experimental nature didn't fare well on time or climate change. Modern users suffered from severe summer overheating, despite Prouvé's attempt at solar shading – beautiful, clip-on curved aluminium 'cheeks.' And although stunning, some 'elemental' window openings were just a cast aluminium closer pressing a top hung, single-glazed pane against a silicon seal; the building was haemorrhaging heat in winter.
After a 2002 Unesco estates report identified a need for a major upgrade, Patriarche's task was to marry faithful restoration with a 'longer life, ensure it complies with fire safety and accessibility requirements, and… have technical operation facilities that complies with comfort, energy saving and low-carbon building standards.' With Phase II in progress, this is no mean feat; the building remains in use while being a construction site, with delegations decanting around the building to accommodate the three-phase project. But staged completion also means Patriarche can take stock of the project and consider how approaches improve or otherwise affect the original design.
Prouvé cladding panels to office floors
Originally fixed directly to the superstructure's 1.4m centre perimeter steel columns, the elemental simplicity of Prouvé's pre-fabricated panel system proved to be its fallibility. Each 2.9m by 1.4m panel was a sandwich of thin steel enclosing 40mm of a rudimentary form of mineral wool insulation. Curved outward-opening aluminium window frames held in a single-glazed pane with silicon seals. Bolted back to columns, aluminium grille brises soleil sat between cast aluminium brackets holding clip-ondouble-curvature aluminium 'cheeks.'
'Panels were unsuited to modern regulation, with single glazing, no thermal breaks, no air tightness and air leakage,' says Eckersley O'Callaghan's Charles Chevalier, the facade engineer for the project. 'With powder coating only on panel outer faces, when window seals eventually failed, water ingress was retained by the insulation and panels just rusted from the inside-out.' Total replacement was proposed – tempered by Prouvé's component-based approach – meaning his bolt-on and clip-on aluminium elements could be restored on-site and then reinstated.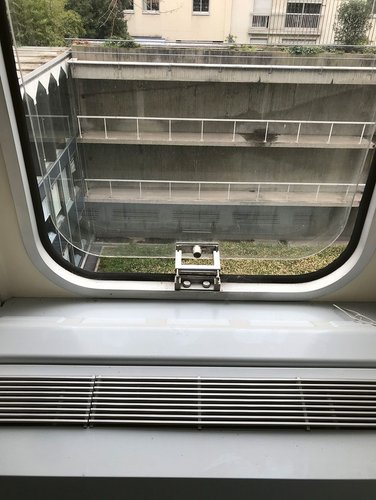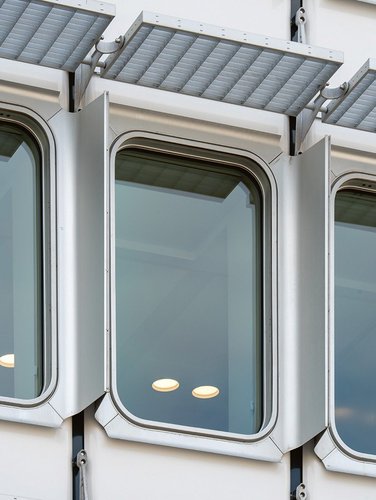 Patriarche's solution was to make the thermal upgrade of the facade distinct from the cladding system. It proposed a simple, 150mm thick timber framework in front of, and attached to, the steel columns – filled with Rockwool insulation and set behind a rainscreen membrane. Onto this cladding fabricator C-MOB bolted new aluminium sandwich panels, which had a rigid back face to emulate the look of the original panels. Prouvé's aluminium frame elements were cleaned and reinstated in new panels but inward-opening double-glazed aluminium window frames by Facal now sit behind this, aligned with the timber frame, placing the glass line 30mm further back than originally – 'setting the eyes deeper into the face'.
'In effect the datum line of the facade has been moved out by 150mm but because it is across its length, you don't notice it,' explains Barray, though she admits that doesn't work where the cladding line meets Zehrfuss' bridge-like concrete at first floor slab level. 'The step out here had a small effect on the light getting to clerestory lights Prouvé introduced to make a distinction between the private office and public levels below.' White-painted steel soffit panels in the 'Grande Galerie' are being replaced by grey powder-coated aluminium ones.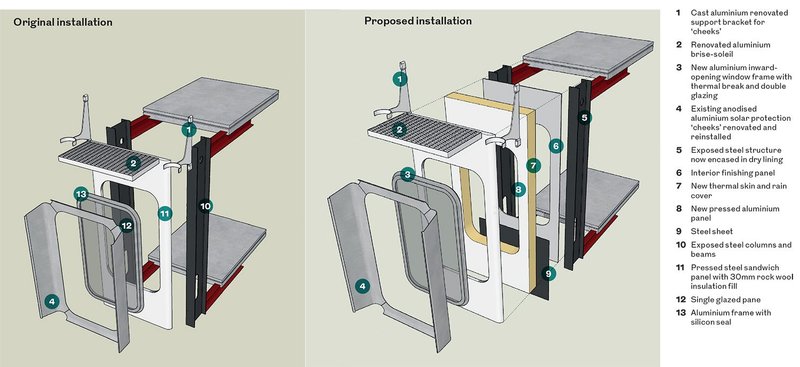 Credit: Patriarche
Restoration strategy for patio elevations
While less obvious, the restoration of lower-level patio courtyard elevations was more problematic, as Prouvé's detailing of glass sheets against silicon, while beautiful, was impossible to reproduce to meet regulations; and his elegant spandrels were woefully thin. Also, his slim aluminium channels, designed to run at 1.4m centres, ran right into the patio corners, so the new, timber-insulated framework now sitting forward of the slab disrupted this design ethos, forcing a rethink of the elevations.
As the building is not a protected historic monument, Patriarche had scope for a more interpretive approach. The Prouvé estate did however specifically request that verticality of the aluminium channels expressing his 1.4m grid be maintained.
Patriarche chose a full width Reynaers VEC-type double-glazed frameless curtain walling system. Building regulations required angles to structurally support glass panes in the case of the failure of the unit. Patriarche responded to this by running an aluminium angle along both vertical sides of the side opening. 'A security regulation drove the decision to emulate the existing channel but in a different guise,' explains Chevalier. 'This edge detail, when stacked over three floors, reinstates the channel but makes it part of the window instead.'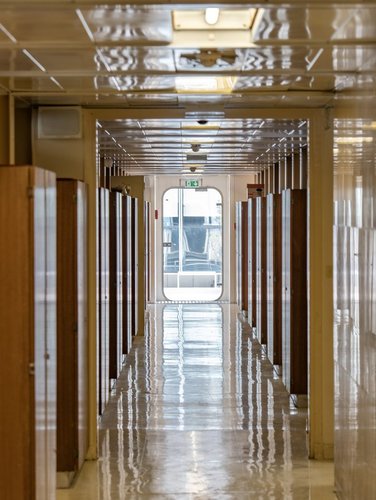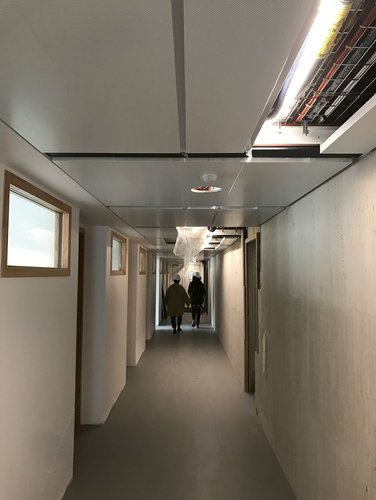 Prouvé's original, dark grey, backsprayed, enamelled spandrel panels also changed. 'We considered serrated and corrugated glass – it looked incredible but came in at high cost,' recalls Barray. 'So, instead we decided on a fine, corrugated aluminium profile adhered to the glass face. While not as sublime as our glass versions, it still embodies Prouvé's high-tech expression.'
At corners metal channels are supplanted by identical, but curved, cladding sections.
The 'heroic' 9m tall sheets of single-glazed float glass that form the restaurant glazed courtyard wall will be replaced by a Reynaers system. It is a more risk averse specification, with a lower transom running at 2.57m height with a second one 4.44m above that. Being south-facing, the new iteration will have external blinds and top louvres to mitigate solar gain.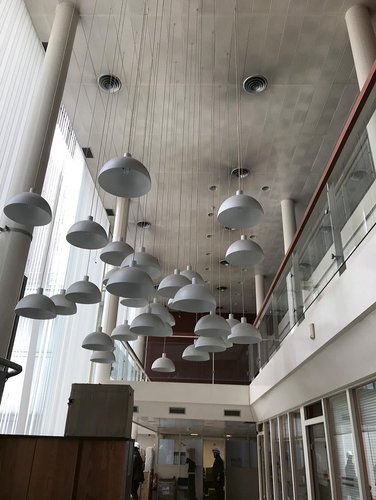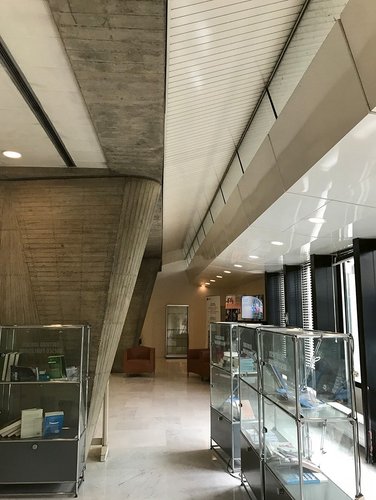 Office interiors and entrance hall
Interior refurbishment has been driven by the need to meet fire escape and access regulation, user comfort and changing user needs, which has resulted in radical reconfiguration, while attempting to maintain the spirit of Prouvé's internal flexibility. Originally, this manifested as full-height movable walls between office spaces, curious floor-set power points that were independent of their positions and crisp, clip-fix metal housings to air conditioning units and radiators. This has all been removed in the new design, which sees low energy air recycling conditioning housed in a boxed-out voids below the windows and the introduction of a modern and more substantial Vallee partition system – which maintains a sense of spatial flow between offices with full-height opening doors. These partitions meet a considered suspended ceiling, also by Vallee, with well laid-out and detailed lighting, fresh air feed and PIR sensors.
Perhaps the most radical intervention is in fire escape corridors, with ongoing removal of Prouvé's bespoke partition and storage system. The architect had integrated timber office doors and side lights of stippled privacy glass with novel 'back-to-back' storage units that faced into both offices and the corridor, divided by stippled clerestory glazing. Alongside exposed steel corridor columns, the arrangement generated a complex interplay of materiality, light and shadow. But cost, fire and acoustic concerns led to its removal, Patriarche instead installing a one-hour-rated dry-lined wall and encasing the corridors' structural steel. Barray cites a modern demand for privacy as a concern too but the sense is that value engineering has resulted in a utilitarian space that bears scant resemblance to the original.
More in keeping should be the retrofit of the entrance hall with an intriguing 'Toblerone' metal beam soffit and porte cochère, which spans the 21m lobby space. With an existing 160mm thick roof, Patriarche will be installing a further 140mm of Rockwool to bring its performance up to standard, but will keep this additional thickness back from roof edges to ensure the slenderness of detailing remains.
Achieving requisite thermal performance where glazing interfaces with triangular soffits was complex, so the new entrance hall glazed wall by Reynaers will be moved forward by 200mm and an insulated aluminium section fixed to the reveal of the roof slab, setting the structure vitrine-like behind the glass. On the other side of the entrance travertine wall cladding will likewise be moved out to allow for insulation behind, with a new double-glazed unit set on the top of the wall rising to meet the new roof edge detail. Funky but poor performing 3-D lozenge-shaped polycarbonate rooflights will be replaced with flat double-glazed units.
With reclamation firm Mobius contracted to repurpose stripped-out materials and Saint Gobain taking the original glass, melting it down and creating new float glass, material re-use on the project should amount to 15%. Unesco's 2002 report had allocated €26.25 million to the project – around €39 million at today's value; if so, Patriarche is doing well to deliver Building V for £33 million, significantly less than even this figure. It seems clear that money is being directed at upgrading the performance of the envelope and meeting fire and acoustic regulation for office interiors, the latter affecting levels of retention of original Prouvé interiors. Once phase III completes in mid-2025, the aim is for the retrofitted building to meet French 2009 BBC (Bâtiments neufs à Basse Consommation) Effinergie Rénovation standards, yielding a 63% U-value improvement and 70% improvement in regulatory energy consumption.
Credits
Client Unesco
Architect Patriarche Architecture, Environmental Building Quality [EBQ]) & Patriarche Ingénierie
Facade engineer Eckersley O'Callaghan
Landscape architect Michel Desvignes Paysage
Asbestos lead engineer Omega Alliance
Acoustic design Lamoureux Acoustics
Fire safety Casso & Associés
Lighting design Atelier H.Audibert
Site scheduling, management and co-ordination Quatorze-IG