Manufacturer's Anicius textured hand-formed product helps integrate new and existing buildings at the WilkinsonEyre-designed City Law School in Clerkenwell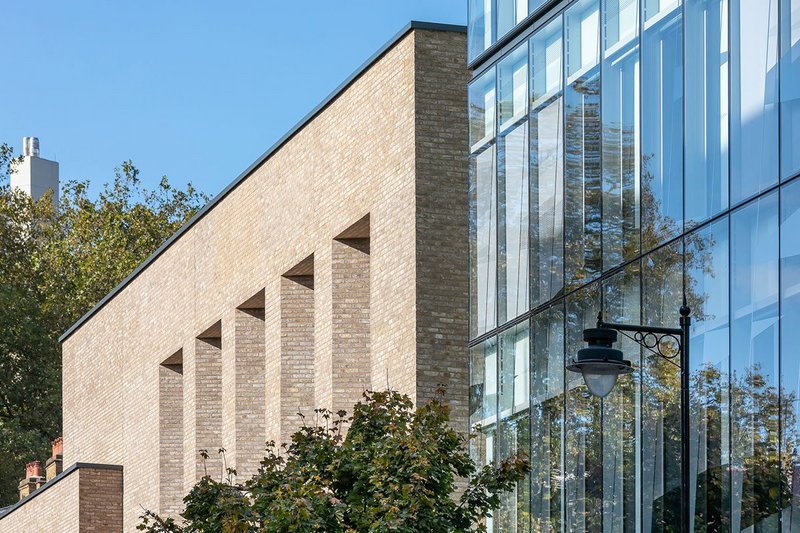 Warm brickwork meets cool glass: Vandersanden Anicius brick on the main facade of The City Law School, part of City University of London.
Anicius facing bricks from Vandersanden have been specified for the new home of The City Law School in Clerkenwell, designed by award-winning practice WilkinsonEyre.
The City University of London project integrates two existing buildings with two new-build blocks to create a new 7,240m2 building at the corner of Sebastian Street and Goswell Road. The facility provides high quality academic space and a sense of community and place on a previously under-utilised site.
Conceived as a series of united blocks, the scheme includes two 1920s light industrial buildings arranged around a central atrium. The new-build seven-storey glazed tower features a ventilated double-skin facade with patterned interlayers to control temperature and glare. The four blocks each retain their distinct, individual character while functioning as one coherent building.
The form of the The City Law School balances the scale of the surrounding Georgian residential streets with the larger more varied grain of the Goswell Road, a key arterial route into the City of London. The building has a mock court room, dynamic social spaces that encourage creativity and interactive learning and a law school library with brick detailing that continues internally.
The architects wanted to use brick to help manage the blended transition between existing buildings and the new development. As well as fitting exact design criteria, the brick had to meet specific technical requirements, including being suitable for the detailing around the chamfered reveals of the library windows. Because the building is located on the edge of the Northampton Square conservation area, all materials needed to be approved by the local planners and conservation officer.
After providing the architects with a large sample panel, Vandersanden's Anicius brick was specified. Anicius is a hand-formed, multi-coloured product with a sanded-coated and creased structure. The base colour is warm brown muted by subtle tones of white, grey and ochre, achieved through the specific sand types used in the surface covering. In all, 210,000 Anicius bricks were used by contractors BAM Construct UK to create the external walls of the new City Law School.
For more information and technical support, visit vandersanden.com
Contact:
01954 268075
---