A multi-volume, two-bedroom house in grey Antro brick from Vandersanden inserts itself like an upright block of stone between the Victorian villas on an Ealing street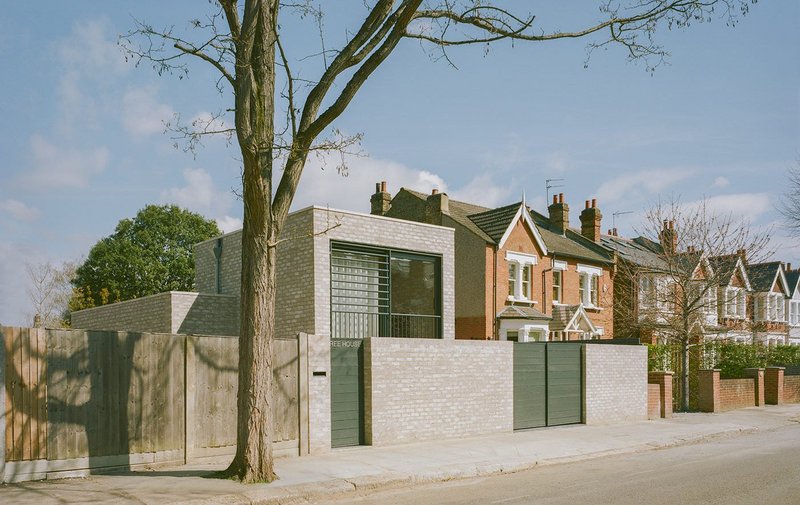 Fletcher Crane's Tree House is 'stitched assertively into the street scenography'.

Credit: Lorenzo Zandri
Surrey-based firm Fletcher Crane Architects has specified Vandersanden's 65mm Antro facing brick for the interiors and exteriors of its RIBA Regional Award winning Tree House, a contemporary home in Ealing, west London.
Located in a conservation area and constructed on a 12x12m former garage site bounded by rear gardens, Tree House is a two-bedroom property that stands alongside a run of characterful villas.
Fletcher Crane designed the home as an articulated series of volumes in a split-level arrangement of rooms around a central spine.
The kitchen and living room sit on the upper storeys to make the most of natural daylight while the two bedrooms are submerged within semi-sunken floors.
Three principal materials create a raw palette inside and out: black ash timber, tubular metalwork and multicoloured Antro brick.
The load-bearing brickwork is exposed and flush-jointed with traditional lime mortar to create a unifying, almost monolithic appearance.
BauBuche structural timber joists span the brick structure while, in the basement, the in-situ concrete frame is left bare. The central staircase is encased in ash timber panelling, which is set against more curved Antro brickwork and sharp metal balustrades.
Outside, a sunken planted courtyard is accessed using stepped Antro brick planters and a paddle stair constructed of black cobble setts.
'We like the texture, tones and variety that the Antro brick gives us at Tree House,' says Harry Reid, architect at Fletcher Crane Architects. 'Vandersanden offers a significant range of these light multicoloured bricks in white and grey hues, which are very attractive for this type of project.'
The company supplied sample options for comparison and contrast and Reid selected Antro.
'It combines well with the lime mortar and other components at Tree House to create the overall feeling of an intimate yet generous home that's filled with light and rich in materials.'
Antro is created from a combination of different clay forms that yield a grey base colour and is then coated with specific sand types to create a grained, creased texture.
The clay structure brings darker and lighter tones out of the base grey along with shades of white in the overall final appearance.
Find more on this case study at vandersanden.com/tree-house
For more information and technical support, visit vandersanden.com
Contact:
01954 268075
---