The bold chequerboard patterning of cladding and brick puts BPA's Orwell House right at home in the modernist pioneer's Dorset Estate in Tower Hamlets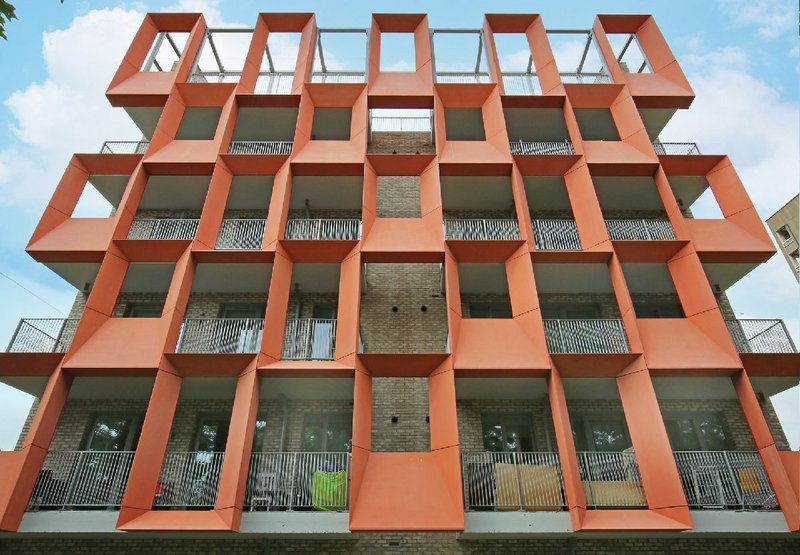 Orwell House on the Dorset Estate, Bethnal Green with loggia at either end screened by pink GRC panels.
For its architecturally striking Orwell House scheme in Bethnal Green, London, Bell Phillips Architects (BPA) has specified hand-formed, multicoloured bricks from brick maker Vandersanden.
The affordable housing project was designed for the London Borough of Tower Hamlets and forms part of the Berthold Lubetkin-designed Dorset Estate, originally constructed in the 1950s and 1960s.
Comprising 20 flats, six-storey Orwell House is a new, wedge-shape, in-fill development off Colombia Road to the north-west of the borough.
BPA's imaginative design features balconies and a roof terrace that look out across Ravenscroft Park with the steel-framed volume of Orwell House contained by a greyish brick envelope.
On the two shorter sides, the bricks are fronted by balconies screened with pink, glass-reinforced concrete (GRC) panels. The bold chequerboard patterning echoes the tones and patterns used by Lubetkin to animate facades on buildings across the existing estate.
Orwell House is built in line with the London Plan's Be Lean, Be Clean, Be Green. All the flats are dual-aspect, allowing cross-ventilation, and are specified with floor-to-ceiling windows, flooding the flats and corridors with natural daylight.
Around these window openings, BPA designed deep brick reveals on the exterior. Elsewhere, brick specials on the corners form defined edges for the building and the use of stacked bonds in specific areas works to accentuate its verticality.
'From a distance, the bricks needed to provide a neutral base that emphasised the coloured screens while, up close, they needed to offer visual interest, especially on the restrained north and south elevations,' explains John Lineen, project associate at BPA. 'We chose Vandersanden's Antro for its ashen-grey tones and high degree of texture and variation.'
Antro brick brings a careful balance of colour, texture and contrast to the design. The brick is created from a combination of different clay forms that yield a grey base colour.
It is then coated with specific sand types to bring a grained, creased texture to the brick. The clay structure evokes darker and lighter tones out of the base grey, along with shades of white in the overall final appearance.
Completed in July 2020, BPA's Orwell House is a Finalist in the Housing Design Awards 2021.
Vandersanden is renowned for its innovation, craftsmanship and sustainable manufacturing practices.
Find more on this case study at vandersanden.com/orwell-house
For more information and technical support, visit vandersanden.com/en-uk
Contact:
01954 268075
---