The Vandersanden yellow hand-formed brick is the making of Allies and Morrison's mixed-use development in Westbourne Park, west London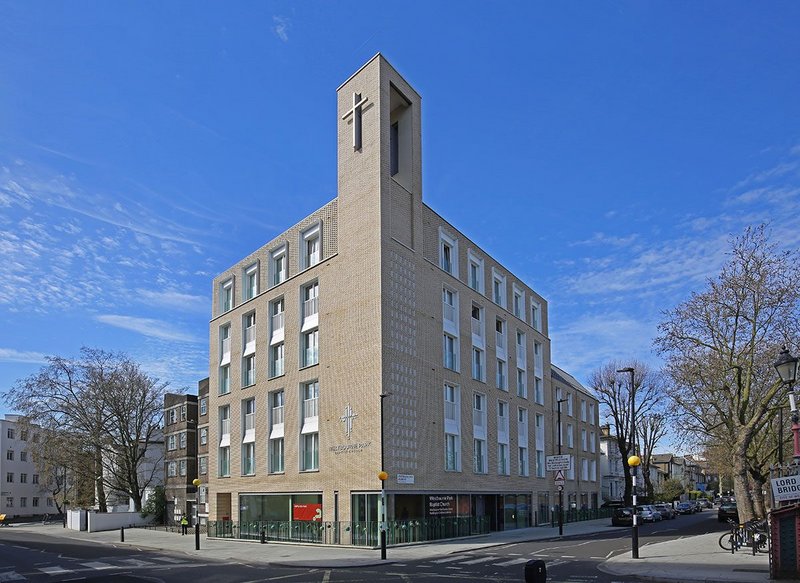 Vandersanden Creme brickwork at Westbourne Park Baptist Church: 'The hand-formed cream-coloured brick helps elevate the status of the design.'
Architects Allies and Morrison have chosen 50mm hand-formed Creme bricks from manufacturer Vandersanden for their award-winning Westbourne Park Baptist Church project in west London.
A Baptist church was first established on the site, close to Royal Oak underground station, in 1875. The original church was damaged beyond repair during the Second World War and its replacement, erected in the 1960s, had become outdated, was poorly configured and expensive to maintain.
A community-led project and partnership between social housing provider Dolphin Living and Westbourne Park Baptist Church appointed Allies and Morrison to design a scheme that would include new accommodation for the church, a family centre, the Paddington Children's Library, a community hall and 33 intermediate affordable homes.
Highly Commended in the Civic Trust Awards 2021, the design creates an exemplar in the integration of religious, community and residential uses through a compact mixed-use development.
A campanile provides a focal point that puts the church at the heart of the scheme. The main building features large windows that provide generous direct daylight into the five upper floors of apartments. As well as reflecting its multi-use character, this scheme also addresses the sensitive heritage of the site and its residential context.
The choice of brick as a material was significant. 'We went through an extensive design review process in brick selection before settling on Creme from Vandersanden,' says Richard White, associate at Allies and Morrison.
'This hand-formed cream-coloured brick helps elevate the status of the design, forming a consistent and restrained material and colour palette of brick, steel, aluminium and glass that sits harmoniously with the stucco of the adjacent villas. The geometry of the brick modules is important in expressing the building's aesthetic and helping to harmonise its scale with its architectural context.'
Creme is created from a combination of different clay forms that yield a white base colour. It is then coated with specific sand types to bring a grained, creased texture and shades of yellow to the final appearance.
At Westbourne Park Baptist Church brick headers and stretchers are layered alternately in each course with headers centred on the stretchers of the course below in a Flemish bond.
The 50mm format of the Creme brick, in combination with splayed reveals on the campanile, pulled headers on the top recessed storey and evenly placed vertical break lines, helps order the building's massing between the taller mixed-use buildings of Porchester Road and the smaller scale residential character of the historic Westbourne Park Villas. Approximately 150,000 bricks were sourced for the project.
For more information and technical support, visit vandersanden.com
Contact:
01954 268075
---