The use of textured white brick across a new facility in Huntingdon captures the light in a hopeful and uplifting celebration of life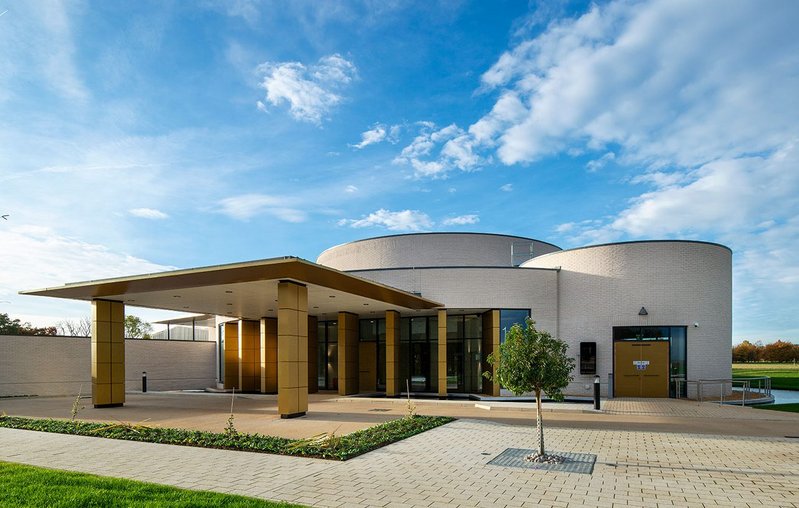 Vandersanden Perla and Morvan bricks at Huntingdon Crematorium. Benchmark Architects.
The new Huntingdon Crematorium facility for Huntingdon Town Council is made up of a collection of buildings that makes a stunning contribution to the landscape of the greenfield site and is helping to change the accepted perception of crematorium buildings.
'We were looking for a way of making the process of going to an end-of-life ceremony uplifting and hopeful,' says Mark Doohan, managing director at Benchmark Architects. 'We had the idea of creating a curved, white brick building within which there are beautiful, light-filled and airy spaces.'
The architects realised that, by inserting a black brick wall across the site, they could create a 'canvas' that provided a separation between front of house and the working areas and crematory functions.
Against this, on one side, they placed three curved white brick volumes to create the key spaces, adjusted in height according to the hierarchy of their importance: the entrance lobby, waiting room and chapel. Out of sight, behind the wall, are the cremators, plant rooms, offices and other functional elements.
The design focuses on a central drum flooded with natural light. The main building contains a ceremonial hall for 125 people, waiting rooms and the crematory. A second building contains a multipurpose function room - that can be used for wakes - and a café with catering facilities and administrative offices.
Specifying the brick facade for Huntingdon Crematorium
'Good white bricks are hard to come by because they're often tinged with yellow or beige,' says Doohan. 'And finding black bricks that are not simply colour coated or are a dark blue is equally hard.
'So we were delighted when we found Vandersanden's Perla and Morvan bricks. We genuinely love their texture and through-colour quality. They set off our concept perfectly.'
When seen from a distance, only the overall form of the building is perceived but, on getting closer, the brick details start to stand out. Up close, the contribution that the texture, pattern, shape and almost handmade quality of the individual bricks makes to the quality of the building becomes clear.
'Vandersanden was excellent at providing advice and technical backup whenever we had a question,' says Doohan. 'They are now our go-to source for brick.'
Find more on this case study at vandersanden.com/huntingdon-crematorium
For more information and technical support, visit vandersanden.com
Contact:
01954 268075
sales@vandersanden.com
---