Freeland Rees Roberts' student accommodation for Clare College's St Regis site harnesses an imaginative Vandersanden brick specification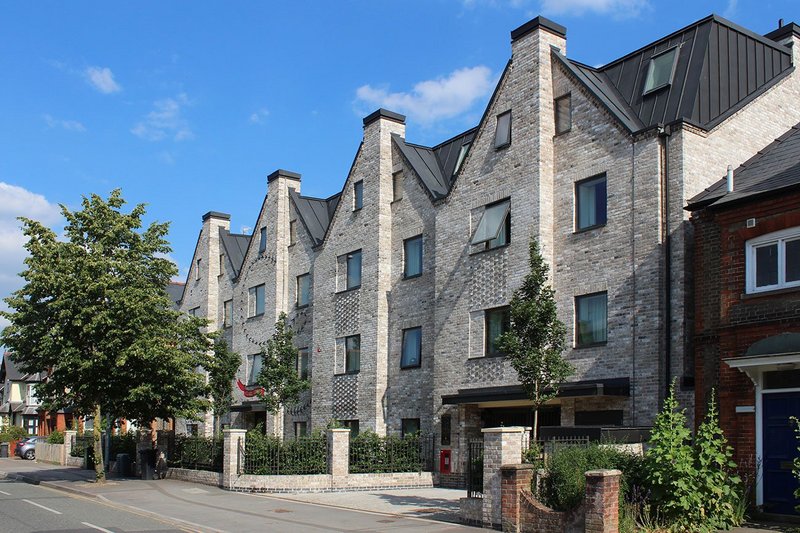 Clare College, University of Cambridge, St Regis site student accommodation on Chesterton Road.
Vandersanden bricks have been specified for new student accommodation at University of Cambridge's Clare College St Regis site on the edge of the De Freville city centre conservation area.
Freeland Rees Roberts Architects was appointed to design a scheme to replace the site's existing 1930s buildings, which were no longer fit for purpose.
The practice worked closely with Vandersanden, selecting brick as the principal element of the new facades.
The three new buildings needed to provide additional and improved student accommodation in a way that didn't dominate the surrounding residential area. The massing and perceived scale of the buildings were crucial considerations.
To repair and maintain the rhythm of the street scene, architect Alexander Hobohm broke the volumes down so that, instead of looking like large residential blocks, they appear like a run of houses.
Hobohm split the facades into separate gables with mansard roofs and specified a combination of Vandersanden's Majestic and Luna Apollo facing bricks.
'There is plenty of life and colour variation in these bricks,' explains Hobohm, 'which works well with the dark zinc roofs.'
The yellow/grey Majestic brick provides the main body of the walls and the brick headers, which add texture and plays of light and shade. The darker grey Luna Apollo bricks are used for the plinth detailing and at the junction with the roof.
The facade specification softens the appearance of the facades within the street context, establishing a link between new and old.
Integrated bird boxes provide nesting and roost space for the swifts that were in residence in the original buildings. They also inspired the college's commission of the swifts-in-flight artwork, which is now a feature of the front facade.
For Hobohm, working with Vandersanden has been a positive and supportive process.
'Early on, Vandersanden showed us projects using the same bricks and supplied product and technical information, plus a batch of the two brick types, enabling us to create sample panels.
'The colour, tone and texture were qualities that other manufacturers couldn't offer,' he says. 'The bricks helped deliver the project vision and the client is delighted. It's now one of the college's signature buildings.'
The project is winner of two regional RICS Awards.
Find more on this case study at vandersanden.com/case-studies/clare-college
For more information and technical support, visit vandersanden.com

Contact:
01954 268075
sales@vandersanden.com
---