Part of a new urban business centre, Cocoa Studios is inspired by the 19th-century Bermondsey warehousing of biscuiteers Peek Frean and features a facade in Vandersanden Herning brick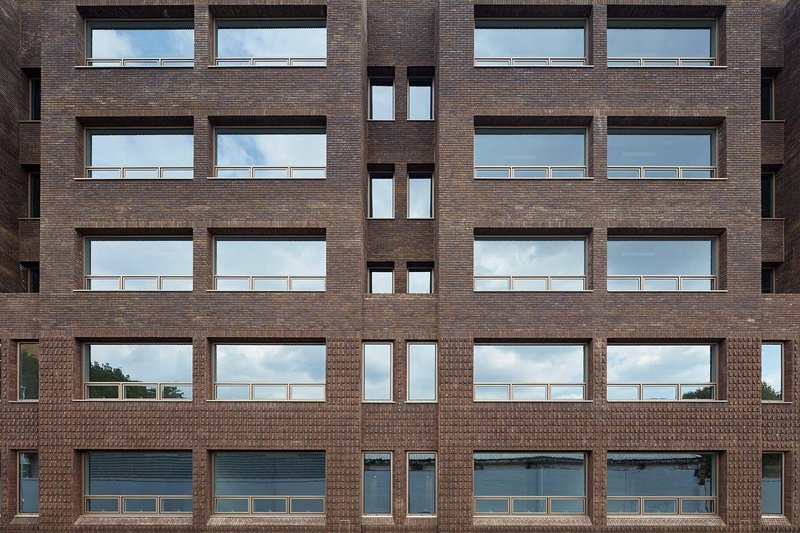 Cocoa Studios is a new commercial building by Allford Hall Monaghan Morris (AHMM). It is located at the heart of The Biscuit Factory, a business centre on the former Peek Frean's Victorian works site in Bermondsey, London.
The six-storey design references the historic warehouses of the area: narrow proportioned brick buildings with large recessed openings and fine detailing.
Vandersanden's 65mm Herning facing brick was chosen as an integral element of the building's design.
For 123 years, biscuits, such as the Garibaldi and the Bourbon, were manufactured in the Victorian factories on the site, which now consists of new-build and refurbished buildings occupied by start-up businesses and small and medium-sized enterprises.
AHMM examined options for the facade with building materials distributor EH Smith to ensure colour and texture requirements were met. It was essential that the brick worked with a smaller than usual joint profile of 7.5mm.
To achieve the batching measurements required when setting the building out, Vandersanden produced the bricks in a single firing to ensure the best possible consistency.
Vandersanden's Herning brick was chosen because of its texture and variety of tones and colours.
'These complement its context while bringing its own distinct identity, helping add variety, interest and joy to the simple, well proportioned volumes of the building,' explains Vay Lon Luc, senior architect at AHMM.
'The richness and depth of the appearance of the brick are especially apparent on the larger double-height expanses within the entrance hall interior.'
The dark brown-purple-blue multicoloured Herning bricks define the building's facade, which is divided by deep vertical slots into a series of wide brick bays that follow the rhythm of the connected buildings.
Within these slots are expansive window openings that are a minimum of one-and-a-half bricks deep, with the heads and cill units produced using specials.
The ground and first floor levels are delineated with a hand-laid, expressed brick bond of soldiers, alternated with flush and projecting headers on a single course that are then stack bonded.
From the second floor up, an uncomplicated stretcher bond emphasises the solidity and proportions of the bays. A recessed mortar joint adds a further delicate grain.
'The facade echoes the variety of brick patterns of the neighbouring Victorian architecture and follows the detail of Peek Frean's original design and engineering in a contemporary manner,' says Lon Luc.
'Every detail was co-ordinated with the brickwork contractor Grangewood Brickwork Services and Vandersanden, along with EH Smith. The process included several pre-production visits to Vandersanden's factory.'
Lon Luc believes that the quality, appearance and versatility of the Vandersanden Herning brick has played a major part in the aesthetic success of the project.
For more information and technical support, visit vandersanden.com/en-uk
Contact:
01954 268075
---