This year's conference featured a keynote presentation by CEO Biplab Sarkar, which included four inspiring case studies that have harnessed technology to solve complex design problems, plus all the latest software updates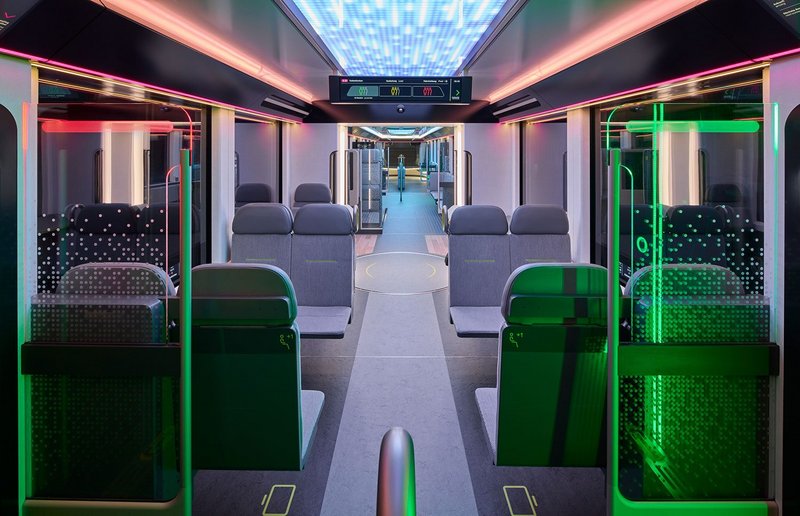 The 2021 Vectorworks virtual Design Summit provided case studies including Hubl & Hubl, the German firm that models and builds full-size mock-ups of train carriages.

Credit: Design and photography © neomind designstudio
Vectorworks' new tagline 'Design Without Limits' built on the theme that emerged at last year's conference. Forced online by Covid, the 2021 Vectorworks Design Summit broke away from geography and brought together architects and designers from different territories.
The shift away from local physical events has lost the social and networking opportunities of real life, but the compensation has been exposure to designers from around the world who are grappling with sometimes similar, and sometimes different, constraints. Last year's Design Day was invigorating and clarified that there isn't a single approach to design. In 2021 the organisers took this further.
From a software development point of view, Vectorworks has worked on alleviating constraints and removing restrictive limits within its product. Its has correctly identified that its customer base is looking for a flexible and customisable tool that can be adapted to their specific niche, as opposed to a software that forces the user towards a more standardised approach. This is illustrated by the company's focus on interoperability; it clearly understands that customers are looking for a software that looks great and is easy to use but, importantly, that it can slot into a studio's unique workflow.
This approach of 'Design Without Limits' was illustrated with customer success stories. These case studies were each uniquely diverse. Few were architectural even though I suspect architects make up the biggest user group. This is an interesting, and I suspect a carefully considered, decision. As architects we probably have a pretty good idea of how our contemporaries approach a design problem and it is likely to be the same as how we would personally. However, seeing how a designer from an entirely different industry develops their workflow grabs your attention and stimulates new thought.
The spotlighted customer case studies were interesting, unusual and, in some cases, quite niche, but what they had in common was a tricky design problem that could be solved by technology and a requirement for an accurate and high-quality deliverable.
Case Study 1: Van Gogh Mosaic, Delacourt Vanbeek Architects, Netherlands
The challenge with this project was how to set out and communicate the layout information for an enormous brick mosaic depicting a portrait of Vincent Van Gogh. The mosaic is the size of an urban square. The architect's solution was to use Marionette, Vectorworks' visual scripting tool, to create full-size templates that were then used for setting out the pavers on site.
Case Study 2: Set design, Laika Studios, United States
The sets for Laika Studios' puppet animation films are fabulously detailed. The design challenge is that the animators need to be within 18 inches of the puppet that they are animating. Consequently, the sets need to be dismantled and reassembled to give the puppeteers access. Laika has evolved its workflow to develop the chassis of its sets in Vectorworks, ensuring that they work technically before they start the very detailed and stylised final set.
Case Study 3: Teardrop Trailers, Vistabule, United States
Inspired by vintage American trailers and the rather wonderfully named Canned Ham trailers from the 1930s and 1940s, Vistabule has developed a range of delightfully tiny plywood caravans that they describe as mechanical tents. They are so tightly planned that even a small change can result in replanning the whole trailer. The ability to accurately digitally prototype the design saves reworking time in the workshop.
Case Study 4: Ideenzug City, Hubl & Hubl, Germany
Hubl & Hubl builds full-size mock-ups of products such as aircraft interiors and train carriages. Its showcase project was for a new commuter train in Germany. Twenty-five different companies contributed to the design, so before building the physical mock-up it modelled and coordinated the contributing designs virtually in Vectorworks before CNC cutting and templating from the single coordinated model.
It would be remiss not to highlight the standout developments in the latest version of the software, as the first BIM authoring tool native to Apple Silicon processors. Vectorworks believes that users will see some functions running between two to four times faster with this set up and, in addition to that, the graphics will be much smoother. This will further establish Vectorworks as a good choice for a design-led practice.
Another positive graphic development has been the beefing up of the software's real-time rendering capability. This has been achieved by building Maxon Redshift into the software itself, which will allow good quality real-time rendering directly within Vectorworks. If, however you are a fan of Twinmotion there is now a direct link feature within the software. This will speed up your workflow and allow you to keep a close eye on the visual development of a design as it progresses.
A good place to conclude would be to commend Vectorworks' decision to be transparent and publish its development road map. It hopes this will be a two-way conversation with customers to help it stay focused on their needs and help them prioritise what should be delivered in each update. It is good to listen.
David Miller is director and principal architect at David Miller Architects
See the case studies and learn about the new Vectorworks features at vectorworks.net/design-summit
For more information and technical support, visit vectorworks.net/uk
Contact:
01635 580318
---