Two case studies reveal how Velfac aluminium and timber glazing can bring light, air and inspiration to schools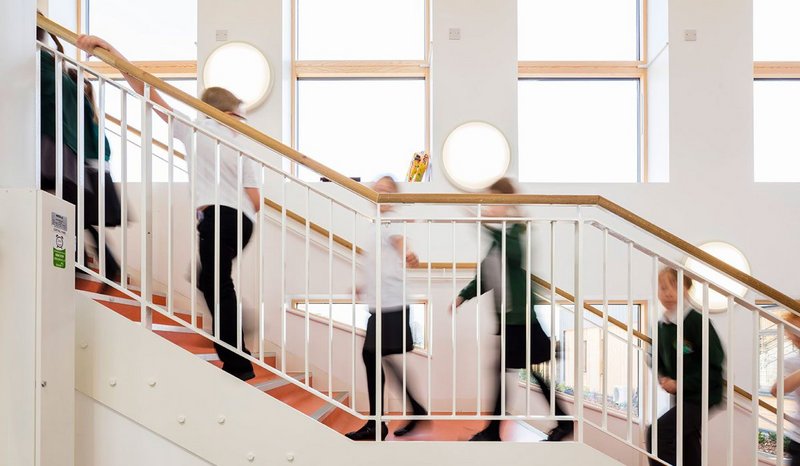 From a single classroom extension to a new-build school, Velfac composite windows and doors offer a competitive alternative to all aluminium systems.
Promised government investment in education facilities is prompting renewed assessment of product specification. While better quality and more robust building products may initially cost more than budget alternatives, they do deliver better whole lifetime costs because they are less expensive to maintain.
This is especially true for glazing, where maintenance costs can be significant across the lifetime of the product and, for longer lasting systems such as Velfac composite wood/aluminium windows, that can be 40 years or more.
The ability of modern building products to transform an indoor climate is particularly relevant for education settings. Window units featuring slim frames can increase natural light and reduce the need for artificial internal lighting. High performance windows delivering low U-values allow the installation of much larger windows and glazed screens, without compromising internal temperature.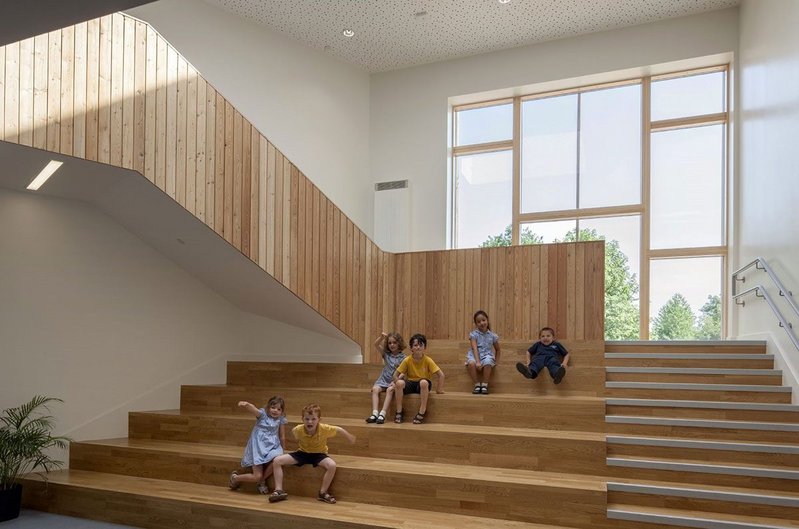 Light-filled, well ventilated school buildings promote a healthier indoor climate, supporting pupils' enjoyment of their studies.
Velfac can help architects develop ventilation strategies for facades by undertaking opening area calculations. It can then advise on the ideal combination of manual or mechanically controlled opening units, ventilation louvres and trickle vents.
Durability is essential to keeping maintenance costs low, but not at the expense of style or design. Velfac external aluminium frames need minimal maintenance and deliver a clean, contemporary facade finish and uniform sightlines.
The internal timber frame can be factory painted, but clear lacquer is often specified as it provides a natural and welcoming finish, often complemented by a more adventurous exterior for greater design impact.
The two case studies, below, illustrate how good glazing design can help create healthy, enriching learning environments.
Bohunt School Worthing
Velfac glazing ensures impressive design impact, maximum daylight and low maintenance performance at Bohunt School, designed by ECE Architecture.
The windows deliver natural light and efficient ventilation across the school, while the striking monochrome exterior features ribbon-runs of full-height Velfac windows, with large units also combined to create the fully glazed ground floor entrance.
The slim Velfac frame increases daylight throughout the school, especially in the sports hall and atrium where large, high-level windows flood the interior with natural light. Motorised and manual window units are combined (all retaining identical sightlines) to provide precise, easy to use ventilation.
For more on this case study, visit: velfac.co.uk/bohunt-school
The Merlin Centre at The Marlborough Science Academy, St Albans
Designed by Elbourn Architects, The Merlin Centre features over 120m2 of Velfac windows and doors in a compact building designed to emphasise daylight, natural materials and high quality workmanship.
Slim framed Velfac windows maximise daylight throughout the interior, together with small Velfac units installed around the ground floor. Larger units are combined to create generous first floor window runs and distinctive glazed bays, which form part of a cafe area.
A two-storey fully glazed entrance surrounds the heavy duty aluminium Velfac door and an additional run of smaller units creates a clerestory window incorporating motorised vents as part of a natural ventilation system.
For more on this case study, visit velfac.co.uk/the-merlin-centre
For an education brochure outlining the benefits of Velfac glazing, plus showcases of inspirational projects and a fully costed typical classroom screen, visit velfac.com/education-projects
For more information and technical support, visit velfac.co.uk/commercial
Contact:
01223 897100
---