Two case studies reveal how Velfac aluminium and timber composite glazing can bring light, air and inspiration to education projects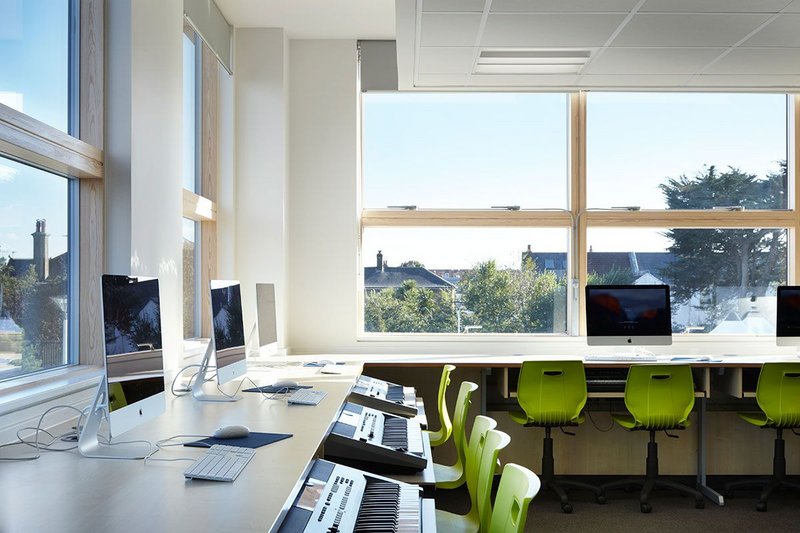 Today's education buildings offer innovation in classroom design and a greater commitment to sustainability in both building products and ongoing performance. There is also a growing appreciation of how good architecture can be a source of inspiration for a school community.
All these factors have resulted in a growing portfolio of educational projects featuring Velfac composite glazing. The distinctive aluminium/timber framed windows and doors deliver energy efficient, low maintenance solutions, making Velfac a competitive alternative to all-aluminium systems.
The slim frame (only 54mm) increases levels of natural light when compared to traditional frame designs, enhancing the indoor climate and reducing artificial lighting and heating. Velfac also offers a number of different ventilation solutions, including louvre panels with internal hatch doors or motorised high-level openers and solar control coatings that minimise solar gain. These help to control internal heat levels and air quality in the warmer months.
Two recent projects highlight the benefits of Velfac for education.
Case study 1: Bohunt School Worthing, West Sussex
This new-build, state-of-the-art school was designed by ECE Architecture for West Sussex County Council. It comprises a 6,000m2 teaching block and 1,300m2 sports hall, which together provide a range of dynamic learning environments for over 900 students. Velfac windows were installed across the school, bringing natural light and efficient ventilation into the three-storey teaching building - wrapped around an inner atrium - and to the two-storey multi-use sports hall.
A striking monochrome exterior features ribbon-runs of full-height Velfac windows with large units also combined to create the fully glazed ground floor entrance. Durable external aluminium framing, finished in black, provides a direct contrast to white rendered walls, while clear lacquered internal timber frames add character to learning spaces and complement pale wood fixtures and fittings.
Velfac composite glazing is instrumental in achieving an impressive design with maximum daylight and low-maintenance performance.
For more on this case study, visit: velfac.co.uk/bohunt-school
Case study 2: Faith Schools' Joint Campus, near Glasgow
This brand new, innovative building is by architects BDP for East Renfrewshire Council. It claims to be the world's first shared Jewish and Catholic education facility and was designed to establish a shared vision and challenge convention.
Velfac glazing is installed throughout the campus and was specified for its high quality construction, design versatility and composite, slim frame design. Timber is used throughout the building to create a warm and inviting learning environment. 'Velfac was chosen primarily because of the inner timber frame,' says architect Keith Peterson. 'It is integral to the overall concept and complements the birch and maple finishes used elsewhere in the interior. In terms of quality, we do not believe there is currently an alternative to the Velfac system if you are looking for a true composite aluminium/timber window.'
For more on this case study, visit: velfac.co.uk/faith-schools
For an education brochure outlining the benefits of Velfac glazing, plus showcases of inspirational projects and a fully costed typical classroom screen, visit velfac/education-brochure
For more information and technical support, visit velfac.co.uk
Contact:
01223 897100
---