Impressive performance and an all-the-same-frame appearance offer school and university building designers maximum flexibility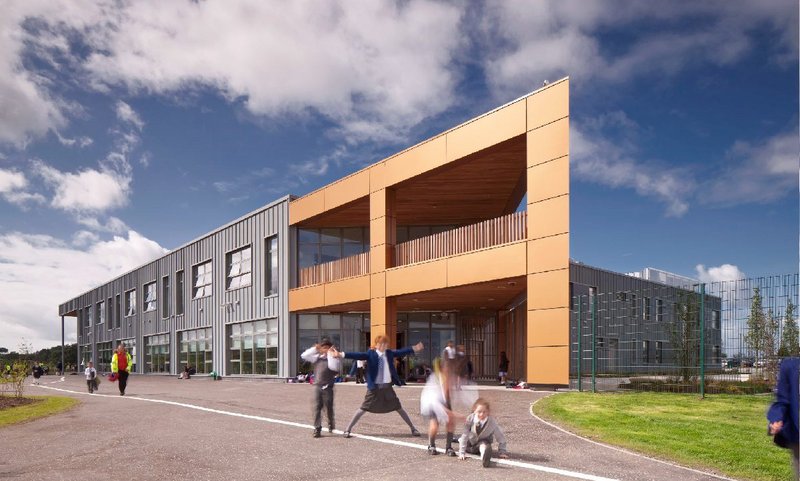 Velfac composite glazing at Faith Schools Joint Campus, Newton Mearns, Glasgow. Velfac windows and doors offer a competitive alternative to all-aluminium systems.

Credit: David Barbour
Velfac composite windows and doors are the ideal choice for education sector projects, from primary to university; classroom building to student accommodation.
The high performance, low energy aluminium/timber frame adds style and durability, delivers excellent thermal performance and improves daylighting and ventilation, all at an affordable price.
The Velfac composite system has a range of performance and design benefits, including:
Ultra-slim frames - only 54mm - that maximise natural light in communal and learning spaces.
U-values as low as 0.85W/m2K for triple glazed units that help keep heating costs low.
Windows and doors have an all-the-same-frame appearance, whether they open or not, giving architects the design flexibility to create uniform, sleek and flush glass features such as window walls and classroom screens.
12-year window warranties and five years on doors.
Technical and design consultancy from project vision through to post-installation.
The two case studies, below, illustrate how good glazing design can help create healthy, enriching learning environments.
Cromer Road Primary School, New Barnet, by Innes Associates
Velfac slim-framed windows and doors, installed throughout this distinctive, brick-built classroom building, helped architect Corrie-Anne Rounding meet challenging regulatory and sustainability targets while maximising usable space, increasing natural light and improving ventilation.
'We pushed the contractor to specify Velfac as we knew the composite frame was the right fit for the Cromer Road project,' says Rounding.
The sustainability of the system, and its low energy performance, met Department of Education requirements, while the robust external aluminium frame was ideal for a busy school environment.
The design of the windows and doors also met the aesthetic brief, according to Rounding, 'particularly the inner timber frames, which are clear lacquered to emphasise the wood and provide a less sterile finish than aluminium or uPVC'.
Find more on this case study at velfac.co.uk/cromer-road
Westwood Student Mews, Coventry, by Haus
Distinctive design and high quality materials are key features of Westwood Student Mews, where 38 pitched-roof, brick-built 'houses' provide 452 rooms for students from Warwick and Coventry Universities.
According to Haus architect Ewan Proctor-Mason, Velfac windows offered a cost-effective solution to the design and performance objectives as well as the complexity of the specification.
'All-aluminium frames were more expensive,' he says, 'and, as they scratch easily, they are less well suited to student rooms.'
A uPVC alternative was also unsuitable because it didn't deliver the necessary quality. 'The Velfac system's external durability and tactile inner pine frame has created a home-from-home finish in every room,' he says.
Internally, the timber is easy to repaint as part of an annual maintenance schedule, which contributes to the system's cost-effectiveness.
Find more on this case study at velfac.co.uk/westwood-student-mews
Download the Velfac brochure 'Wood/Aluminium Windows for Education Projects'
For more information and technical support, visit velfac.co.uk
Contact:
01480 759510
---