Velux Commercial and BRL Architects have designed a glazing system for Braywick Leisure Centre in Maidenhead that fully utilises natural light as a free resource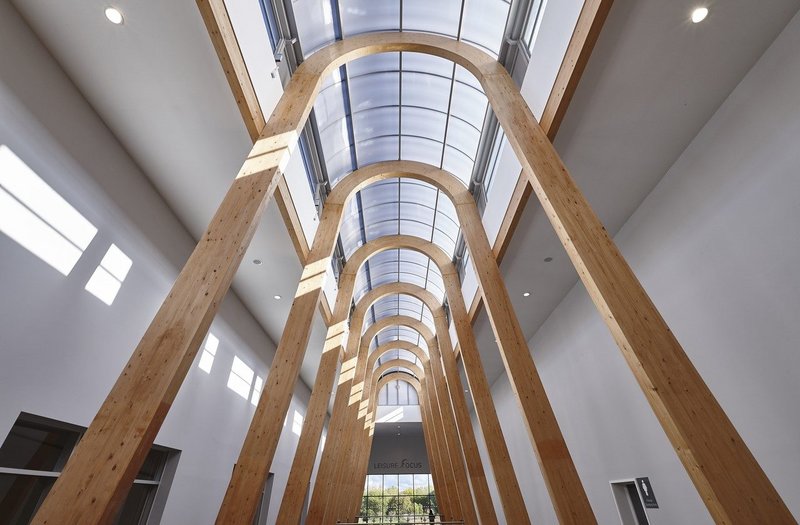 Velux Commercial structural barrel vault rooflight system at Braywick Leisure Centre in Maidenhead, Berkshire.
BRL Architects was appointed by the Royal Borough of Windsor and Maidenhead to design a state-of-the-art leisure centre. The building needed to embrace the beauty of the surrounding tree-lined park and provide additional sports and art facililties and a social hub for locals and visitors.
Velux Commercial won the tender to deliver a 45.6x4.3m structural barrel vault rooflight system with integrated ventilation for Braywick Leisure Centre's central gallery. Despite the bespoke design, the company delivered the frame, roof glazing and ventilation elements largely pre-manufactured to reduce material waste and maximise the efficiency of the on-site installation. This meant some of the structural systems used for the glazing had to be adjusted to reflect the custom nature of the design.
The project focused on the environment and sustainability and on the use of daylight as a free resource to replace the need for extensive artificial lights. Studies, such as the energy consumption of buildings and daylight (2016), show that use of daylight in communal spaces can reduce overall energy use by at least 10 per cent and significantly contribute to a reduction of operational carbon footprint.
Innovative design, streamlined processes and dedication from everyone involved were required to deliver the project as carbon neutral with the energy efficiencies as predicted. The environmentally friendly community approach saw investment in local companies, engagement with social enterprises and biodiversity being promoted through local carbon reduction and tree planting programmes.
Bespoke structural glazing allows architects to showcase their imaginations while ensuring performance targets and compliance requirements are met. To learn more, download the Velux Commercial Guide to Bespoke Structural Glazing Solutions for Commercial Buildings