Tate's virtual reality installation lets visitors sit in the artist's studio – cigarette, birdsong, paintings and all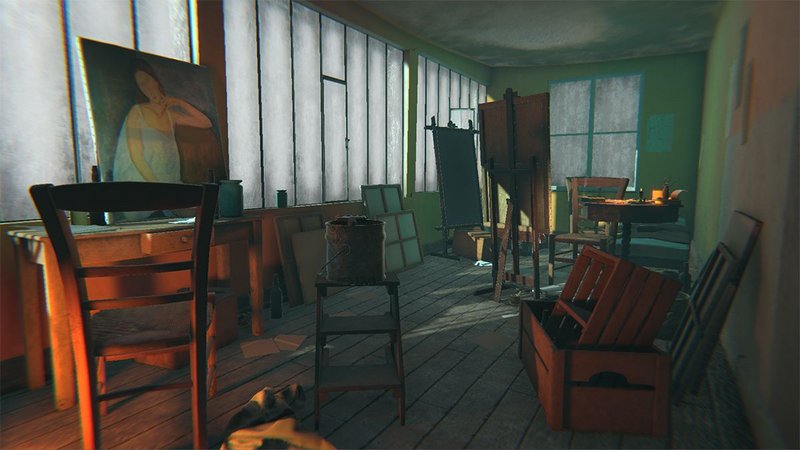 The Ochre Atelier, stills. Created for Modigliani at Tate Modern, 2017 Courtesy of Preloaded.
Immersive virtual reality is being exploited to the full at Tate Modern where visitors can experience a hyper realistic version of artist Amedeo Modigliani's studio in Paris, where he lived in the final months of his life in 1919 and 1920.
Tate worked with art historians and VR modeller Preloaded to meticulously recreate the artist's living environment, which up to nine people can experience sitting down wearing HTC Vive headsets.
No photographs of the studio from the 1910s had survived, so it was modelled using the existing space as a template (it is no longer used as a studio) and based on first hand accounts and other documentary material.
It features over 60 'authentic' objects and artworks from the period, including cans of sardines, a cigarette packet, the paint and brushes the artist may have used.
VR made it possible to convey experiences and emotions not possible in a physical recreation, explains Hilary Knight, head of digital at Tate Modern: 'A cigarette lays smoking in an ashtray, the light changes as a storm breaks overhead, you can hear the twitter of birds outside the open window, we wanted to give the impression that Modigliani had just left the room and might return at any moment.'
The gallery collaborated with colleagues at the Museum of Contemporary Art at the University of São Paulo, in Brazil, and New York's Metropolitan Museum of Art to gain insights into the materials and methods behind two of Modigliani's most important paintings – Self-Portrait (1919) and Jeanne Hébuterne (1919).
Both are portrayed with photo realistic accuracy right down to the surface texture of the canvas and the type of stretcher the self-portrait may have originally been painted on. 'You can put your nose against the canvas and see the bumps,' says Knight.
Modigliani was familiar with cinema, the most innovative immersive technology of the time, so it is possible he would enjoy the transportive and creative potential of VR if he were alive today.
'I think he would look at things like virtual and augmented reality and other emerging technologies of today in the same way as cinema, as new mediums to be explored,' Knight concludes.
The VR experience forms part of a retrospective of Modigliani's work and runs until April 2018
---