This touch-free, one-source dispenser of soap, water and air for hand drying keeps washrooms hygienic, mess free and efficient to run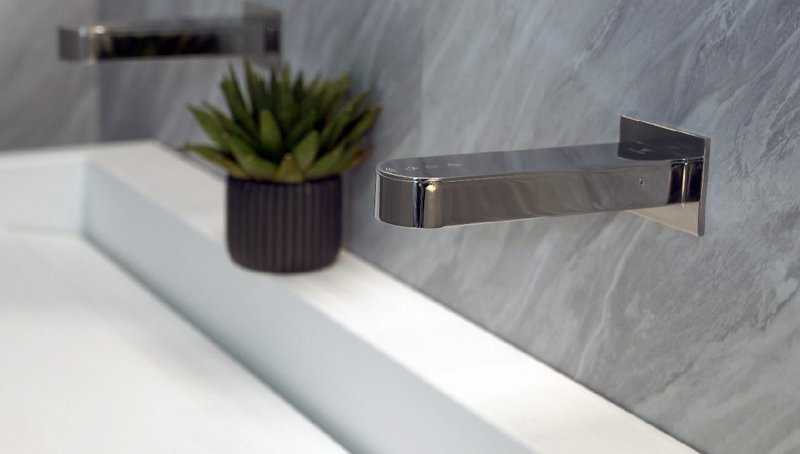 Wallgate's 3-in-1 ThriiTap+: soap, water and air all available touch-free from one source for maximum hygiene.
ThriiTap+ from washroom designer and manufacturer Wallgate promises to revolutionise washroom design by combining three elements of handwashing into one tap, delivering soap, water and air, touch-free from a single source.
The ThriiTap+ removes the need for separate soap, taps, paper towel dispensers and/or hand dryers, giving architects more flexibility for innovative designs. Finished in polished stainless steel, the ThriiTap+ also delivers a premium aesthetic.
The new ThriiTap+ comes in two main parts: the deck or wall-mounted tap and the control module. The control module manages all functions, from the heated air fan motor speed to the soap delivery and water run time.
The tap itself contains outlets for soap, water and air - all of which are activated by a single infrared sensor, providing a completely touch-free handwashing cycle. This is a valuable benefit with increased emphasis on hygiene in the modern world.
Fully customisable and with flexible installation, the ThriiTap+ can adjusted to any handwashing requirements.
'Architects want a product that offers a complete package of aesthetics and flexibility over their washroom,' says Wallgate sales director Robert Kimber. 'We know this because we listen to our users. We see market trends in the products required for projects that architects are requesting and combine this with 40 years' experience providing innovative washroom and water management solutions.'
The new ThriiTap+ incorporates touch-free technology for additional hygiene, while the deck or wall-mounted versions allow for a wide variety of installation options, with independent mounting of the tap and control module. The different configurations of ThriiTap+ can be selected for use with a variety of basin or vanity top designs.

Architects will be able to include this innovative product in their washrooms where the project demands a modern, space-saving and intuitive tap for improved hygiene. The ThriiTap+ promises to take washrooms into the next phase of their evolution.
It features a fully customisable soap, water and air cycle, delivered through a selectable liquid or foamed soap outlet, a high-efficiency water supply and a HEPA filtered high-velocity air outlet.
Through management of its handwashing features, the ThriiTap+ reduces its water and power usage compared with traditional hand washing methods, reducing costs for the building operator and facilities manager.
As standard, the ThriiTap+ is fitted with a 1.9 lpm aerated water outlet for maximum efficiency and is also supplied with alternative outlets for individual selection, enabling the flow rate to be customisable, maximising its BREEAM rating.

The ThriiTap+ removes the need for separate dispensers and reduces mess from movement around the washroom, improving washroom cleanliness and efficiency in one aesthetically pleasing package. With its 3-in-1 design and clever use of space that reduces movement and improves footfall, the ThriiTap+ is the smarter way to design hygienic washrooms.
For more information and technical support, visit thriitap.com
Contact:
01722 744594
---