The two architects, from Sto.a, caught the judges' attention with a climbable 4.5m galvanized steel thistle containing an area to rest and enjoy the Highland landscape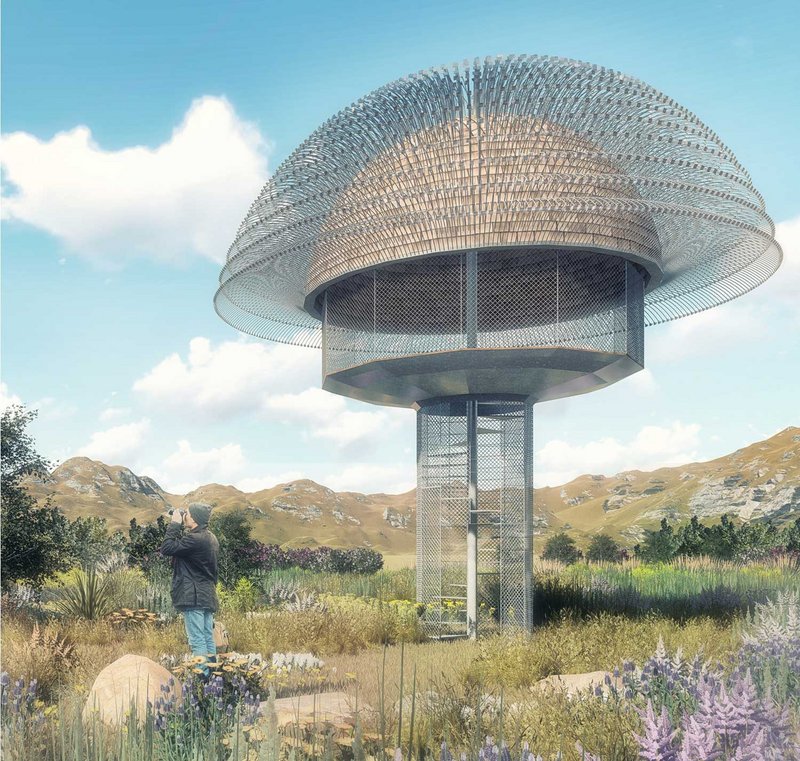 Eleni Bismpiki and Anna Nikolaidou's domed structure resembles a giant flowerhead in the landscape.
Resting point on Scottish routes
Eleni Bismpiki and Anna Nikolaidou, architects, Sto.a
This climbable shelter in the Scottish Highlands is a 4.5m structure mimicking the radial symmetrical geometry of a thistle. A galvanized steel spiral staircase leads the wanderer upwards to a resting area, where metal woven screens provide safety and visual permeability across the surrounding countryside.
The screens are supported by galvanized steel rods connecting to the roof and floor. Galvanized steel beams support the timber decking, carrying and transferring the structure's weight towards the central column. A domed roof, clad in local, long-lasting and aesthetically pleasing Scottish larch shingles, offers shelter.
The roof of the flowerhead is covered in transparent flexible fibre rods with mini photovoltaic panels at the ends (which feed the lighting system). These flexible and lightweight fibre rods droop naturally under gravity, and, like a seedhead, rustle in the wind (a feature that was likened to Heatherwick Studio's Seed Cathedral at Expo 2010 by judge Jonathan Hagos).
The majority of the giant thistle – structure and cladding – is galvanized steel; it is designed to be eventually recycled or reused.
Initially reticent about its large size (more of a landmark than a chance encounter), its structural viability and literalness, the judges arrived at a revised opinion on further consideration. 'I enjoyed the boldness of the gesture,' said Hagos. 'There is something wonderful about… changing your perspective while on a journey, or changing your view and your vantage point looking over the landscape.'
'I liked the minimal impact on the ground and the elevated view; you can picture it in tree foliage and hear the noises of the surrounding trees,' said Garreth McMahon.
To view the winners, commended and shortlisted projects click here. RIBAJ Wanderers Wonder competition is produced in association with The Galvanizers Association