The RIBAJ's design competition asked architects for playful and sustainable ideas for structures where walkers could take a rest. The variety and quality of the entries made for a lively and thought-provoking judging session
A broad array of responses, prosaic and sublime
From William Wordsworth wandering lonely as a cloud to Walt Whitman taking to the open road, poets have often found inspiration in walking. Moving at our own pace, communing with nature or with the city, suddenly becoming cognisant of otherwise-overlooked details: these attributes of a journey undertaken on foot have the potential to lead us to a spiritual encounter. It is this spirit of quiet amazement arising from the contemplation of our surroundings that the Wanderer's Wonder competition taps into.
In conjunction with the Galvanizers Association, RIBAJ challenged architects to design a 'fun, playful building or structure for rest and recuperation' that would capture and instil the potential for wonder experienced by a walk outdoors: 'Anything goes so long as it's wonderful, brings out the allure of its environment and is a thing of beauty.'
The setting could be urban or rural and the structure could contain any number of facilities; it must also, in line with the sponsor's interests, make use of hot dip galvanized steel to maximum effect, structurally or not. Sustainability should also be a main consideration; the structures must be light-footed, demountable and easily transportable, and, given the material's suitability for both reuse and recycling, designed with responsible disposal at end of life in mind too.
The judging panel – which comprised architects Anna Liu, Jonathan Hagos and Garreth McMahon, alongside Iqbal Johal from the Galvanizers Association and RIBAJ managing editor Isabelle Priest – were faced with a broad array of responses, prosaic and sublime, which made the decision-making session both lively and thought-provoking.
There were too many noteworthy entries to shortlist. Among these non-winning yet admired entries was Christopher Sanders' low key and low-impact ark-shaped dwelling, inspired by agricultural buildings such as pig-shelters. It was praised for its contextuality and its ability to be repurposed for farm use at a later stage. Supported by adjustable jacks and comprising two work benches which could double as platforms for sleeping, this was a practical and easily read scheme.
At the other extreme, James Butler et al proposed a modular 'sensorial retreat' for the island of Innisfree, inspired by Yeats' poetry, with a form derived from a linnet's wing. Mostly raised off the ground, and making unique use of galvanized pipes, the building provides shelter beneath it, while encouraging climbing and resting on the steps which fan out like feathers on a wing. Elegant and sweeping, in Iqbal Johal's words, it 'blends beautifully into its setting'.
However, back to the winning entries. After much deliberation, the ultimate winner was Euan Hardie's 'The Stravaiger and the Bodach', a quietly dramatic and slightly austere structure in two parts – timber frame and steel hat – designed as a refuge in remote Scottish landscapes. 'Stravaig' is a Scottish word meaning to wander aimlessly, a word which conjures a sense of adventure in a wild landscape. The judges determined it to be well resolved, 'architectonically straightforward [yet] showing adaptability and innovation' (Anna Liu's words), tapping into the circular economy, applicable in multiple scenarios and showing a respect for the landscape.
Other notable entries included Francis Mc Shane's portable folding shelter inspired by an armadillo's armature (commended); Simon Lanyon-Hogg and Rebecca Disney's (completely contrasting) light-footed 'Leaning gate' device, which resembled the delicate branches of a tree (shortlisted); Eleni Bismpiki and Anna Nikolaidou's 4.5m thistle (commended); and George Williams and Joseph Richard Cox's Harpham Farm scheme (shortlisted), a conical structure called the (d)well which repurposes disused galvanized steel agricultural buildings into an asymmetrical shelter. Somewhat redolent of a grain silo, yet 'taken to a place of elegance' (Jonathan Hagos' judgment) with its oculus that frames the sky, it celebrates the textures of galvanized steel and the forms and materiality associated with Yorkshire's farming culture. All the shortlisted entries can be viewed here.
A particularly jolly entry was Stephanie Elward's shortlisted 'Book swap grotto', inspired by her daily lockdown walks on Wanstead Flats; an evolution of the street library, her 'sweet', colourful construction is assembled from galvanized steel cubes, perching lightly on one such cube to minimise its footprint. Orientated north, the books contained inside are protected while a south-facing sun tunnel reaches up to guzzle the light. It is a place for both solitude and imagination. The judges praised it for its child-centred scale, its balance between the individual moment and the communal gesture, and, in Jonathan Hagos' words, 'its interpretation of the ability to wander in one's imagination through literature'.
These give some flavour of the breadth of the responses, evidence of the extent to which our imaginations are activated through the simple and natural act of taking a walk outdoors.
---
Judges
Anna Liu, founding director, Tonkin Liu
Jonathan Hagos, founding director, Freehaus
Garreth McMahon, co-founder and director, MMAS
Iqbal Johal, marketing manager, Galvanizers Association
Isabelle Priest, managing editor, RIBA Journal (chair)
Piers Taylor was unable to attend on the day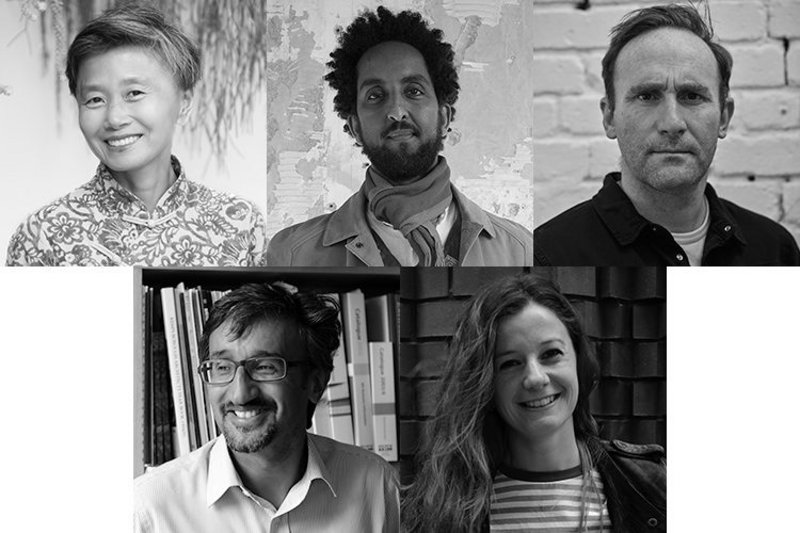 Clockwise from top left: Anna Liu, Jonathan Hagos, Garreth McMahon, Isabelle Priest, Iqbal Johal
---
Imaginative ideas – and exquisite drawing
Walking, or venturing outdoors, has become a pastime for many more of us over the past two years. For some it has meant exploring the open wilderness or rows of squidgy fields, for others trudging the hard pavements of our towns and cities. We launched this design ideas competition with the Galvanizers Association to seek proposals for a building or structure for rest/recuperation that would enhance a walk, rural or urban. It could fulfil any function at all so long as galvanized steel was a primary material and it adopted circular economy principles.

The response has been fantastic. The competition page piqued an interest in thousands of you and many of you entered too. We received an imaginative range of submissions, from an urban book swap grotto to a farm regeneration silo, shelters for an overnight stay, flexible-use portable kiosks or proposals to just have a brief sit down. We've seen exquisite drawing too, although it was firmly decided during the judging that ideas trumped all.

Here we celebrate our winner, who receives £1,000, the three commended entrants, who each receive £250, as well as our shortlist and longlist. Thank you to our judges – and congratulations!
Isabelle Priest, RIBAJ managing editor
---
Keeping circular principles in mind
Galvanizers Association is proud to continue its long relationship with the RIBA. The Wanderer's Wonder competition was born out of a need to celebrate, because of the pandemic, our newfound connection with our local area. Simplicity, fun and playfulness were core requirements of the competition.
Our relationship with the RIBA began with the launch of the RIBA's CPD Providers Network and has continued through our annual GAGA awards. This complements our remit of offering free advice to construction professionals on hot dip galvanizing (since 1949), including design, specification and performance.
An important element of Wanderer's Wonder is its link with the production of Galvanized Steel and Sustainable Construction: Solutions for a Circular Economy. The guide makes clear how designing with circular principles in mind greatly reduces waste, maintenance and carbon burdens, while optimising the use of raw materials and existing products.
The standard of entries is hugely impressive and it is heartening to see the time and effort that has gone into the production of the final material. The entrants have demonstrated diversity of ideas, enthusiasm and the importance of connecting with our environment.
Iqbal Johal, marketing manager, Galvanizers Association
---
To view the winners, commended and shortlisted projects click here. RIBAJ Wanderers Wonder competition is produced in association with The Galvanizers Association