This new stand had to respect Lord's particular sound imprint – and the sensibilities of its neighbours. Using PTFE and aerogel, Populous and Arup Acoustics set about delivering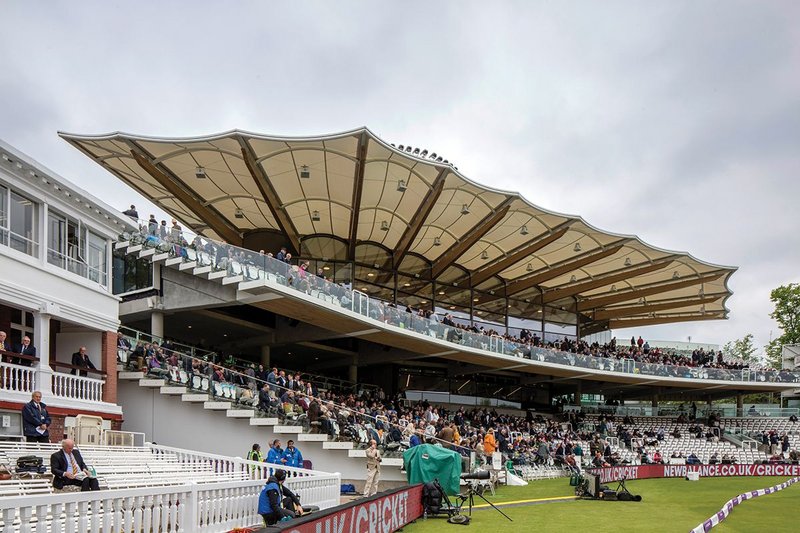 At the opening match the view into the Warner Stand from the pitch shows the simple continuity of what is apparently a single roof when seen from below.

Credit: Morley von Sternberg
Thanks to Test Match Special the sound of cricket is available to hundreds of thousands of people every summer – the patient attentiveness as the bowler runs in, the thwack of willow on leather, the murmur of appreciation and smattering of applause as the ball reaches the boundary. Imagination fills in the whites against the bright green of the pitch and the clarifying sun.
At Lord's there's an extra special sound: the 'Lord's hum', the sound of gentle animation and contented conversation. For members of the Marylebone Cricket Club a test match is a chance to catch up with old friends. So when Populous moved from masterplanning Lord's to designing a new stand for members, it found a brief for a comfortable, 'pleasant' space. That applied to noise too, something consultant Andy Lambert of Arup Acoustics says is often underrated.
'The aural environment is subconsciously important in forming your overall impression of a building,' he says. The team also had to reduce noise breakout, work with the ground overall and ensure that audio systems were actually audible, while using an untested combination of roofing materials.
Sound can of course be contentious, especially if you live next door. To get planning in the first place the MCC wanted to address potential objections. Lambert identified what noise might spill out beyond the perimeter – plant, audio systems and crowd reaction ('Though we had limited ability to control that apart from having a poor England team,' he says). This helped drive the form and materials of the stand, which is cheek by jowl with its neighbours and is solidly designed in concrete to ensure that opportunities for noise breakout are minimised. Projecting glazed bays in the facade face Coronation Garden; to allow use on non-event days the sound levels had to be lower than those in the previous stand.
Lambert spent some time at Lord's during the design process measuring, listening and watching from different seats. He is very aware of the noise of spectators in each stand, the 'cheap seats' being noisier and the whole ground erupting when the Pakistan or India teams attract their own crowds. T20 cricket – the shorter evening game played in coloured kit – has yet another atmosphere, where the PAs pump out a far louder set of entertainment sounds, from cheerleaders to celebratory music. To avoid noise build-up under the concrete stand it has slatted timber undersides – which also helps the audibility of the sound systems.
Perhaps the greatest challenge was set by the architecture of Lord's and the Warner Stand itself. Unlike single sculptural venues such as Populous' London 2012 stadium, Lord's is a campus. It has the Stirling Prize winning Lord's Media Stand by Future Systems and the work of those giants of hi-tech, Grimshaw and Hopkins Architects.
All come together with a far older grade II* listed club house and an arched brick wall that anchors Hopkins' Mound Stand in Lord's history. For the Warner Stand, in an unresolved corner of the ground, Populous designed a roof to draw together the pavilion end and embrace the ground with its outstretched, cantilevered glulam arms of super strong American white oak.
Architect Philip Johnson wanted a lightweight and transparent material for the roof. He chose polytetrafluoroethylene (PTFE) not only because he had used it before at Ascot but because it echoes the neighbouring Grand Stand.
Although there are in fact two roofs – one over the stand and one over the top floor restaurant – he wanted to use a roof material that would tie them together. To give the effect of a single roof canopy while providing an insulated interior, Populous specified Tensotherm, a 16mm sandwich of PTFE fibreglass membrane installed by Taiyo Europe. In between is a fleece impregnated with Lumira silica aerogel. It is translucent, with a visual transmission of 3%, so light still filters through to the restaurant which doubles as an event space on the 100 days throughout the year that planning allows additional events to be booked.
The stretched PTFE is pushed up by a steel armature from beam to beam, creating a modulation that gives interest and complexity. But stretched fabric acts likes a drum and rain impact noise is a well known problem with ETFE roofs. That might be all right for a cricket club restaurant – after all if rain stops play for any length of time most people don't stick around to get wet in the open stands. But for an entertainment space it is critical to get it right. Cabot Corporation, which manufactures aerogel, describes it as having sound insulation properties (19Db sound transmission class). But would it need a rain suppression mesh to take the force out of the drops?
Arup SoundLab, normally reserved for concert hall projects, was used to create the sound in different rain conditions to help decide on mitigation measures. This is the first time acoustician Lambert has done an auralisation of a rain impact assessment and he describes it as 'extremely complicated'. There is no legislation in this area but there is a standardised test, ISO 140-18:2006 , which gives data on the overall noise level at different frequencies.
Tensotherm was being used for the first time in Europe so its supplier agreed to acoustic testing at BRE. Lambert's original plan was to take a microphone and record the lab sound but he decided there were more variables to be considered. Into the calculations pot went the test data, the roof area, room dimensions and reverberation and a Met Office report on different grades of rain in London (test information comes as moderate, intense, heavy and cloudburst). Lambert used the data for intense (15mm/hour) and heavy (40mm/hour) in his auralisation. When all was ready client and architect gathered at the SoundLab to listen to the rain. Happily the auralisation suggested that a rain suppressor was probably not needed – but the clips for retrofitting it went up just in case.