Including a park-and-hide system can pay dividends, but understanding which type is suitable for your project is key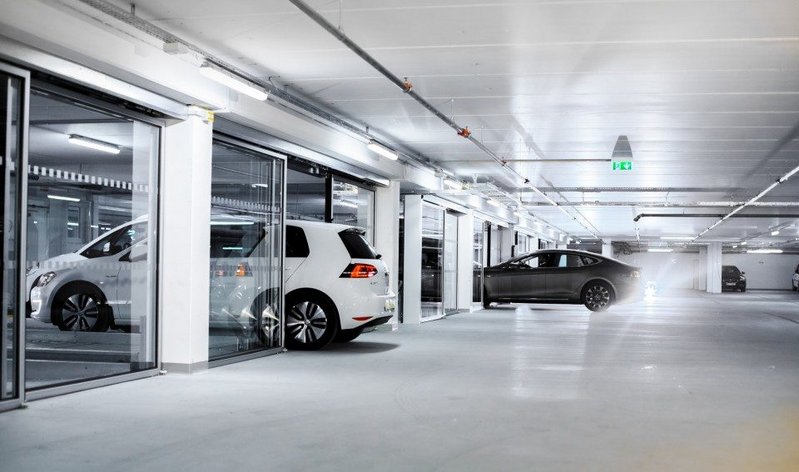 Parking systems use technology to move cars closer together. They provide a better use of space and lower energy consumption than conventional car parks and remove vehicles from the street scene, freeing up land for other uses.
Mechanical systems were first developed over 60 years ago and early designs stacked one car on top of another on a platform. Today's fully automatic parking systems can park hundreds of cars on multiple levels.
Designing the perfect system for an individual building project is as much an art as a science, but understanding the options is key. Parking systems fall into three broad categories:
1. Hydraulic vertical stacking parking systems
Simplest and cheapest to install and operate.
Provide parking spaces on two or three levels.
Accessed from same aisle level.
Indoor or outdoor.
Operated via a 'hold-to-run' key switch.
Suitable for range of applications, including residential schemes, valet parking and commercial developments.
2. Computerised semi-automatic parking systems
Entry level parking spaces slide sideways; other levels move vertically automatically.
Operated via coded fob or mobile app.
Typically 30 to 50 per cent more spatially efficient than vertical stacking systems.
Customisable, with optional finishes for platforms, doors and controls.
Suitable for virtually any indoor application, including residential apartment buildings, office headquarters and hotels.
3. Fully automatic parking systems
Offer highest density parking - 100 per cent more spatially efficient than other systems.
Wide range of possible configurations means they can solve many car park design issues.
Operated via radio-frequency identification (RFID) fob or optionally via virtually any interface.
Drive in/out access points can be many levels above or below where cars are stored.
Luxury and convenient experience for car driver.
Car parked for driver automatically and redelivered facing forwards, ready to drive out.
Suitable for indoor residential, commercial, hotel and public parking.
When deciding on a parking system, think about not only how many parking spaces are required, but who will be using them. Will it be residential users, commercial or a mixture of both? Every project will have variables and nuances that build a picture of what the demand is likely to be over the course of a day. This will affect which system will be suitable.
As parking systems are often located in basements, it is important that any construction constraints are taken into account. For example, the shape of the space available, how much headroom can be created and whether it is possible to construct pits for the system to operate in.
Wohr Parking Systems is the UK's leading supplier of car parking systems, with unrivalled experience in the design, supply, installation and maintenance of systems for domestic and commercial projects.
The company works with architects to design solutions that optimise parking and retrieval times and fully meet performance and operational needs (including the supply of electric vehicle charge points), as well as budgets. One system or a combination of systems may be required to maximise the available space and ensure ease of operation.
For more information and technical support, visit wohr-parking.co.uk
Contact:
01993 851791
---