An easy-to-operate mechanical system at a Surrey residence stores cars securely below ground while freeing up driveway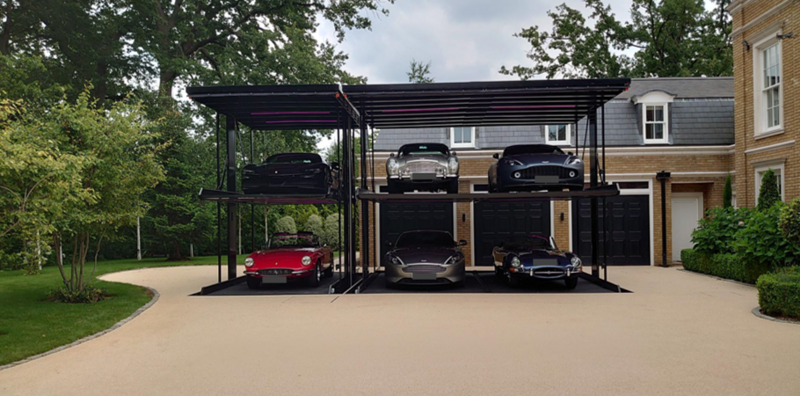 Wohr Parklift 462 system at the Surrey house: the platforms lower into a pit below ground so the gravelled canopies lie flush with the drive.
Wohr has created a bespoke parking solution for a Surrey homeowner's private car collection.
The collection of six vehicles, which includes rare Ferraris, Jaguars, Aston Martins and Bentleys, is now securely housed in two Parklift 462 below-ground parking systems.
Working in collaboration with architects The Basement Design Studio and contractors Auto Cave by Knowles, Wohr's team designed, supplied and installed the state-of-the-art solution that allows the existing driveway to be used without obstruction.
Bespoke Parklift 462 in Surrey
To manage parking for the six vehicles below the drive, a combination of a Parklift 462 single unit (with a platform width of 2700mm) and a Parklift 462 double unit (with a 5400mm platform width) was selected.
Two electric vehicle charging points from the company's Flowe Easee charger range were also integrated into the installation.
The standard Wohr Parklift 462 system has been used in numerous projects around the world, but for this scheme additional aesthetic and control elements were specified to make the system truly bespoke.
The system frames have been given a black coating, with coloured LED lighting installed above the lower platforms to create different effects on the vehicles below.
Each platform also has matching black ATP boarding. The electric vehicle charge points were also finished in black to complement the design of the parking units.
To enhance user control and provide options for the system's operation, Wohr supplied remote control fobs and incorporated the car park control unit inside the client's property.
The top of the parking system is covered in the same material as the driveway so that, when lowered, it is virtually invisible.
Why specify a park-and-hide system from Wohr?
With over 40 years' experience, Wohr has worked with clients, architects and developers across the UK to design projects of all shape, size and complexity, delivering more than 8,500 parking spaces.
Parklift is a versatile solution that provides secure and discreet parking for homeowners who want to create additional parking space.
It offers solutions from simple two-car systems that double parking space on a standard drive to bespoke multi-system projects like this one.
For more on Wohr's Surrey project, see the video case study at vimeo.com
For more information and technical support, visit wohr-parking.co.uk
Contact:
01993 851791
---