Minimum energy efficiency standards are one reason why practices are making more of refurbs – and being creative about how to do it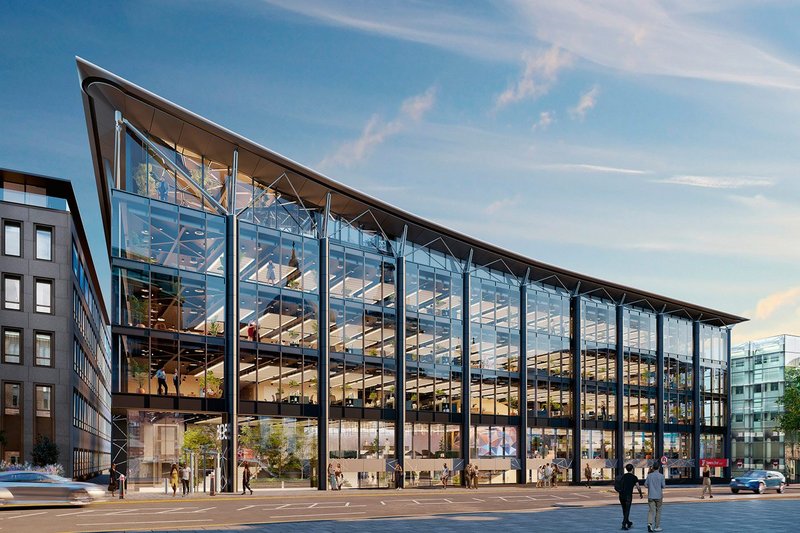 At 95 Queen Victoria St in The City, Sheppard Robson took a lifecycle carbon view when deciding not to replace its facade with a better performing one.

Credit: Sheppard Robson
When one of the UK's largest practices says the focus of its work in the office sector has shifted from newbuild to refurbishment, something is going on. It's the government's minimum energy efficiency standards, which require rented commercial properties to have an energy performance certificate (EPC) of at least B by 2030. With property consultant Savills calculating that 74% of UK offices are below B, the pressure is on to act to avoid assets becoming stranded. But other influences sit alongside that, including protests against high-profile demolition and rebuild plans, increased business focus on environmental, social and governance (ESG) criteria and hybrid ways of working.
British Council for Offices updates to its specifications and fit-out guides make what BCO president and Sheppard Robson partner Mark Kowal calls wholesale change to the metrics. They take into account net zero carbon (NZC) ambitions and post-pandemic hybrid working, and perhaps most controversially advocate reducing workplace density occupation criteria from 8m² per work setting and 80% utilisation to 10m² and 60%. 'Saying you need more space for fewer people seems counter-intuitive, but over-populated buildings can't perform to net zero carbon standards,' explains Kowal.
But project design and delivery are no more straightforward. Lack of policy clarity on defining NZC buildings has left industry relying on proliferating industry tools and led a coalition including the RIBA to develop its own UK NZC Buildings Standard. Kowal says: 'There's frustration at so many bodies and accreditations. It's a minefield to put them together to get to the right answer.'
It's complicated...
Projects are inherently complex, largely due to the myriad choices around what to retain or replace to achieve a balance of operational energy, embodied carbon, cost and value. 'The way we and many others are tackling this is to get on the pathway to NZC,' says Kowal. 'You're deciding out of a menu of things what you're going to do and when. There is no one answer, because there are so many variables.'
There's frustration at so many bodies and accreditations. It's a minefield to get to the right answer'
That is illustrated by two current projects: Bruntwood's Pall Mall Court in Manchester and J Safra Sarasin's 95 Queen Victoria Street in London. Significant energy losses through the single-glazed facade of the 1960s-built Pall Mall Court justified its energy-efficient replacement, which safeguards the building's grade II-listed status. Although listing constrains interventions, operational energy is being targeted to boost the EPC to B and recycled materials feature in the fit-out. By contrast, the glazed facade of the 19-year-old 95 Queen Victoria Street is being retained, along with elements including ductwork in the risers, while internal features are being refreshed and brought up to contemporary standards.
Replacing facades – often highly glazed – in buildings of the 1990s and noughties can be problematic. 'The facade you want might not give the performance you want, but both lifecycle cost and lifecycle carbon perspectives make facade replacement challenging if it's otherwise in good condition,' says BCO ESG group member and Arup associate director Stephen Hill. This is where he sees greatest potential tension between commercial viability and market expectation and whole-life and operational carbon – and a need for more considered responses. British Land's 2021 upgraded 1 Triton Square in London – where Arup worked on both the original and its refurbishment – included the removal, refurbishment and re-installation of 3,000m² of existing facades and could, believes Hill, be the first step towards a solution.
M&E is another area where thinking is evolving, informed by tools like the TM65 methodology, developed by CIBSE and consultant Introba. 'We're now using the product data to establish knowledge and rules of thumb that will help us understand the effect of MEP systems on a building's overall carbon impact,' says Louise Hamot, Introba's global lead for sustainability research. 'Conversations are starting about how much material in an M&E system can be retained,' adds Hill.
While understanding of operational and embodied carbon is improving, particularly through BRE's NABERS energy efficiency rating on the operational side and lifecycle analysis for embodied carbon, Hill says they are still too often considered separately. A balanced view, incorporating both, is needed for individual buildings and across portfolios, he says: 'Our intuitive response is to think about how much energy we're using day-to-day. But really we need to look at whole life carbon transition, not just operational carbon transition.'
We need to look at whole life carbon transition, not just operational carbon
Barr Gazetas' Holbein Gardens scheme in London made significant embodied carbon inroads by re-using steel taken from a previous Grosvenor demolition.

Credit: Sheppard Robson
Capital and carbon
Developer Grosvenor has pledged to reduce emissions by 90% by 2040 and has set a pathway to NZC for a portfolio spanning both London heritage assets and regional space. Executive director for development Anna Bond says a long perspective helps justify the capital investment of retrofit. 'We realised that looking at buildings on an individual basis for sustainability doesn't really work, because it's very difficult to argue that spending £300,000 on something gets you a return,' she explains. 'You need to look at the direction of travel. We believe sustainability will become more important to businesses over the next 10-15 years.'
Over a decade ago the company delivered the first BREEAM Outstanding retrofit of a listed building, 119 Ebury Street; now it is carrying out its first NZC office refurbishment at the 1980s-built Holbein Gardens in London. The project is the first to apply Grosvenor's Sustainable Development Brief – based on best practice from current certification schemes and Grosvenor's sustainability targets. 'The brief was about being as ambitious as possible – not box ticking,' stresses Bond. 'We could have knocked the building down and rebuilt it, but in this capital-constrained world – irrespective of carbon – that would only have got an incremental gain in terms of quality, compared with what we're actually able to do.'
The building had 20mm of cavity insulation, cold bridges and poorly-performing windows, but good slab-to-slab heights and a narrow plan gave volume and daylighting. 'Those are fundamental to retrofit as a starting point,' says Jonathan Allwood, director of project architect Barr Gazetas. The firm cast the net wide. 'Nothing was off the table,' he says. 'Once we defined the opportunities, it was about going through as rigorously as possible whether they were justifiable and appropriate.'
The most significant intervention sees the top floor replaced with two storeys constructed using a steel frame and cross-laminated timber slabs. In a circular trial, much of the steelwork was taken from a Grosvenor demolition project in nearby Bermondsey, cleaned, stored for some months and re-used. 'It is brilliant from an environmental perspective and works for us because we have good visibility on when it's coming out of a building and will be reused,' says Bond. But aside from the cost and time of certifying the quality and strength of reused steel, there are significant barriers, she adds: 'There isn't a UK database of people needing steel and it is phenomenally expensive to store'.
The building's brick facade is being retained and its thermal performance upgraded, although its unappealing retro look prompted a refresh, with full-height glazing and a Juliet balcony introduced in two areas. There are many more sustainable features and RIBA work stages have been extended to allow time to develop evidence bases for decisions and increased design co-ordination, adding around four months, Allwood estimates. 'We were constantly running lifecycle carbon models to check the design decisions we were making were really the right thing to do,' he says.
And the result? Holbein Gardens was pre-let at a higher than anticipated rent, due partly, says the developer, to its sustainability. Upfront embodied carbon is set to achieve 300kg/CO2e/m², exceeding Grosvenor's and the LETI target, operational energy consumption will be much reduced and occupier experience enhanced. 'When you put retrofit interventions on the table at options analysis stage, you suddenly start looking at the incremental benefit of spending so much more money on demolishing and doing a new build,' says Bond. 'As doing development becomes more expensive, it's forcing us to become more creative and mindful about the capital we're spending, which is good for sustainability.'