A stainless steel brise soleil on a new science building in Nottingham is also an artwork that tracks activity on the sun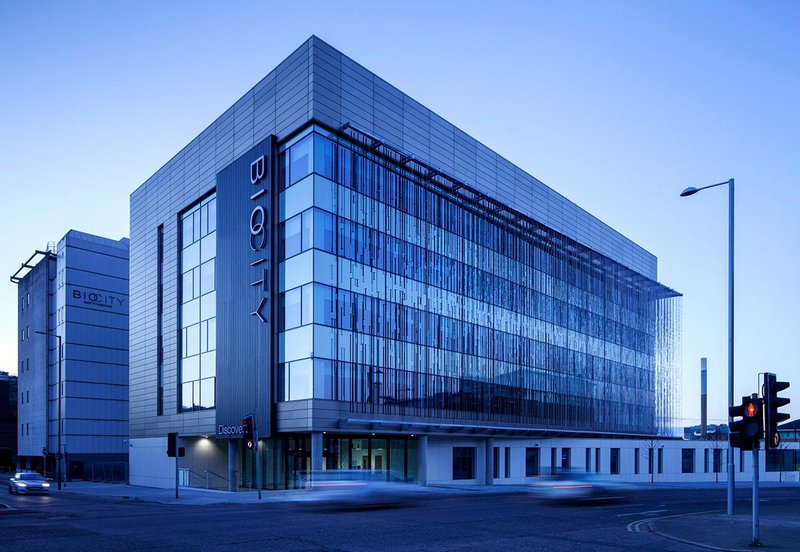 Credit: Alex Bland
Budding astronomers don't need to peer into the heavens to find out what's happening on the surface of the sun – they can head to Nottingham Trent University and gaze at the facade of its new life sciences building.
The £30m BioCity Discovery building, on Lower Parliament Street, features a brise soleil artwork of fibre optic lights which change in colour and brightness to reflect real-time patterns of solar flare activity. These are based on a live feed from NASA satellites monitoring the surface of the sun.
Titled Corona, the artwork was conceived by local artist Wolfgang Buttress and is based on scientific research carried out by Dr Martin Bencsik from Nottingham Trent University. It is designed to transform over 26.5 days, the time it takes the sun to rotate on its axis, and consists of more than 1,000 vertical stainless steel cables that wrap around the south and west facades.
Project architect Matt Greenhalgh, of local practice CPMG, says: 'The sculpture has science at its heart and directly responds to the intensity and location of solar flares emanating from the surface of the sun which will manifest through the ebb, flow and intensity of the illumination.'
During the day, the brise soleil helps cut solar gain as part of an ambitious energy efficiency strategy. BioCity Discovery is designed to BREEAM Excellent standard, all its energy needs are met by burning the city's waste, and it is also connected to a district heating system.
The new building stands on a former brownfield site adjacent to the earlier BioCity building. It incorporates 4,645m2 of high-tech biology and chemistry laboratories and office space, split across five storeys, with ancillary space for commercial leasing for start-ups and SMEs.
BioCity Discovery, which was project managed by Gleeds and built by Willmott Dixon, is intended to support more than 700 new bioscience roles in Nottingham over the next 30 years. 'It was really exciting to see the artist's vision and the technological elements coming together,' says Simon Morris, director of Gleeds Nottingham. 'The building has certainly achieved what it set out to do – act as a benchmark for the standard of redevelopment people want to see in the city.'
BioCity forms the first stage of Nottingham's Eastside regeneration scheme, which includes the neighbouring 15 hectare Boots Island site.
---