The technology exists, insists architect Werner Sobek as he urges total ban on emissions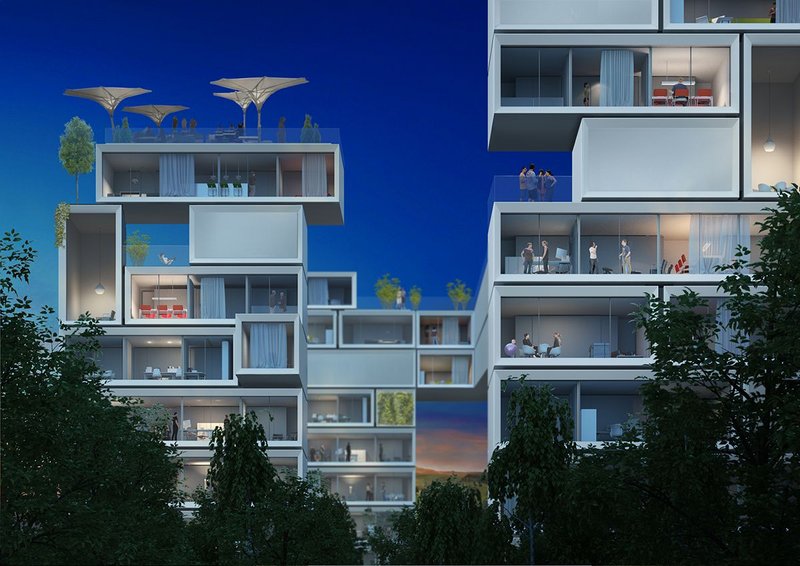 Look of the future city? Werner Sobek's B10 Aktivhaus, in live testing now, extrapolated into high performance, zero emission mass housing.
Don't accept what most politicians and environmental experts would have you believe, we have the technology available today to make entire cities emission-free by the year 2020.
That's the controversial message from German architect and engineer Werner Sobek, who is urging governments to enforce a "total ban on emitting gaseous waste into the environment" from 2020 by converting all buildings and vehicles to renewable sources of energy.
The designer of Aktivhaus B10, the first home able to generate twice as much renewable power as it requires to run, says the pledge by G7 nations last June to decarbonise the global economy by the end of the century, would come far too late.
Instead, he claims the widespread adoption of clean solar power, in combination with advanced battery storage and smart building systems, would make his 2020 target 'easily achievable from a technological point of view', although it still urgently requires the full support of automotive and construction industries.
He told the RIBA Journal: 'I'm totally dissatisfied with politicians' postponing of emissions targets until the end of the century. Through combined action it is possible, within the next five years, to elevate most of our cities to the status of electric cities. The money needed is not great, it just requires a common interest and will to make it happen. I've pushed the bar quite high, but if the bar is not high people don't start jumping.'
Sobek is railing against the traditional approach taken in central Europe, of protecting existing buildings against energy loss by spending heavily in insulation materials and additional plaster layers etc.
He claims the real problem is burning fossil fuels to create energy in the first place. 'The energy radiated by the sun is 10,000 times more than human beings need for all their activities, so instead of investing in insulation to protect buildings we should be harvesting solar energy to power all buildings and transport,' he said.
Sobek's vision could be driven by recent pioneering technological developments, such as the creation of more powerful, longer-lasting batteries. Earlier this year, car maker Tesla Motors launched Powerwall, a lithium-ion home battery that charges using electricity generated from solar panels to provide 5kW steady output and 7kW peak output – when the sun goes down.
Meanwhile, retrofittable building automation systems developed by the construction industry are able to significantly reduce the energy consumption of existing buildings, he said.
Sobek worked with smart home specialist alphaEOS to build Aktivhaus B10 on Stuttgart's Weissenhof Estate. The pre-fabricated model home is based on his Triple Zero concept of zero energy, zero emissions and zero waste.
The combination of a high performance envelope and a self-learning building management system enables the building to generate twice as much power from sustainable sources as it requires itself. The surplus energy is used to power two electric cars and the nearby Weissenhof museum, a refurbishment of two homes designed by Le Corbusier. The supply of energy to the vehicles and the building is controlled via a networked system.
The network concept, and enabling different buildings communicate with each other, is crucial to reducing our reliance on fossil fuels, said Sobek, who endorses the 'Sisterhood Principle', whereby two or more houses, or even whole districts and cities, automatically communicate the energy they are generating, storing and using, then cooperate with one another to optimise available resources.