Housing development in Church Road features a refrigerant-free ambient network and in-apartment heat pumps that provide heating and hot water to each local space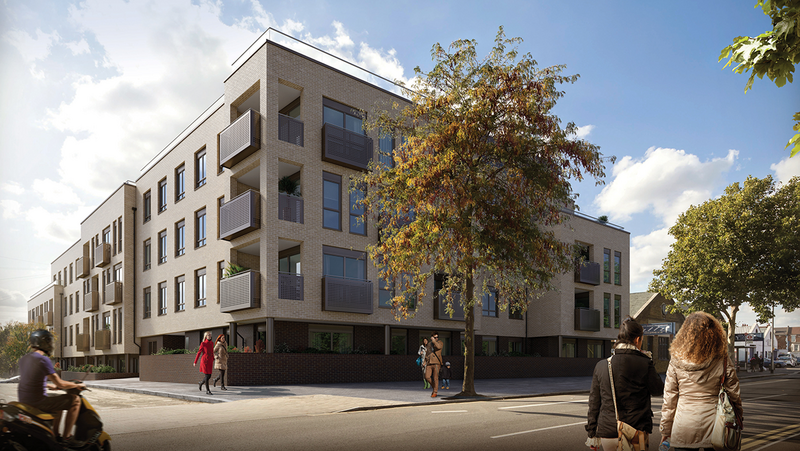 Galliard Homes' Church Road development is made up of 38, one, two and three-bedroom apartments and two three-bedroom houses.
An ambient network solution by Glen Dimplex Heating & Ventilation (GDHV) called The Zeroth Energy System has been specified to provide low carbon heating and hot water at a modern development in Church Road, Leyton.
The initial plan for the Galliard Homes project was to integrate traditional central plant heating technology within the development. However, an issue with insufficient space for the plant room was discovered at the pre-planning stage and this could not be overcome by rearranging the design.
There were also limits to the available electrical supply and a Galliard Homes safety policy that prohibited installation of individual gas boilers within apartments. The challenges required some clever specification and design.
As an ambient network required a smaller output compared with higher temperature alternatives, a reduction on central plant size was possible. The flexibility of the Zeroth Energy System offers easy integration with low carbon technologies. The water cylinder and heat pump installed in each apartment were sized to fit a standard utility cupboard while the pipework for the heating and hot water supply was hidden.
The design choice for Church Road included wet radiators with individual in-apartment control units. The choice of system design, and the resulting extra usable space the systems can generate, gives architects more freedom to create a quality living space, offer valuable extra features in the buildings or provide extra dwellings where the need for housing is urgent.
The ambitious plans for a low carbon future for the UK set out in the London Plan and Clean Growth Strategy policy mean the use of renewable energy sources and low carbon technologies is key to a successful housing development. The changes to Part L and Part F will further magnify the need for new developments to have a substantial energy strategy.
The changing landscape of compliance and the design of airtight buildings has highlighted an energy performance gap that can only be overcome by innovation in HVAC technology. By specifying new technology today, developments can be closer to achieving net-zero status while creating healthy buildings.
GDHV advocates an holistic approach to building efficiency. The easy integration with renewable and low-carbon technologies plays an important part in affording the architect a high level of design freedom. This means all limitations of a project can be addressed to ensure the HVAC systems work in harmony with the building.
See how the Zeroth Energy System can benefit your next residential or mixed-use development project at gdhv.co.uk/case-studies
Book an accredited CPD to assist with the design and specification of the Zeroth Energy System at gdhv.co.uk/cpds
For more information and technical support, visit gdhv.co.uk
Contact:
0344 879 3588
gdhv.contracting@glendimplex.com
---