Homelessness and urban food production were just two of the issues tackled by entrants in this year's RIBA Journal/Norbord Europe competition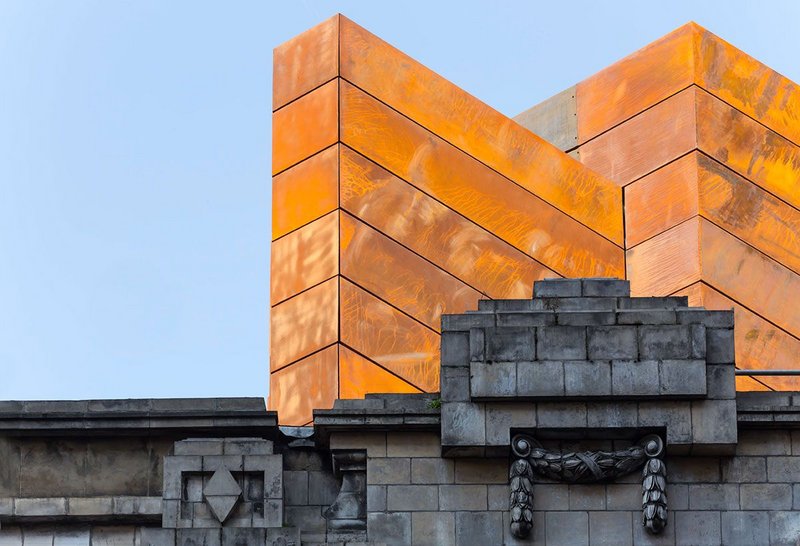 A realised rooftop project: extension on the grade II listed Shaftesbury Theatre by Bennetts Associates in London's West End.

Credit: Peter Cook
From a soy sauce factory to a parliament for planning, and a homeless refuge to a flower market, there was no shortage of imaginative responses to Raise the Roof, a competition for innovative new rooftop uses sponsored by Norbord.
The brief offered plenty of scope for invention. Architects were challenged to design a rooftop space of up to three storeys on an existing urban building of their choice. While location and programme of use were completely up to each entrant, all submissions needed to use Norbord's SterlingOSB Zero product, a precision-engineered board with no added formaldehyde, as a key part of the design's structural integrity.
Judges were looking for imaginative uses that demonstrated SterlingOSB Zero's qualities of high strength and workability in tandem with visually exciting and spatially innovative proposals. Since the design needed to be weatherproof, part of the challenge was using the product in collaboration with other materials for cladding or fitting out – one particularly unusual idea proposed cladding made from seaweed (Gordon Duffy). The speculative nature of the designs meant that entrants didn't need to adhere to current building guidance.
Raise the Roof proved to be a stimulating brief, with applicants demonstrating a willingness to engage with key topical issues such as homelessness, urban food production and bees. Many entrants saw the potential of roof spaces to be utilised for housing, while others imagined rooftop performances, factories, restaurants or co-working spaces.
The type of rooftop location chosen varied hugely, from humble garages extended upwards into Amsterdam-style narrow houses (Julian Kashdan-Brown) to a car-park roof repurposed as a drone-assisted factory for OSB box building blocks (Studio Bark). A smattering of well-known London buildings were also appropriated, including the Tate Modern, envisaged with a new top level to house the homeless (Dom Cox) and Patrick Hodgkinson's Brunswick Centre with allotments on the roof (Richard Faith).
Judges were drawn to schemes that had a compelling programme in combination with a concept in which the OSB product was central rather than incidental to
the design.
The clear winner was Reed Watts Architects, which picks up the £2,500 first prize for Rooftop Refuge, a dual use roof extension that operates as a bar in the summer to fund its use as a homeless shelter in the winter. Judges appreciated both the experimental concept and the clarity of the submission.
'It feels very well considered. There's a nice scale to it and it sits very comfortably on its site. There's a delicacy to it that has often been lacking in other schemes,' said Tom Gregory, winner of last year's RIBA Journal Norbord competition.
'I like the duality of the summer use, with people enjoying the rooftop bar and then the change into its winter iteration of a hostel for the homeless. The programme is really good,' said judging panel chair Jan-Carlos Kucharek, who also commended its 'beguiling', almost Japanese character.
Alfonso Padro of HKS liked both the way the programme addressed the problem of homelessness and the flexibility of the demountable design, which he said 'shows how versatile the material can be'. While there was some concern about the robustness of the scheme for its winter hostel use, judges felt that it would be possible to resolve this by exploring different wall and cladding types.
'It seems to be a real response to the opportunities that sheet material provides and the form is inspired by that,' said Jan Kattein.
Three further schemes were given £250 commendations. Sterling Boarder, by Nina Antin, Claire Chabrol and Sibylle Metge-Toppin, addresses the provision of housing in Paris for older residents who might otherwise be priced out by gentrification when seeking to relocate.
'It really embraces the materiality and shape of OSB,' said judge Linda Thiel of White Arkitekter. Kucharek particularly liked the 'well-considered' use of long walkways: 'How it intervenes in an urban way is most interesting,' he says.
Alessandro Tessari's In Season – House charmed the judges with both the presentation of the drawings and the strength of the concept, which proposes
an OSB DIY micro home with built-in growing space.
'It's the best considered of the living space entries. It has a human scale to it and is very credible as a DIY project,' said Kattein, adding that the economical design feels appropriate to the nature of the material.
'There is a simplicity to it but it does meet the brief,' added David Connacher of Norbord.
Soraya Somarathne's Temple Heights/Music with a View auditorium was praised for its promising and bold concept of a performance space on top of Temple underground station, although there were some misgivings over the noisy location.
'It is a most innovative use. It's not entirely resolved but is very believable,' said Kattein.
'It's a really considered use of material in a very dramatic form that conveys a real sense of joy,' said Kucharek.
Several other entries were given honourable mentions: Peckham Parliament by Kennedy Woods, Brian Ditchburn's Anywhere in the Universe concept for the roof of a Nissan car showroom and Brett Mahon's The Hide workspace on top of a former leather market in Bermondsey, London.
---
Room at the top
This is the fifth year that Norbord Europe Ltd has teamed up with the RIBA Journal for a competition that challenges architects to use Norbord's flagship OSB brand, SterlingOSB Zero. Faced with the increasing need to use building materials that are environmentally friendly and/or add value, architects look to specify the very best products which are fit for purpose and ethically sourced. This year's Raise the Roof competition provoked some deep thinking about how SterlingOSB Zero could transform roof spaces into useful, usable areas. The continued demand for inner city housing combined with rising land prices means rooftops present a golden opportunity to create new space by building up rather than out. We looked for creative responses to unlocking the potential of these untapped resources. The result was a variety of innovative, quirky and contemporary designs ranging from relaxing getaways and places for creativity to spaces that help those less fortunate in our society.
The judging process was a very engaging one as ever. I hope you enjoy reading about the schemes.
David Connacher, marketing manager Norbord Europe
---
Raise the Roof was produced in association with Norbord Europe