...as successful entries to our Room within a Room competition demonstrate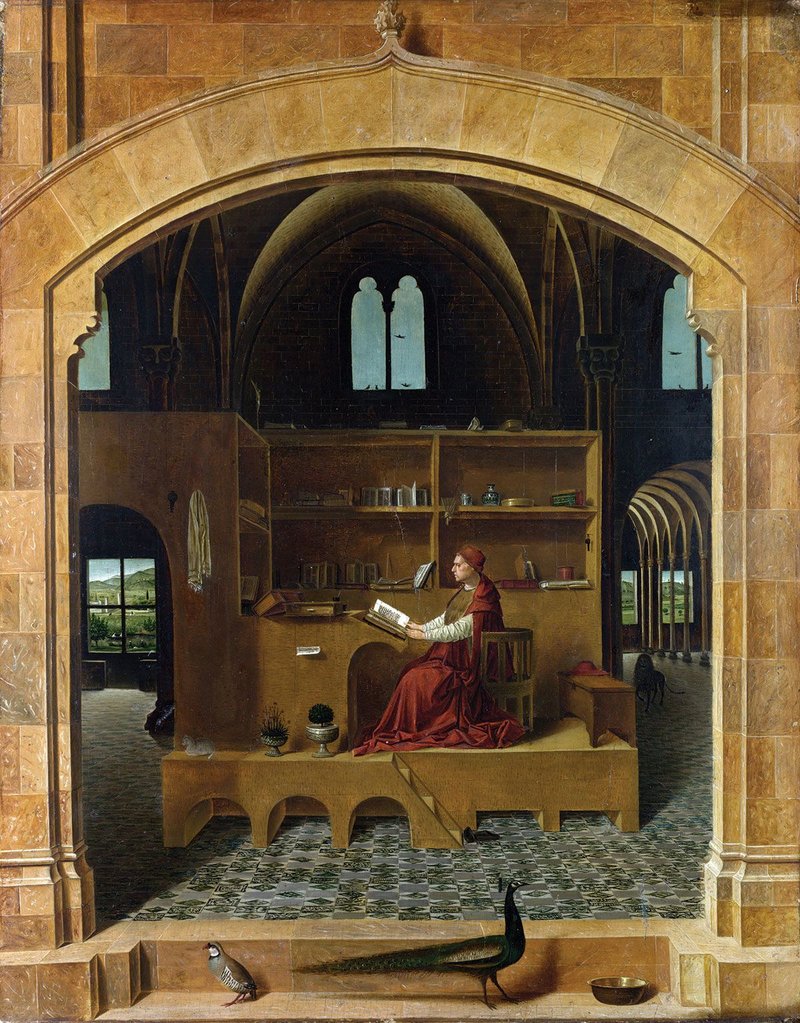 St Jerome in his Study, Antonello da Messina, c1475 – the starting point for this year's competition.

Credit: The National Gallery, London
If there are any corollaries to be drawn between Antonello da Messina's 1475 painting St Jerome in his Study and modern working practice, it's the fact that, long before the 21st century notion of hot desking, the artist had, in his own way, imagined the future of work. The saint, sequestered within his bespoke environment in some chapter house or library, was occupying the first consciously cellular workspace. It is only a short leap of the imagination from this to Frank Lloyd Wright's Johnson Wax Building, Hertzberger's Centraal Beheer or Foster's Willis Faber building. Given such precedents, we were aware that a lot was being asked of the 90 entrants to Norbord SterlingOSB's Room within a Room competition. For the judges, it was about nothing less than selecting those who recognised that the nature of work might not be a fixed but a mutable thing.
This demand made the process of whittling down the submissions easier, as most posited standard assumptions. Jan Kattein pointed out during the judging how few proposals had questioned what form work might take. 'You have your screen and stuff around you and you imagine that everyone else does, but it's very self-referential: "This is how I work, so it must be how everyone else does",' he remarked. Running his own small practice in a competitive environment, he is aware of the pressures of the modern profession, adding: 'You need to take account of different ways that entrepreneurs might work; that performance nowadays is, in a sense, as important as what you actually do; that social media play a role; that you might want to attend that party as well as finish the job at hand.' The winner would not only need to consider this but put forward a proposition that best expressed it in the medium of SterlingOSB.
For the majority of submissions that fell by the wayside in the initial sift, the issue was detailed consideration of the fabrication methods of SterlingOSB rather than the bigger picture. Many submissions fetishised the notion of the flat pack, of CNC cutting, of male and female interfaces slotting together; all interesting but all assuming that what was being enclosed was just a seat and a desk with a laptop on it, so it was just the formal language that changed. Judges were exposed to postmodern Tempiettos and rotundas; they went through all manner of modernist boxes that hinged open or unfolded or hung suspended from ceilings. Forms were generated through multiple lamellae or employing novel geometries, but these did not make it past the judges' scrutiny as most were ultimately conventional in nature.
The judges were looking for entrants with not only a thorough understanding of SterlingOSB and its properties, but who used it to give form to new modes of working
What the judges were looking for was a 'pincer movement' from entrants – a thorough understanding of SterlingOSB and the manner in which it would be best employed in the submission, combined with a more abstract idea of how the material could bring form to the idea of new modes of working. By the time the entries had been decimated to a longlist of eight, discussions were far more nuanced and interrogative; not just about the notion of work but the mechanics of fabrication and interpretation of the original da Messina image.
The final eight could be broken down into three categories. Submissions by The Bakerloos Design Studio, Charles Holland Architects and Fisher Cheng were essentially postmodern, drawing influence formally or semantically from the St Jerome painting. Those by Tony Leung and Tom Gregory/Fraser Wallis could be described as 'theatrical' – forms that celebrated the counterpointing of privacy with overt display. And those submissions by Ralf Thiede/Caroline Barker, Chan Brisco Architects and ONMQ Architects were essentially functional; measured responses to the competition brief. All became the focus of targeted deliberations that tried to discuss their common territories to provide a justification for discounting schemes. As the eight were halved to the final four it became apparent that all on the shortlist were exemplary in one regard. One took the rigour of the da Messina image, reinterpreting it for the 21st century. Another seemed to be a piece of furniture so seamlessly designed that the judges wondered why it wasn't already available as a flat pack. A third rose from a plethora of unfolding boxes, a solution that became more nuanced the more you looked at it; and the fourth was a strange unfolding stage set that had the judges questioning its viability, but never to the point of rejecting it.
After a long, hot morning of stimulating debate, agreement was reached on the winner of the £2,500 prize. Yes, the competition was about SterlingOSB and what might be possible in its use, but it revolved too around musings on the nature of work. As judge Sarah Castle concluded, it was about the manner in which it was manifested: 'If this competition is not just about fabrication but higher levels of aspiration and joy, there can only be one winner.'
---
An enjoyable process
This is the fourth year that Norbord Europe Ltd has teamed up with the RIBA Journal for a competition that challenges architects to use Norbord's flagship OSB brand, SterlingOSB. With the ever increasing need to use building materials that are environmentally friendly and/or add value, architects have to deliver while ensuring the chosen products are fit for purpose and ethically sourced. This year's Room within a Room competition certainly provoked some deep thinking about the use of space; somewhere that would be a place for work and contemplation but also somewhere the occupier would enjoy spending their time. The successful entries not only made the Room within a Room a special place to retreat but understood the technical aspects of OSB as a wood panel to build with. The judging process was an enjoyable one. I hope you enjoy the results too.
David Connacher, marketing manager Norbord Europe
---
The winner: The Playwright's Retreat