A joyful accommodation of introverted study and conscious display by Tom Gregory and Fraser Wallis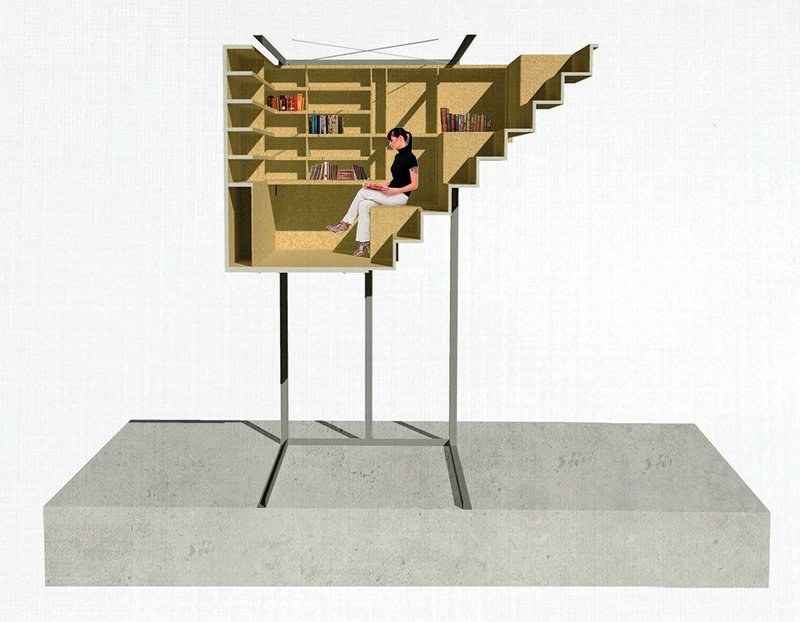 In its 'closed' iteration the retreat allows for private study, but still retains a wide opening up to the void/sky above.

Credit: Tom Gregory and Fraser Wallis
'The playwright is a creative individual who must have his or her head a little in the clouds in order to produce a masterpiece.' So begins the explanatory text of Tom Gregory and Fraser Wallis' 'Playwright's Retreat', an isolated SterlingOSB workspace eyrie set up from the ground, which unfurls back to earth to act as a performative space for the playwright's work.
The retreat caused much discussion among the judges. One thread centred around how the design may have overreached on its ambition; another was whether the SterlingOSB design, with a number of 'tag-ons', was technically viable. 'Because of that ambition we're asking the questions about its construction,' said Sarah Castle. 'Its material use, drawstrings and pulleys would take a lot of resolving.' But the judges kept coming back to the scheme, Jan Kattein observing that it was the one that 'most successfully sublimates the idea of solitary working with performative display'. Stephen Proctor noted its 'small footprint but big effect; distancing itself from the real world and then dramatically unfolding into it'. Of its complexity Ed Burgess felt that 'it was easy to pick holes in it as a design but that's because it's so much bolder a proposition than anyone else's'.
The judges noted the judicious use of SterlingOSB which played to its structural and aesthetic strengths, while other materials, such as steel, were used to create the minimalist plinth and raise it up from the ground – a bold decision, given the nature of the competition, that somehow reified both materials. Ultimately, the entry's unresolved technical nature was not an impediment. 'As a proposal, it joyfully accommodates both introverted study and conscious display,' concluded Kattein, echoing the designers' own aim 'to create an independent realm of study, providing a moment of solace and contemplation in the often-chaotic theatre of modern life'.
---
The nature of work is not a fixed thing