Royal Gold Medallist's Gothic Revival Victoria Law Courts instilled sense of heritage in young city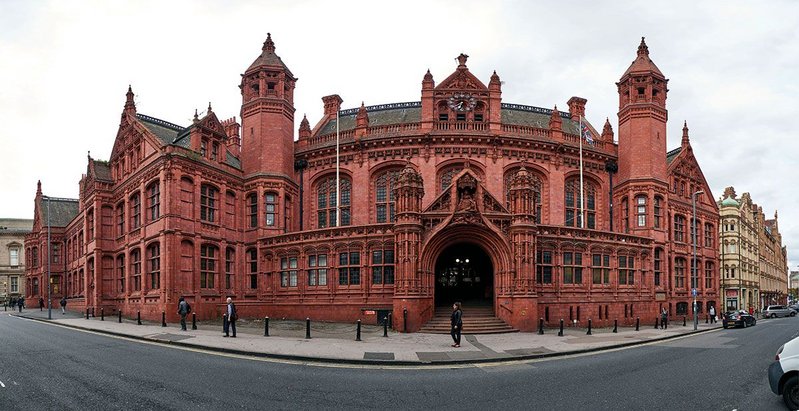 Revealing the Courts' original majesty, a sculpture of Queen Victoria surmounts the main entrance.

Credit: Edward Moss
RIBA Royal Gold Medal winner 1905
Victoria Law Courts, Birmingham, 1891
The story of Aston Webb's buildings in Birmingham probably sums up all we need to know about how architecture has progressed over 125 years. His Victoria Law Courts on Corporation Street, designed with Ingress Bell (who never received a Royal Gold Medal), were clearly supposed to convey the power, long tradition and steadfastness of the English judiciary.
Webb (1849-1930) and Bell beat 126 other architects to win the competition to design the building in 1887. Greeted by a wrought iron inverted portcullis, visitors were meant to feel tiny in the face of this ancient institution. Detainees could be brought up to the forbidding courtrooms directly from tunnels to Steelhouse Lane Police Station custody cells. Asymmetrical, like a castle added to over time, it was intended to both strike fear into people and fill them with awe, an effect enhanced by Gothic Revival elements such as turrets, sloping roofs, extreme ornamentation and expanses of stained glass outside, and a gargantuan hall, hammer beam roof, dark woods, endless tunnels and corridors within.
The building would have exuded importance. The red terracotta tile exterior gave the impression of stone, and the stained glass celebrating Birmingham's industries and notable figures instilled a sense of pride and heritage in what was essentially a young city. Like the city itself, those working in the building would have had an elevated public stature.
It's a ruse of course. The towers drag up the perceived height of the building to make it seem more massive than it really is (it is only two storeys). But this miniaturised fortress would have had the desired effect – especially once the terracotta Central Hall over the road was completed in 1904 and other buildings like it appeared nearby. Together they created a distinctive architectural identity for Corporation Street, which was designed to be like a wide Parisian boulevard, and for Birmingham.
Oh, how things have changed. Webb's building is still in use as the city's magistrate courts, but, like many public buildings here (Moseley Road Baths and School of Art are just two examples), its grandeur has diminished. Weeds grow from the roof. The entrance route is botched. Crowd control barriers are placed in front of doors to prevent access. Tarmac is unswept and patched up in front. Spaces are badly divided with low quality, low cost solutions.
Everywhere A4 signs printed on white paper instruct visitors and make excuses, and until recent localised repairs court proceedings were often interrupted by leaks on rainy days.
In contrast to earlier times, today the building speaks of a system that fails to imbue it with the social or historical significance it was designed for and deserves. It isn't clear whether this is the effect of government cuts, which have come down hard, or an internal ambition to let the building rot so it will have to be replaced with a new facility elsewhere. (A new building by Denton Corker Marshall, where the magistrate courts formed the base of a building piled high with flats and retail, had been planned until the change of government in 2010 stopped it.)
It's a tragedy either way. As a grade I listed building with six original courtrooms, it would struggle to find other uses, yet the short-term savings gained by carrying out only ad hoc repairs will only make renovation more expensive if the courts stay. What's telling though, if you jump on the X20 bus to the University of Birmingham to see Webb's other principal buildings in the city, is that it's not as if there isn't any money. There, the whole place is undergoing a huge £606 million transformation and renewal. Twelve acres in front of the Aston Webb building is being remodelled into a 'green heart', creating an imposing parkland avenue from the North Gate, demolishing multiple buildings in its wake.
These two places speak of very different situations and priorities. Education, paid for by debt and international fees, is blooming, while at Victoria Law Courts it isn't the people who might feel insignificant any more but the legal system itself – and it's possibly a bit leaky too.
---
More Royal Gold Medallists and other highlights of RIBAJ's 125 years here